It's no secret that the good ol' US dollar doesn't go quite as far as it used to, but your healthy eating lifestyle shouldn't have to suffer because of this. You all know my motto: we can pay now or we can pay later (meaning we can pay for healthy food now or pay for medical bills later). That might sound harsh, but truly, healthy eating doesn't HAVE to be so expensive. Yes, if were buying exotic fruits, ancient seeds, new nut butters, tasty gluten-free crackers and large amounts of organic meats and dairy, then "healthy eating" is more expensive. But if if it's truly important to you to eat healthy on a limited budget, then it absolutely can be done, without the foods previously mentioned.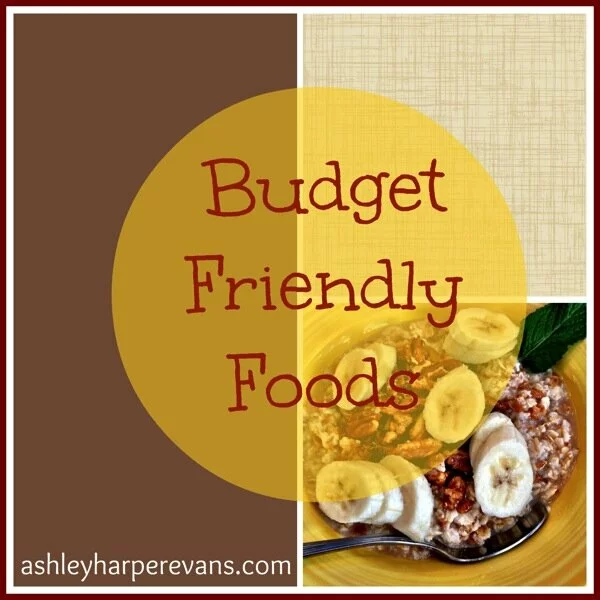 I've shared with you my tips for healthy eating on a budget in the past, but today I want to share with you a few of my favorite budget friendly foods that will keep you healthy, energized and feeling well! Each of these foods are very versatile and can be used to whip up a delicious meal without placing a dent in your wallet.
Veggies:
Fruits:
Bananas: awesome stirred in oatmeal, in a parfait, eaten as a snack, blended in a smoothie or as a guilt-free dessert
Pears: a perfect breakfast topping, snack, salad topper or roasted dessert
Watermelon: the perfect summer treat, breakfast side, snack or dessert – usually only budget friendly when they are in season
Oranges: a delicious snack, breakfast side or dessert
Grains/Beans:
Oatmeal: a heart healthy warm or cold breakfast or even served as a side dish, just as you would any other grain
Brown rice: great as a breakfast base, stir-fry compliment, in soups, or lunch/dinner side
Dried lentils: perfect to complete any meal, used anywhere you might use ground meat such as spaghetti, meatloaf, soups, casseroles, or veggie burgers
Healthy Fats:
Natural peanut butter: great to stir in your morning oatmeal, on a PB&J sandwich, with apple slices or eaten by the spoonful (just kidding! but not really!)
What are your favorite budget friendly foods? Please share with us!
Have a great day!
Good health!