Hi friends! Happy Monday! I hope you had a great weekend!
I laid very low Friday night after a crazy couple of days last week (as I mentioned on Friday afternoon). Saturday, I started the day with a run with the pups, confirming that I am going to run the Atlanta Thanksgiving Day Half Marathon in just a few weeks! Anyone else out there running it? My dad is going to run it with me again! I ran it a few years ago and loved the feeling of starting the holiday accomplished and a part of something. Most of you know my thoughts on long distance running, but I am doing it simply out of enjoyment and because I feel ready again after a hiatus from distance running.
Anyway, I spent the rest of Saturday afternoon gearing up for a shower that evening and then spent some time with my grandfather on his 81st birthday.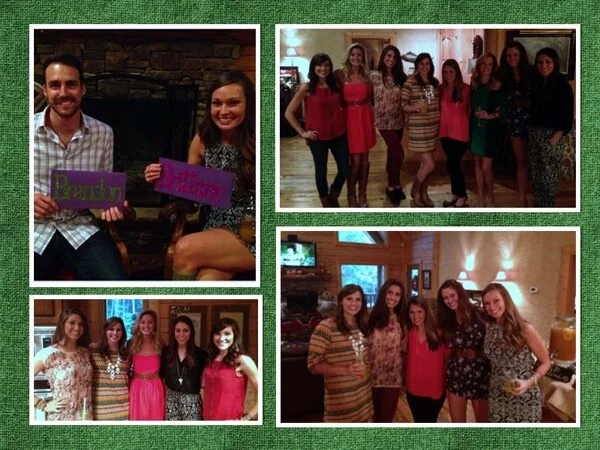 Saturday night, I headed up to the lake for the shower which was an absolute blast. I returned home late that night to find the hubby had made it home from a week long road trip; he was already asleep but I was more than excited to see him!
Yesterday, we enjoyed coffee and smoothies on the front porch as we listened to church and shared conversation. Following church, the hub and I hit the streets again for a beautiful afternoon walk with the dogs and then headed up to the store to prepare a delicious dinner to end the weekend and kick off sweetpotato (one word!) week over here, as I mentioned last week! And that was our weekend in a nutshell.
But anyway, let's jump right in!
This week I am participating in a California sweetpotatoes: "One Word, Endless Possibilities" Recipe ReDux Challenge sponsored by the California Sweetpotato Council.
Disclosure: I received free samples of California sweetpotatoes mentioned in this post. By posting this recipe I am entering a recipe contest sponsored by the California Sweetpotato Council and am eligible to win prizes associated with the contest. I was not compensated for my time.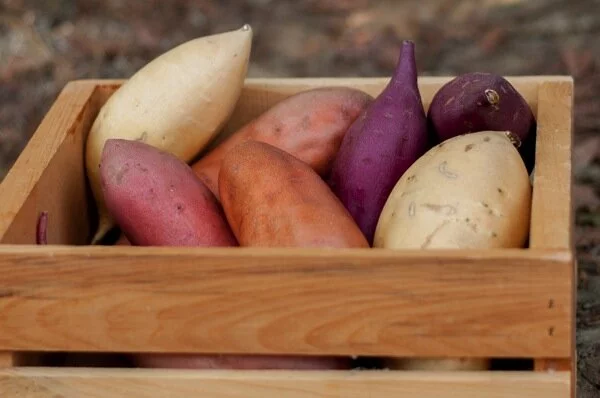 California sweetpotatoes are in fact not the same thing as a sweet potato – they are an entirely different vegetable (from yams and white potatoes too!). So what's the difference? According to the California Sweetpotato Council, "what's unique about California sweetpotatoes is that they are grown in soft sand and are hand sorted during harvest to minimize scarring and scratching. The result is a visually, higher quality sweet potato."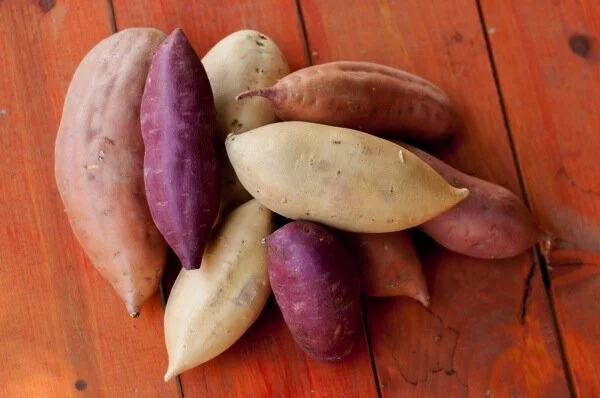 One medium sized sweet potato is ~105 calories and has 4 grams of fiber, 2 grams of protein and are a good source of vitamin C and more than a day's worth of vitamin A.
These Twice Baked Sweetpotatoes are the perfect accompaniment to any fall dinner. Not only do they taste delicious but they leave your house smelling warm and cimmamony all evening long!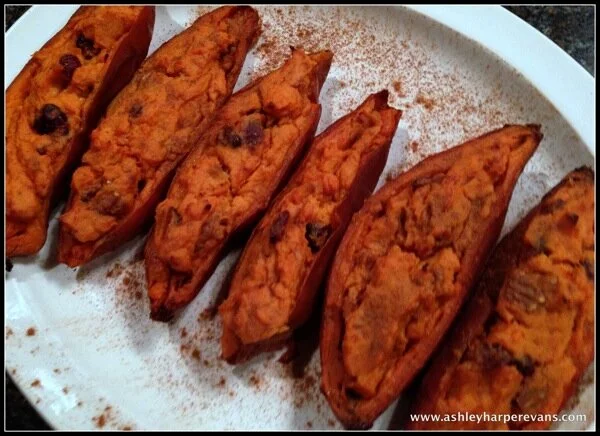 Twice Baked Sweetpotatoes
Serves 6
Ingredients
3 California sweetpotatoes
1/4 cup plain fat-free Greek yogurt
1/8 tsp salt
1/8 tsp nutmeg
1/4 tsp cinnamon
1/4 cup craisins
1/4 cup chopped pecans
Directions
Pre-heat oven to 350 F.
Wash sweetpotatoes and pierce each side with a fork or knife.
Place sweetpotaotes in a well-sprayed cast-iron skillet (or other oven-safe pan, but in the cast-iron skillet is my favorite way) and cover with aluminum foil.
Bake in the oven for ~ 1 hour.
Remove from the oven and allow to cool.
Once cool, cut each sweetpotato in half. Using a spoon, scoop out the center of each sweetpotato and place in a large bowl, careful not to rip the skins.
Add remaining ingredients to the sweetpotato mixture and stir until evenly combined.
Evenly distribute the sweetpotato mixture back into the scooped out skins and place each half in a baking dish and return to the oven to bake for ~15 more minutes.
Remove from the oven, sprinkle with cinnamon and serve warm.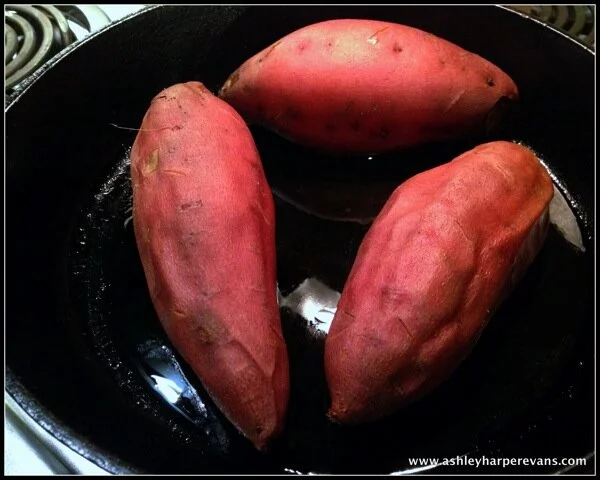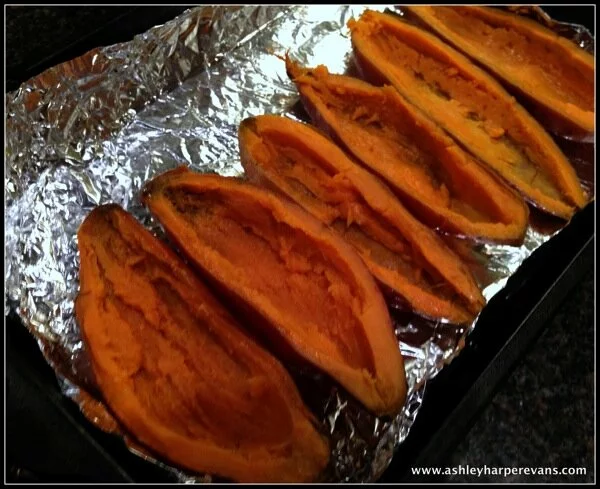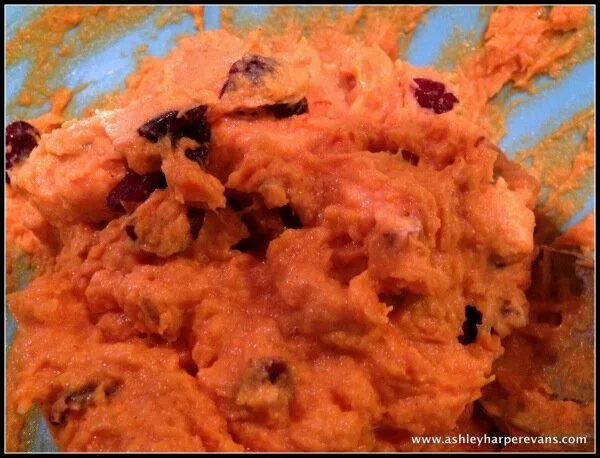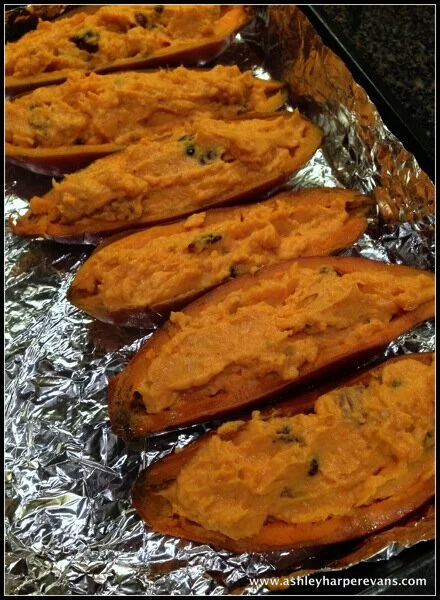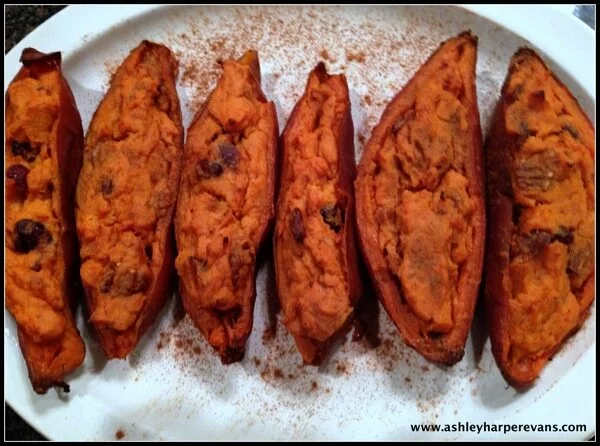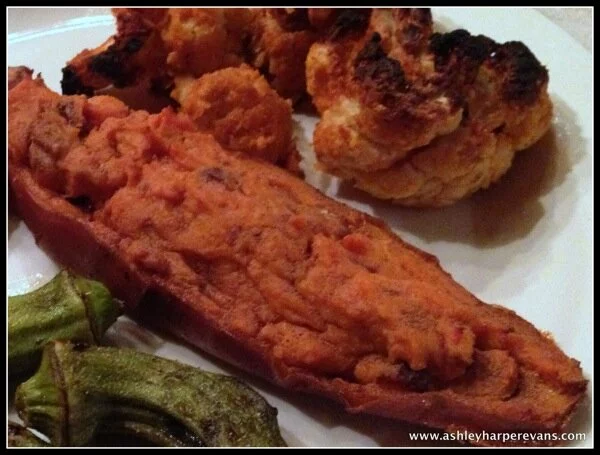 —
I hope you enjoy this recipe as much as we did! Stay tuned for more sweetpotato recipes all week long!
Have a great Monday!
Good health!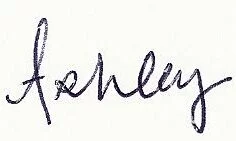 An InLinkz Link-up