Hi there! Happy Monday! I hope that you had a wonderful weekend and that your week is off to a great start!
We had a rather productive weekend over here! Friday night, I enjoyed dinner with a few of my girlfriends at Pour in Brookhaven to celebrate her recent engagement! Unfortunately, I didn't grab any pictures from the night.
Saturday started bright and early and Dustin and I met with our real estate agent in hopes to find a home. After a few hours of searching, we left Saturday feeling a little bit defeated as nothing that we saw met our specifications. From there we headed up to Dustin's parents to grill out with them and to pack up the things that we left behind there, however, very little packing was done since we were so unsuccessful with our house hunt on Saturday.
Crinkle cut sweet potato fries, green beans, corn and okra… a veggie lovers delight!
Back to Friday night though… while at dinner a friend of mine mentioned that she saw a house nearby her house that we should look into. A phone call and a walk through on Sunday later and we now have a place to call home! It is definitely an older house that will require a feminine touch and maybe a little bit of elbow grease but the best part about it is that it is 10 minutes from my office and has a fenced in back yard for the pups! Major win right there! God is so good.
Anyway, after finding the place on Sunday, we ventured over to my parents house and enjoyed a delicious dinner with them…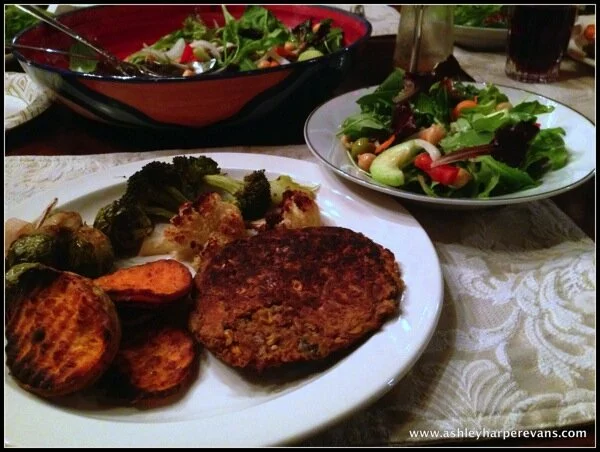 Crinkle cut sweet potato chips, Brussels sprouts, roasted cauliflower and broccoli, a black bean burger and a salad! My mother-in-law gave me a crinkle cutter for Christmas that has definitely been put to good use!
Since I did not have to work today, I have been super productive getting things done here, gearing up for the week. We started the day with a green smoothie and made sure to prep extra for the week!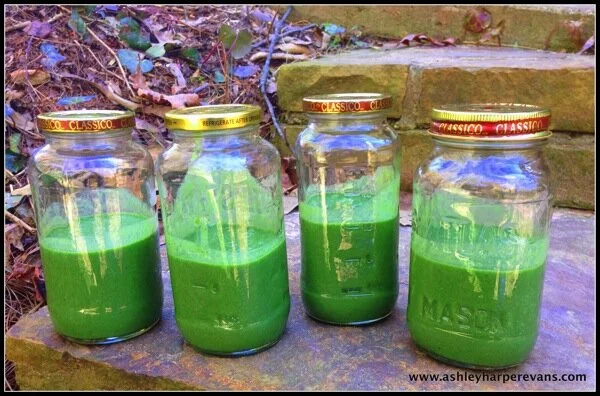 I cleaned the house, washed and detailed my car (according to the hub, it was well overdue for a good cleaning), washed my pups, filled up my gar with gas, finished paying bills, ran into the grocery store in prep for tomorrow's Recipe Redux post and am about to hit the streets for an interval run. It's been a very productive day to say the least!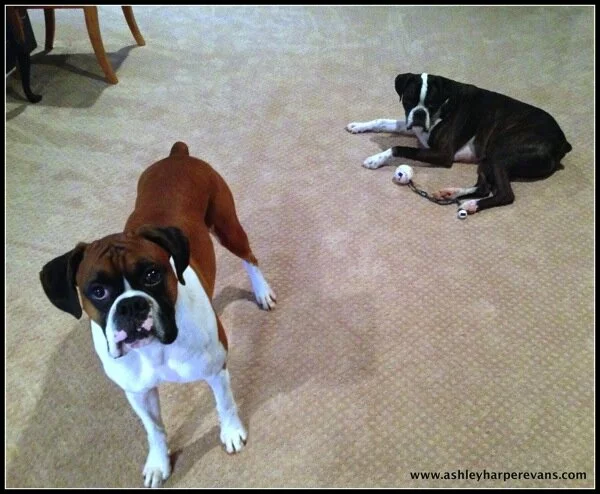 Clean pups!
That was our weekend recap in a nutshell! How was your weekend? Anything fun? 
Also, I guess I should also go ahead and share that I plan on slowing my writing down here to about 3 posts per week. With my job really getting busy, a move coming up, freelance writing for AWS, meal prepping, working out and spending time with my family, friends and pups, I feel that I need to find a little bit more time for myself and slowing my writing down just slightly will provide that time. As always, I hope to only deliver you all high quality content, therefore, I think less frequent posting will better help me keep my word. I hope you all will understand!
Have an awesome Monday! And don't forget to check back tomorrow for another Recipe Redux challenge! As always, this one is yummy!
Good health!