Hello friends! It's the 21st which means it's time for another Recipe Redux challenge!
If you have been following this blog for any amount of time than you know that I have a strong love for pizza. I am a strong believer that pizza can absolutely be a part of a healthy diet and is certainly not a meal that you have to skip out on, regardless of your clean eating goals. When it comes to fitting pizza into a healthy lifestyle, it's all about how "take" your pizza! Although you will never see me eating or recommending that anyone eat the "Supreme Meat Lovers Delight," a veggie filled pizza, topped with lean protein and a little bit of cheese (vegan cheese for me!) is right up my alley!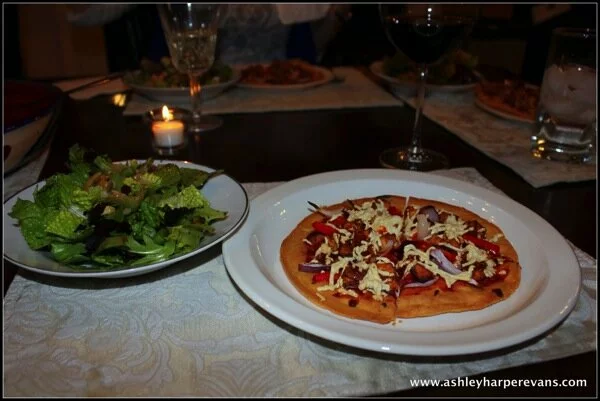 To go right along with my pizza loving taste buds, this month Recipe Reduxers were given the following challenge…
Pizza Party! Give the delivery guy a day off; whether it is for Friday Fun Night with the kids, a pizza chef competition among friends, or for Super Bowl Sunday (February 2). Share your healthy pizza recipe that we can all look forward to after a long week…or a long day.
It doesn't get any more glorious than that!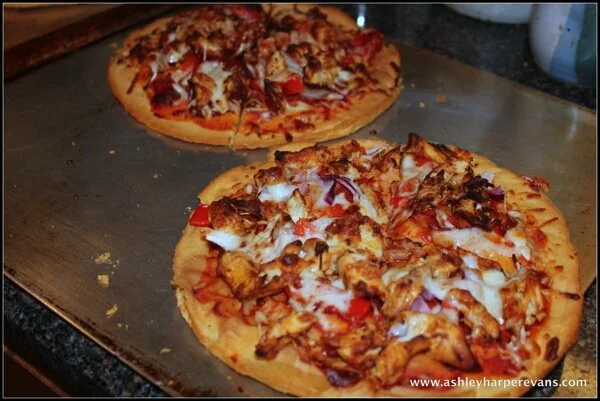 Since I've already shared with you my take on a traditional homemade pizza, gluten-free crust included, after doing some serious thinking and serious research, I finally came up with the pizza that I wanted to share with you all today perfect for any Super Bowl Sunday spread!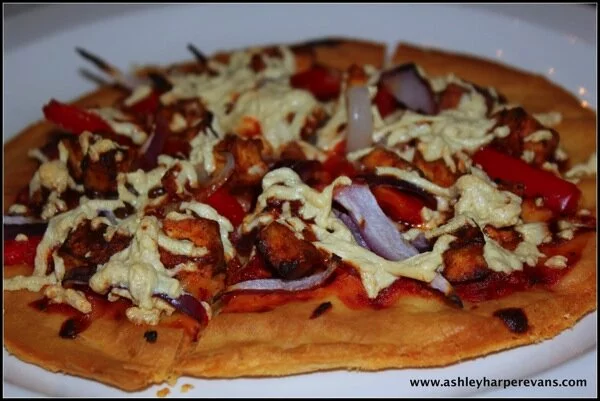 This BBQ Pizza will satisfy all game watchers, the healthful minded and those that don't even know that they should be!
Super Bowl Sunday BBQ Tofu or BBQ Chicken Pizza
Makes 2, 8-inch pizzas
Crust ingredients
2 cups garbanzo bean flour

1 + 1/4 cup water

1 tsp salt

1/4 cup melted coconut oil
Topper Ingredients
1 tbsp minced garlic

1/2 cup marinara sauce

1 tsp coconut oil

8 oz tofu or chicken breast, chopped into small cubes

Salt and ground black pepper

1/4 cup Stubbs Original BBQ sauce

1/2 red bell pepper

½ Red onion, sliced thinly into half-moon slices

1/2 cup part-skim or vegan mozzarella cheese

red pepper flakes, to taste (optional)
Crust Directions
Preheat the oven to 400.
Add all of the crust ingredients into a high speed blender and blend until smooth.
Pour the dough into two round 8 inch pans.
Bake for 12 minutes and then remove from the oven and prep the following…
Pizza Directions
Turn the oven down to 375 F.

Add the coconut oil to a saute pan over medium high heat.

Cut the tofu into very small cubes (or the chicken) and sauté until done. 

Once finished, toss in the BBQ sauce.

Meanwhile, prep the remaining ingredients: slice the red onion into thin, half-moon slices and cut the red bell pepper into small slices. 

Evenly spread the minced garlic and the marinara sauce onto the crusts. 

Add the onion and the red bell pepper and then drizzle a small amount of BBQ sauce over the vegetables.

Add the cooked tofu/chicken.

Place a thin layer of the mozzarella cheese over the sauce. 

Place in the oven and bake for ~10 more minutes or until crispy.

Remove the pizzas from the oven, slice into fourths, serve and enjoy!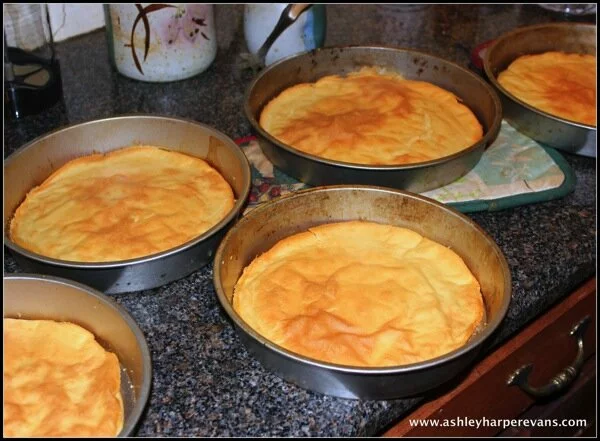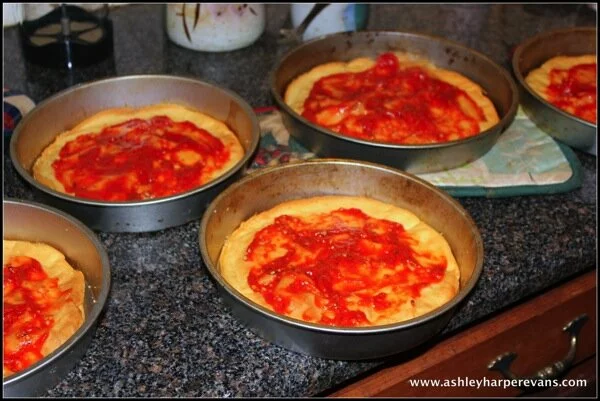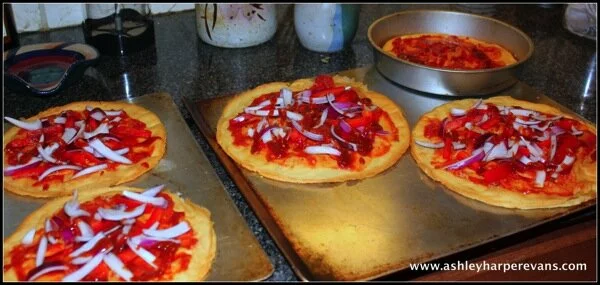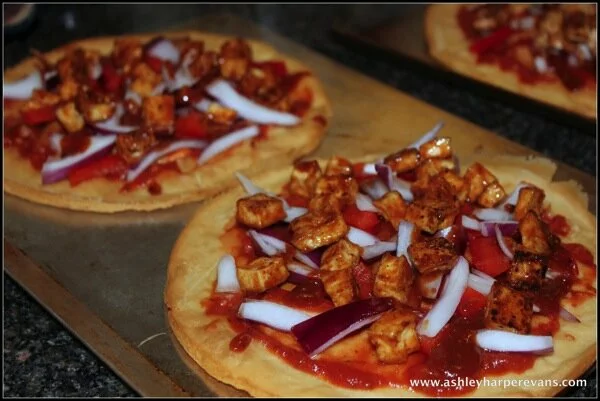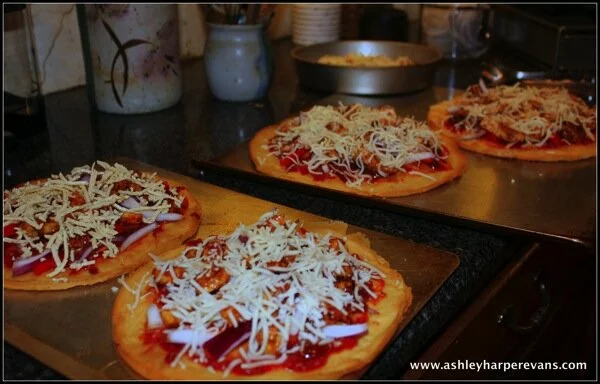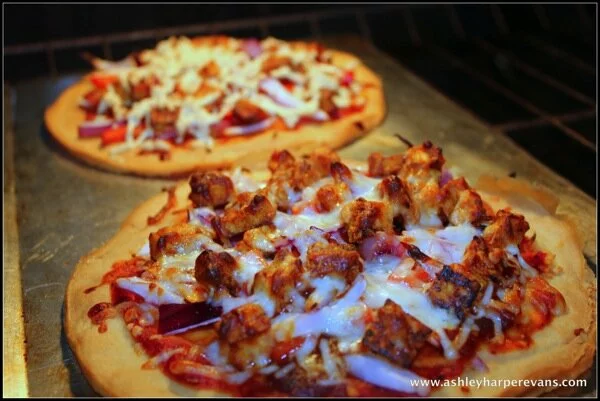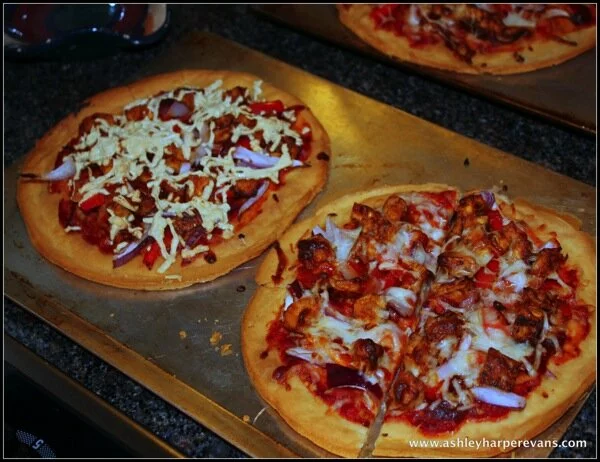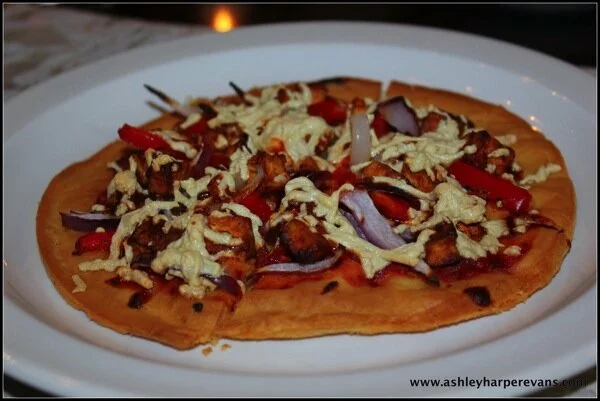 What's your favorite Super Bowl spread?
Have a great day!
Good health!