Hi friends! I hope you are having a wonderful weekend! I just wanted to check in and say hello and share a few weekend updates!
First off, congratulations to Jill and Raquel! I used random.org and you two are the lucky winners of the Nasoya tofu giveaway from last week! If you will please send me your info, I will get it in the right hands ASAP!
Secondly, if you haven't seen this picture on Pinterest, how hilariously cute is this?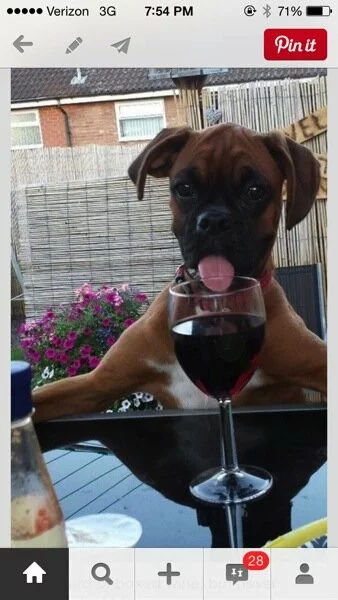 I could totally see my dogs doing something like this!
Next up, I am super pumped to announce that I have been accepted to be a FitFluential Ambassador, which means more brands, product trials and giveaways coming for you!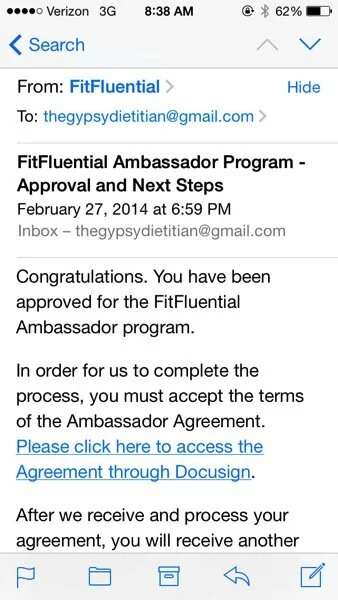 I am so excited to join this network of fitness enthusiast who all have one common goal in mind: to help motivate and inspire others to live a healthy and thriving life!
In other news, this weekend has been low key and productive…just how I like it!
Friday night the hub and I went on date # 2 in the past 2 weeks (super unusual, especially during baseball season!) to BUA Thai and Sushi. I'm not sure if it was the fact that we were both starving or of the food really is that good, but we were certainly satisfied with what we ordered. We both didn't get home until around 8:30 on Friday night, so dinner wasn't until around 10pm.
We had the Spicy Vegan  Roll to start…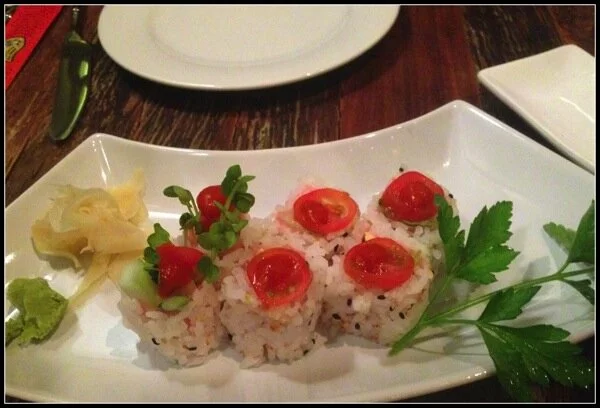 Even the hub loved this (he's actually the one that ordered it!). I think it was something like cucumber, avocado and tomato with a spicy chili sauce on top.
And for dinner, I went with the Chili Tofu with brown rice and the chili sauce on the side…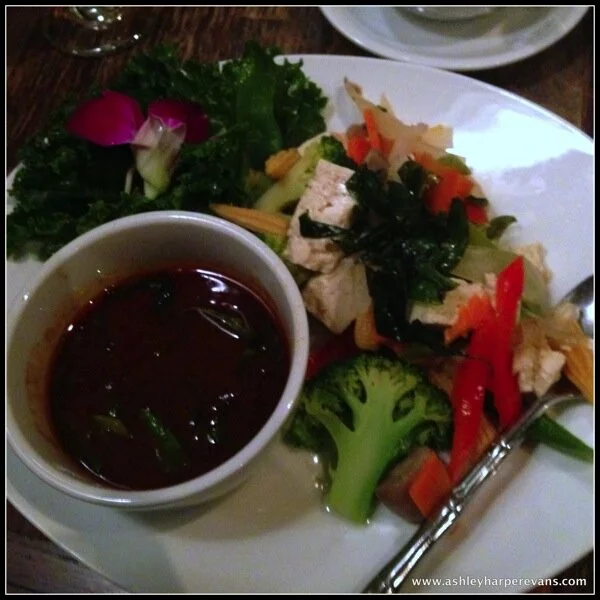 Steamed tofu, broccoli, asparagus, carrot, onion, baby corn, basil, pepper and mushrooms
Restaurants always put wayyyy to much sauce on their dishes, so I always ask for it on the side and then can add however much I want, which usually isn't a lot!  This cuts not only calories and sugar but sodium too!
Saturday, I popped up bright and early in order to help the hub get out the door and then headed out the door myself to take an awesome "Leaps and Turns" dance class. This was the PERFECT way to start my day! My body seriously hadn't moved like that in yearsssss and I can really feel it today! After the dance class, I ventured over to Your Dekalb Farmers Market to pick up groceries for the week. I stocked up on lots of good stuff but forgot to photograph! With a fridge packed full of yummy food, last night, I whipped up a veggie and pasta dish that turned out delicious…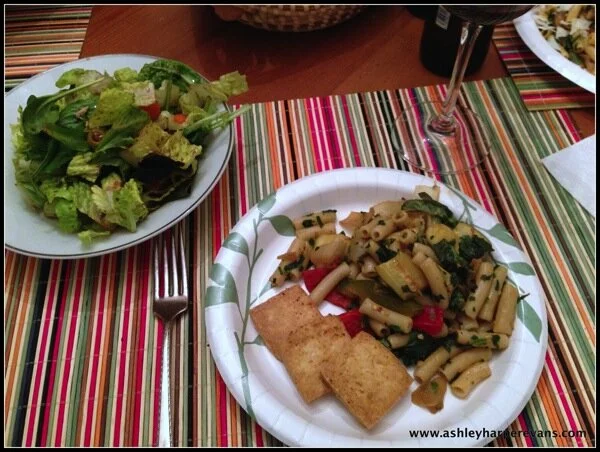 Brown rice penne pasta, onion, garlic, zucchini, mushrooms, roasted red peppers, green bell peppers, zucchini, spinach, balsamic, EVOO, fresh basil (this really made the dish), herbs de province, salt and pepper. Baked tofu for me and faux fried chicken tenderloins for the hub.
Today has been an incredible day so far! If you are in GA, isn't it beautiful out?! I first helped the hub get on the road again bright and early but not without a filling breakfast first …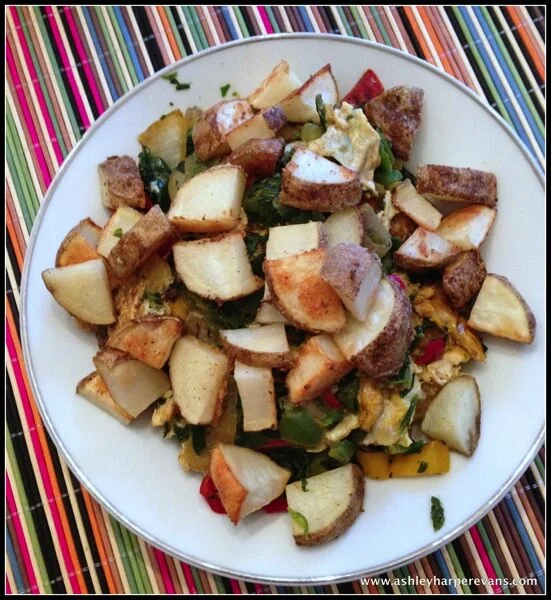 Breakfast bowl for him featuring yellow stone ground grits, eggs, fire roasted bell peppers, onions and spinach and all topped with some breakfast potatoes – and a green smoothie on the side not pictured.
He left with a cooler packed full of yummy stuff…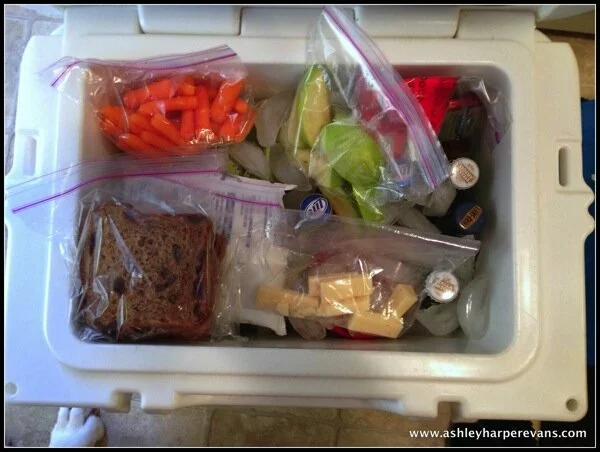 Somewhere in there are 3 meals (Spicy BBQ Chicken, Split Peas, Quinoa and Roasted Broccoli), almond butter sandwiches on Ezekiel Cinnamon Raisin bread, Manchego cheese slices, carrots, hummus, apple slices, a green smoothie, a few beers and some dark chocolate. A separate bag for the dried goods made the trip too, including air popped pop corn, whole grain crackers, protein bars, homemade trail mix (shown below), tangerines, pistachios and I think that's all! Needless to say, he won't be without a healthy snack or meal! (I spy a Boxer paw!)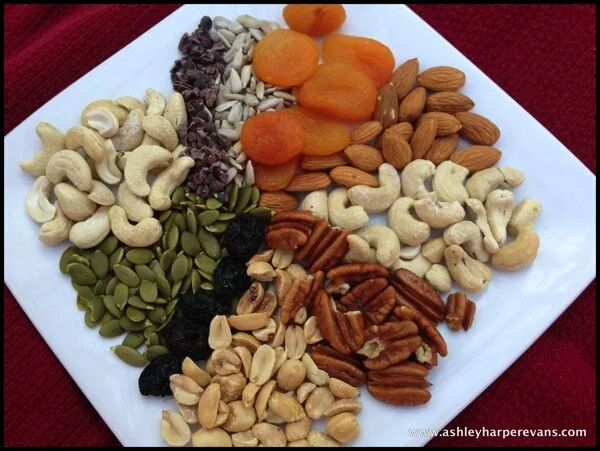 Homemade trail mix as mentioned above… apricots, raw almonds, raw cashews, pecans, peanuts, dried cherries, pumpkin seeds, more raw cashews, cacao nibs and sunflower seeds. Easy and delicious!
After the hub hit the road, I took the pups for a walk while listening to a live broadcast of my church service – yet, another incredible start to the day!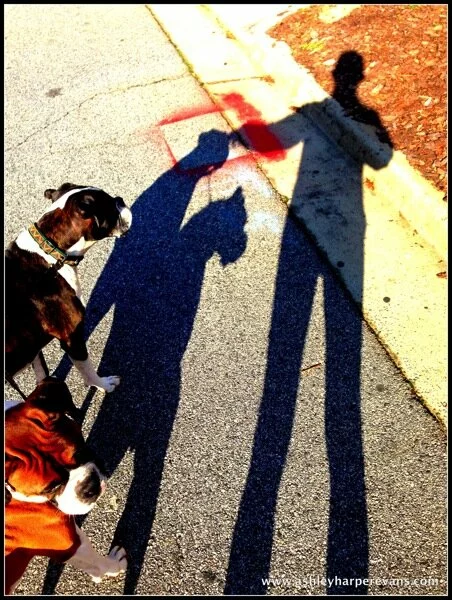 Anyway, I am off to enjoy this beautiful day! I hope you are all having a fabulous Sunday! Any random weekend occurrences that you want to share with me!?
Good health!