Hi friends! Happy Hump Day! I hope your week has been stress free and wonderful thus far!
You probably read that with a humorous chuckle I would guess. Some of you are even wondering if there is such thing as a stress free day anymore.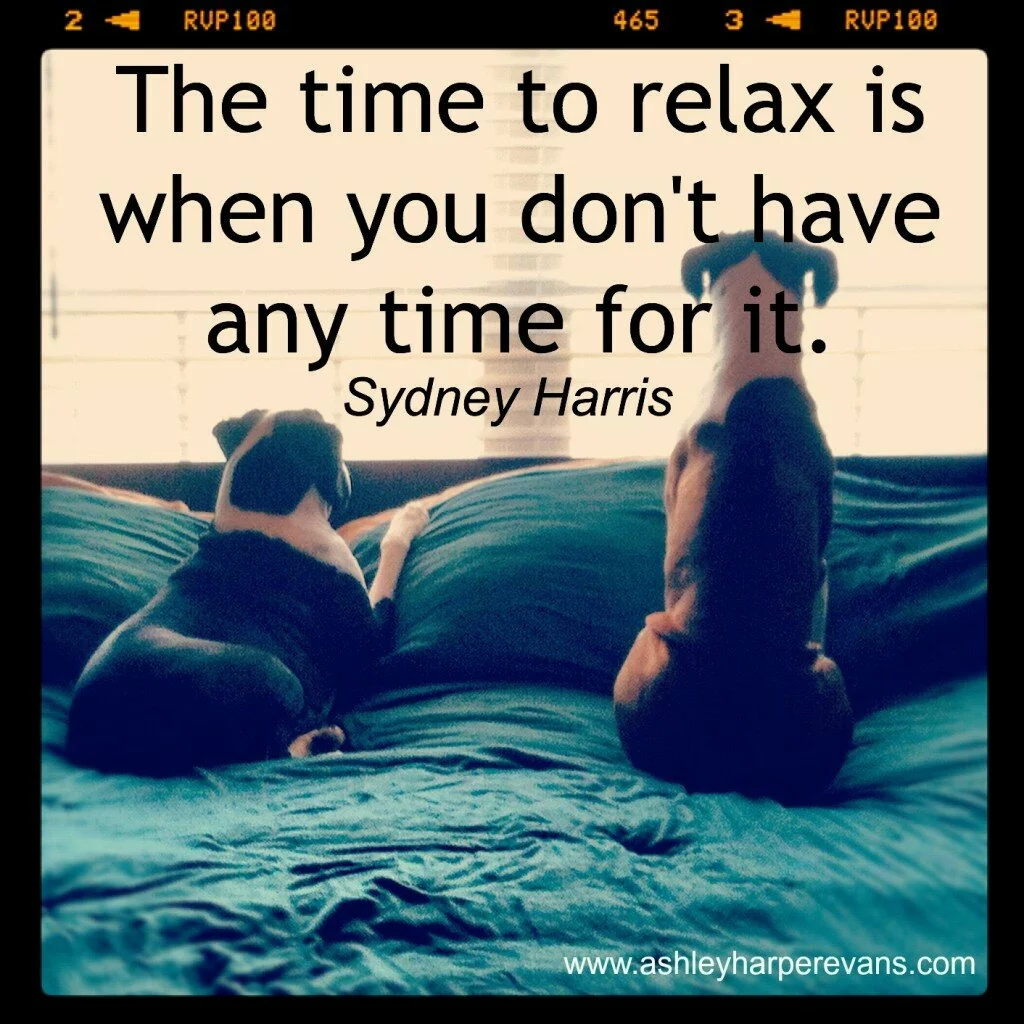 During my nutrition undergraduate and dietetic internship, there were many days that I didn't know if I could survive the stress of one more day. One more test, one more project, one more meeting, one more presentation, one more day of marathon training, one more anything and I would collapse. There were many nights that I remember getting 2-3 hours of sleep and then waking up to do it all over again. And if I haven't told you before, I need my sleep. We all do. My stress during that time and your stress today might look completely different, but none the less, a large amount of stress effects us in a negative way. While too little stress can be a bad thing too (maybe you are not challenging yourself enough), too much stress can wreck havoc on your immune system and  is linked to several different illnesses and diseases such as heart disease, cancer, arthritis, respiratory issues, depression, and on and on.
Thankfully, I am currently at a place in my life where I have learned how to better my manage stress. Just because my schooling and internship are complete doesn't mean that stress is gone too. Now it's just a different kind of stress and I have to incorporate stress management tricks to properly manage it.
Checklists, to-do lists, organization folders, envelopes and binders, exercise and a healthy diet are all crucial for me to limit my stress. Today I want to share with you my healthy-eating, stress management principles in hopes that you too can incorporate them into your day and help minimize the stress in your life. 
It is especially important to eat a healthy, balanced diet during times of stress. While it might be be easy, tempting and convenient to reach for candy, crackers or chips. That will only lead to more stress. Choose fresh fruits and vegetables, whole grains, lean proteins and healthy fats.
Sit down while eating your meals. Avoid eating breakfast in the car, lunch at your desk or dinner standing in the kitchen. Make time for eating, after all it's pretty important. Time can be an issue for all of us, but make time to enjoy your meals, feeling satisfied at the end of each meal. This will also be a prefect time to calm your mind down, take a deep breath and refocus.
Avoid skipping meals. This will prevent your body from feeling starving, leading to over-eating when you do eat, as well as help your keep you blood sugar balanced throughout the day too, avoiding the highs and lows. You think more clearly with a balanced blood sugar too!
Pack healthy snacks to prevent an afternoon crash. Apple slices, carrot sticks, rice crackers, hummus, walnuts, peanut butter, etc. Doing anything while hungry isn't fun, especially fighting through a stressful afternoon.
Drink plenty of water throughout the day. This will keep you hydrated, help remove toxins, and aid in digestion, all important factors when dealing with stress.
How do you manage stress? As you can see, I put a lot into managing my own stress and good nutrition is one of my key factors.
Half way through the week! I hope you have a great evening!
Good health!