Good morning friends! Happy Monday! I hope you all had a wonderful weekend!
I had another weekend FULL of moving, unpacking, organizing and arranging. Literally, nearly every minute of my weekend went to that. Friday, on my way home from work, I stopped by Bed Bath and Beyond to pick up a few more things for the new place including this chalk board shelf with drawers for the back door entrance.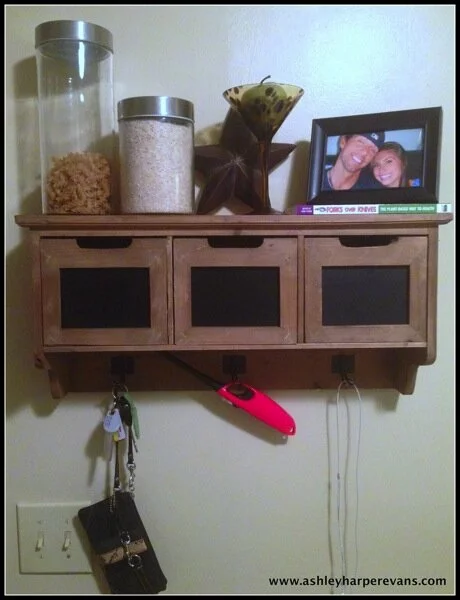 Once I made it home, I ate leftovers for dinner (the problem with the hub traveling is my lack of motivation to cook myself a new meal, but I'm love leftovers so I guess it works out!) and continued unpacking boxes that made the first trip here last week.
Saturday morning, I woke up bright and early, for some crazy reason, my body popped right up at 5am… not usual. I spent the morning putting things away in the attic to clear for another load coming in that day. I made it to the gym before nine for a little bit of cardio, shoulders and abs. Due to the crazy weather and the move last week, my workout schedule really got thrown for a loop, so that's why shoulders got moved to Saturday.
After the gym, I ran in to Costco for what proved to be a quick but expensive trip. Costco does it every time! I guess I should have expected it being the first trip after a move. I restocked up on disinfecting wipes, Brita water filter replacements, Brussels (yes, it is a necessity to keep these things in stock!), frozen fruit for smoothies, greens for smoothies this week, Lacroix, dryer sheets, wine, hummus, Skinny Pop, large storage containers, back door mat and a few other things.
After Costco, my dad came and picked me up with his truck and a trailer to pick up the rest of our belongings (or what would fit!) from Dustin's parents. My dad was on a mission that day, therefore, it took us about 45 minutes (everything was already packed and in boxes) to load everything up and then about 30 minutes to unload it all (most of the heavy things were already here).
He headed out and I got straight to work, trying to make this place a home before Dustin returned home from his trip last night.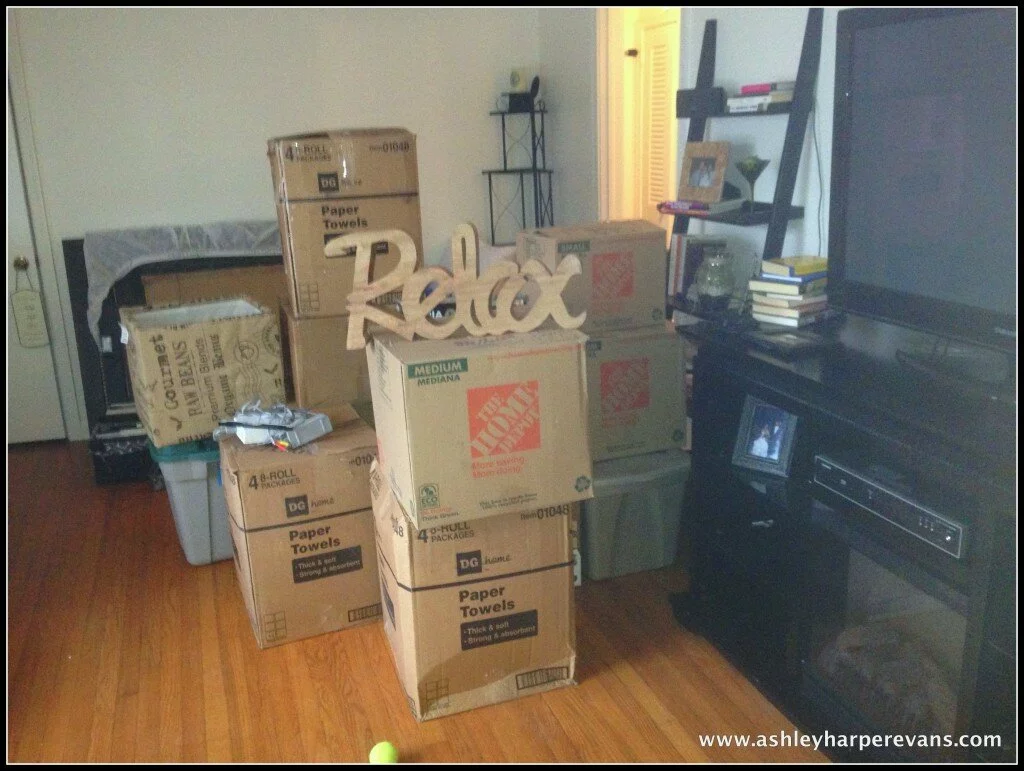 We are still missing a few pieces like the couch, entry way table, a few lamps and everything for the guest bed room but it's finally starting to come together!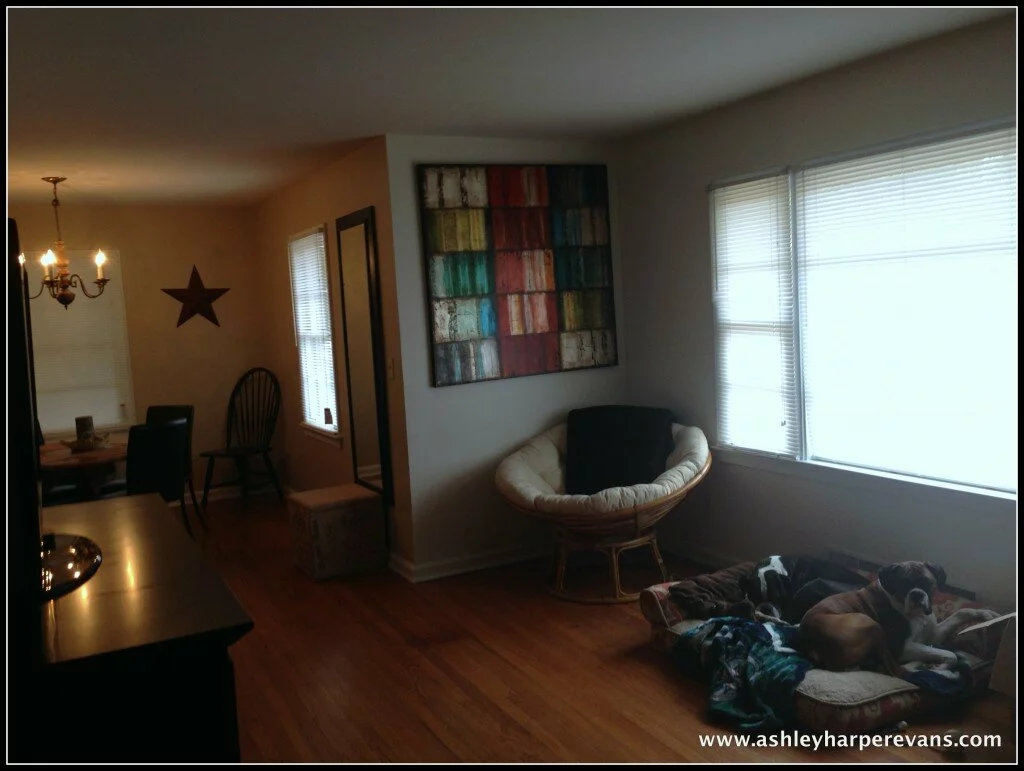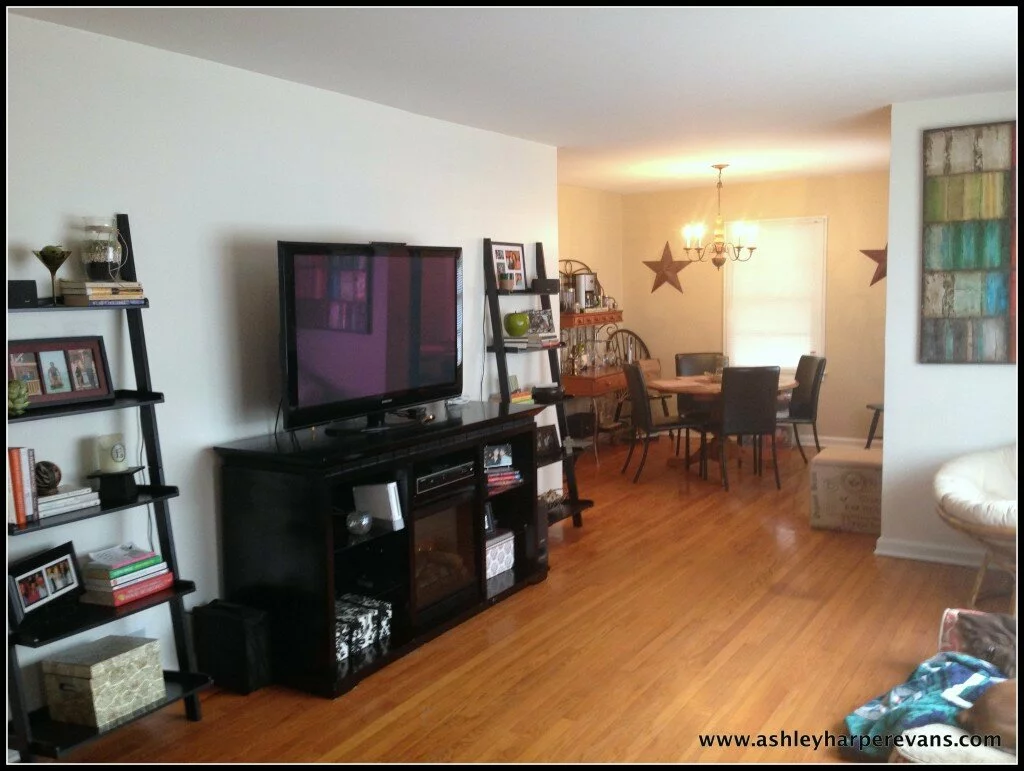 We had a slight change of plans to watch the Super Bowl but after the hubs return home at around 6:30 and my moving filled weekend, I was completely fine with cooking dinner and enjoying wine here with my sister and Dustin, as we streamed the game through the computer (Yep! You read that right… no cable here until Wednesday!). While it wasn't the most traditional way to enjoy the game, it was certainly one that we won't forget!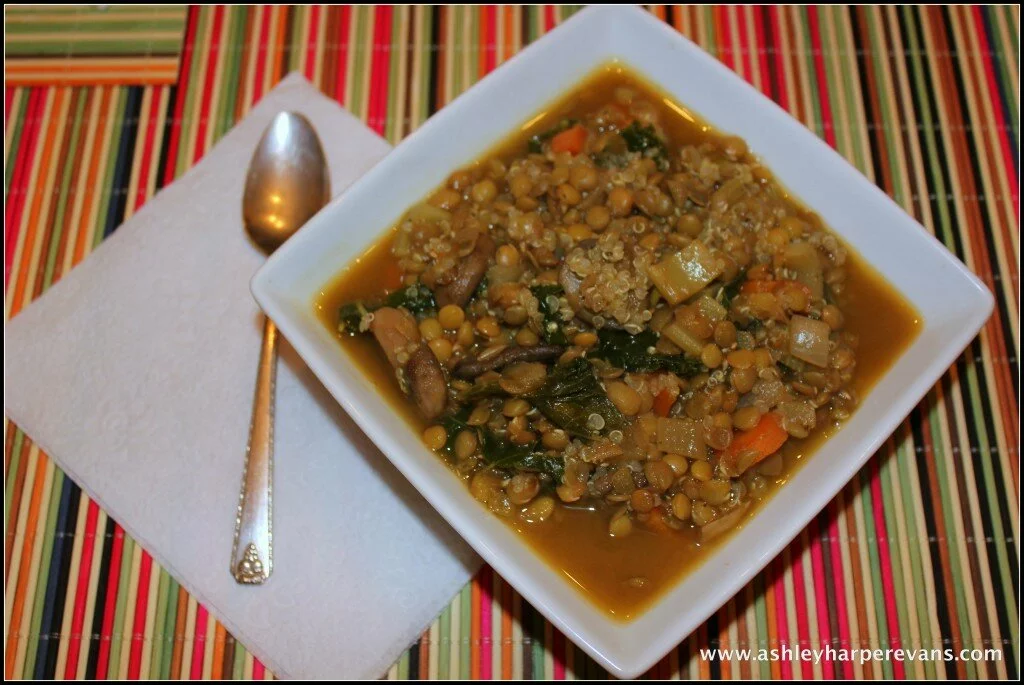 Today I'm going to leave you with the yummy soup recipe that we enjoyed last night. This Lentil, Quinoa and Kale Soup is hearty, filling, easy and perfect for this Meatless Monday!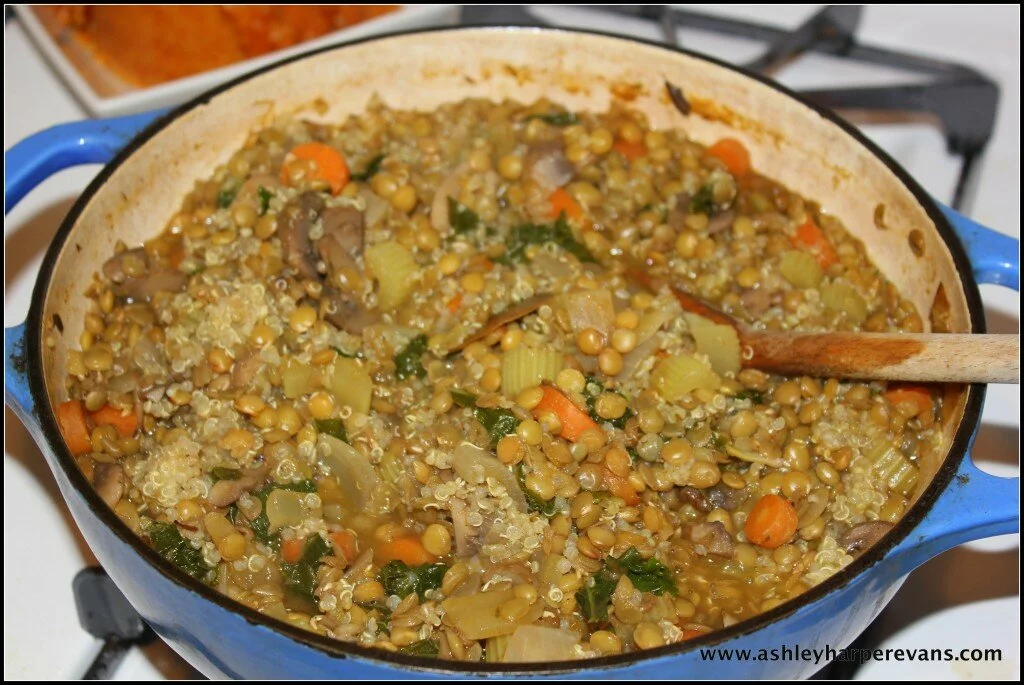 Lentil, Quinoa and Kale Soup
Ingredients
1 tbsp coconut oil
1 large onion, chopped
1 tbsp minced garlic
2 whole carrots, diced
2 celery ribs, diced
1 package white mushrooms, chopped
1 32 oz box (4 cups) unsalted or low-soduim vegetable broth
4 cups water
1.5 cups dried lentils
2 cups chopped kale, stems removed
2 tbsp tomato paste
2 bay leaves
1/4 tsp cayenne pepper
1/4 tsp black pepper
2 tsp thyme
2 tsp oregano
2 tbsp balsamic vinegar
1 cup cooked quinoa (cook first… I made 1/2 cup dry and added 1 cup to the soup and saved the rest for left overs)
salt to taste
Directions
In a large pot, heat oil over medium-high heat. Add onion and garlic and sauté for ~1-2 minutes. Add carrot, celery and mushrooms and continue to sauté until onions are translucent, ~4-5 minutes.
Add broth and water to pot. Pour in lentils and kale and bring to a boil. Stir in tomato paste and reduce heat to medium-low.
Add seasonings (bay leaves, cayenne and black pepper, thyme, oregano and balsamic vinegar and cook for about 20 minutes or until lentils are tender.
Stir in quinoa and salt to taste and continue to cook on low for about 5 minutes or until ready to serve.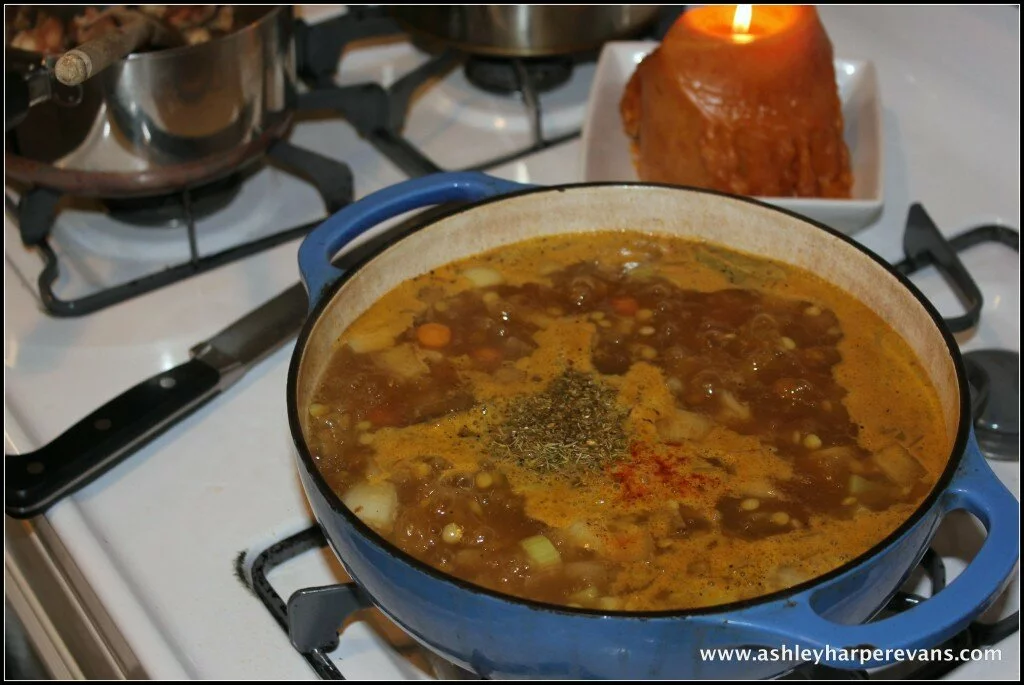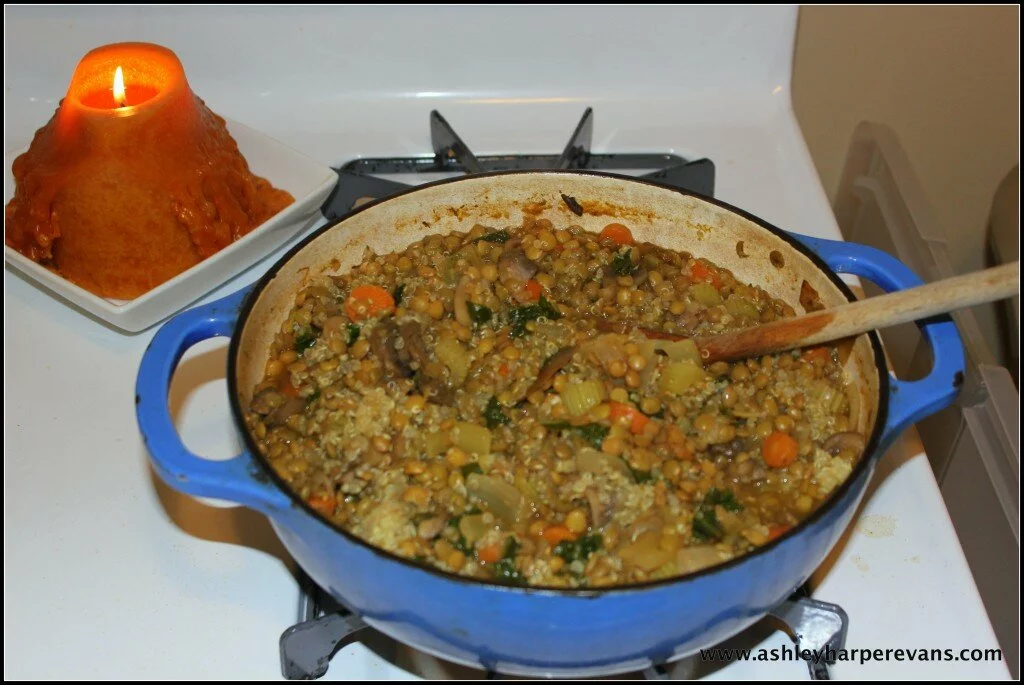 When my real estate agent told me she was on a mission to find me a place because she wanted me to have my life back… she did just that! It is so incredible not spending 2+ hours commuting to/from work each day. I couldn't be happier right where we are!
What did you do this weekend? Anything fun for the Super Bowl?
Have a wonderful Monday!
Good health!