Hi there! Happy Monday! I hope you all had a wonderful weekend.
Friday, I was so excited to pick up my brother and sis-in-law from the airport and then we all gathered at my parent's house to share a yummy pot of chili (the Friday night soup fall tradition continues!), chatting, laughter and tears for Saturdays events. The hub flew in early Saturday morning to join my family in saying goodbye to my grandfather one last time. The visitation and funeral were absolutely beautiful and exactly what my grandfather would have wanted. Although it was hard saying goodbye, there is no place that he would rather be. Saturday ended with my entire family under one roof, sharing the stories of his life, connecting and loving one another. It was wonderful ending the day in a room full of so much love.
The love and family time continued on Sunday as we celebrated my dad's birthday. We started the day with a yummy brunch prepared by my mom, next was a long afternoon walk and then we ended the evening with a delicious dinner, including this Halloween recipe that I am going to introduce you to today: Jack-O'-Peppers.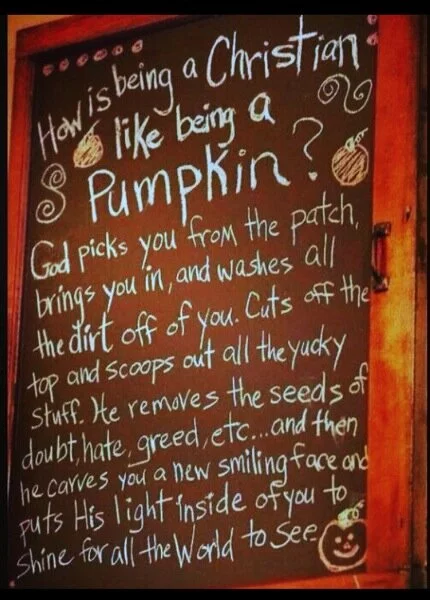 I just love that!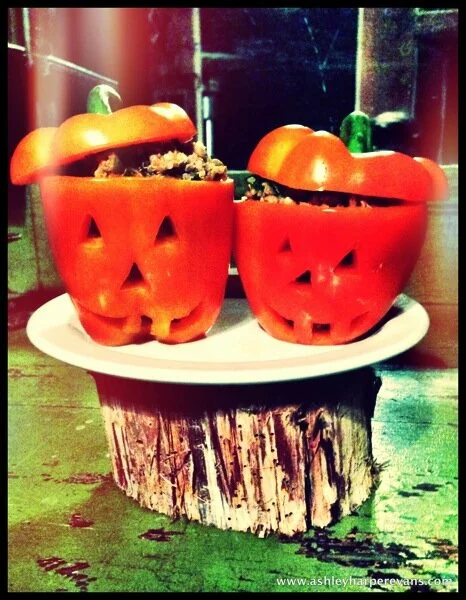 A few days ago Lauren from With Raw Intentions shared a raw version of these peppers and I couldn't get them off of my mind! While Lauren left them uncooked, I stuffed them with a warm quinoa and lentil mixture and then just sat them on the grill to warm them up. These little guys are the perfect Halloween week recipe, full of not only protein, vitamins, and minerals, but also the cuteness that your family will love! They are fairly simple and would be a great addition to any Meatless Monday meal tonight!
Jack-O'-Peppers
Ingredients
6 orange bell peppers
1 tbsp coconut oil
1/2 onion, diced
1 carrot, diced
1/2 cup chopped mushrooms
1 tbsp minced garlic
1 cup uncooked quinoa
1 cup dried lentils
5 cups water (or unsalted vegetable broth)
2 cups spinach, chopped
1 zucchini, diced
1/2 can chopped waterchestnuts
1/2 tsp salt (or to taste)
1/4 tsp ground pepper
2 tsp dried thyme
1/4 cup balsamic vinegar
Directions
Cut the tops off of bell pepper off (reserve for serving) and clean out the middle. Slice the bottoms (very small amount) of the peppers off so that the peppers will stand up evenly.
Using a small pumping carver cut two eyes, a nose and a mouth into each pepper.
In a large pot, heat the oil over medium-high heat. Add the onion and carrot and sauté until translucent and browned. Add the water, lentils and quinoa and bring to a boil. Lower the heat, cover and cook for approximately 20 minutes. Add the chopped spinach, zucchini, water chestnuts, herbs, spices and balsamic vinegar. Stir to combine.
Stuff each pepper with the mixture and place the tops back on.
Place the peppers on the grill (low heat) and warm until ready to serve (ours were on the top rack of the grill for ~10 minutes). Serve and enjoy!
(Note: we had a little bit of remaining mixture that we used to stuff a few baby portobellos for serving as well.)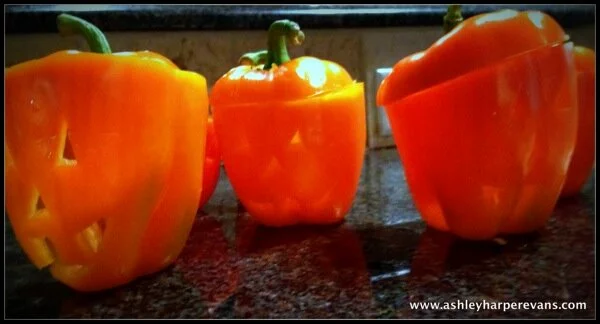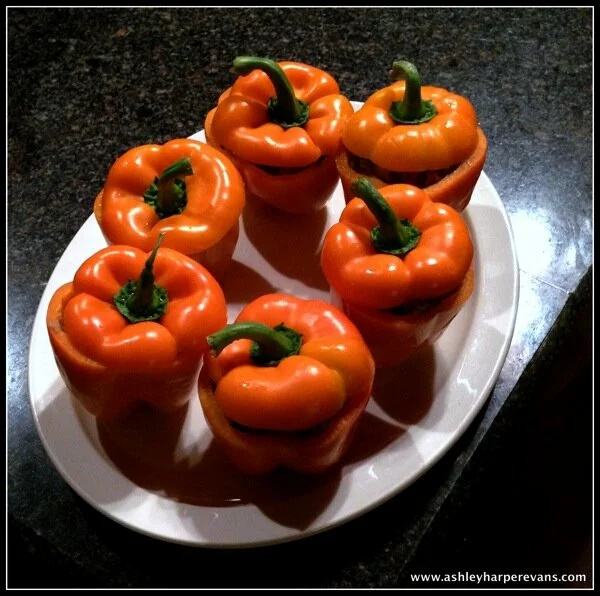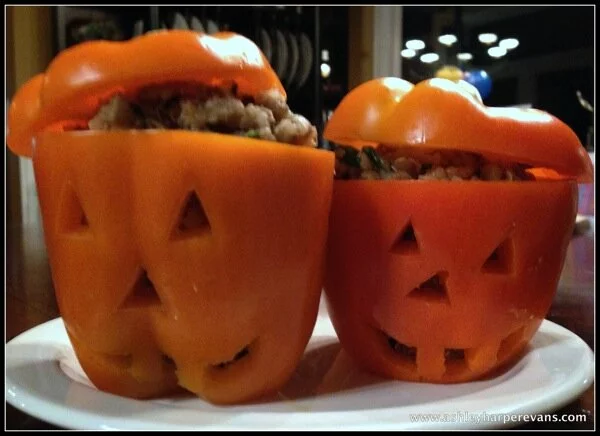 What's your favorite Halloween recipe!? This one is definitely mine!
Have an awesome Monday!
Good health!