Why hello there Monday morning… you always come to soon! How are you today friends? I hope you had a fabulous weekend. We certainly did. Nothing too out of the ordinary here- Friday night we shared a delicious dinner with Dustin's parents.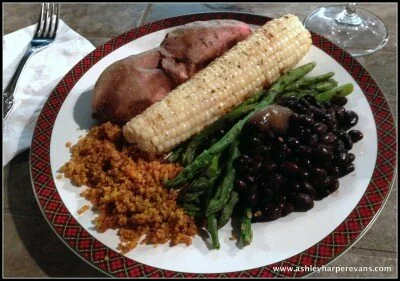 Saturday, I hit the gym first thing in the am for a weekend workout since I didn't get to fit in a workout on Friday. After that, I headed to the grocery store to pick up the deliciousness that I am going to share with you today, as well as all of the ingredients to make our first batch of eggnog for the season (I will share that recipe this week too!).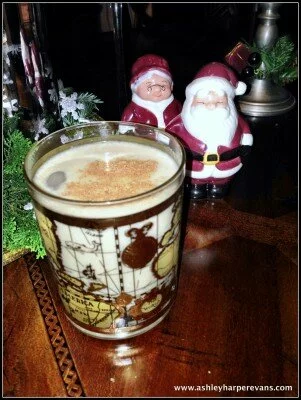 Saturday night we did a little bit of Christmas tree decorating and then turned in for a fairly early night. Sunday we cooked breakfast, watched church from home instead of attending, bathed the pups, took care of a little bit of work that I had been putting off and then I spent the rest of the evening in the kitchen preparing food for the week! Crockpot oats, green smoothies, BBQ roasted chickpeas and a couple of casseroles for one of the hubs final road trips of the year!
Anyway, enough about the weekend and on to this yummy, savory dish your entire family is sure to enjoy! 
Years ago, I made a "Vegan Chicken Pot Pie" that certainly was tasty but very "bready" to say the least. With the help of Mama Pea, I used her recipe as a backbone and then made it work for us with a gluten-free bread-like topping but not a bread only dish like the one I made years ago! Gluten-free, vegan and full of protein, this is a dish that I will certainly make again – in fact, I already made it twice this past weekend! It's fairly easy, pretty cheap and one that you can make in advance and then throw in the oven as soon as you walk in the door. Next time, I am going to try it in the crock pot too!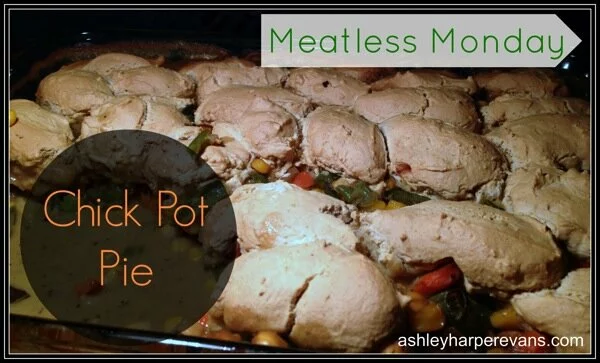 Chick Pot Pie
Ingredients
For the filling:
1 tbsp coconut oil
1 yellow onion, diced
1 tbsp minced garlic
2 celery stalks, diced
2 small Yukon Gold potatoes, diced
1 28 oz bag frozen mixed vegetables (peas, carrots, green beans, corn)
1/2 tsp salt (or to taste)
1/2 tsp black pepper
1 tsp dried thyme
1 tsp dried basil
1/2 tsp dried oregano
2 cups cooked garbanzo beans
For the roux:
1 tbsp coconut oil
2.5 tsp gluten free flour
1.5 cups unsweetened plain almond milk
3/4 cup low sodium vegetable broth
For the biscuit topping:
1 cup unsweetened plain almond milk
2 tsp lemon juice
1 + 2/3 cups gluten free biscuit flour (I used Bob's Red Mill… Bisquick now has their version too)
1.5 tsp baking powder
3/4 tsp baking soda
1/4 tsp salt
1/2 tsp black pepper
4.5 tbsp coconut oil (still hard, cut into chunks)
1/3 cup nutritional yeast (or Parmesan cheese)
1/2 tsp dried basil
Directions
Preheat the oven to 350. Coat a large casserole dish with non-stick spray.
Prepare filling first. Heat 1 tbsp coconut oil over medium high heat. Add diced onion, garlic, celery and potatoes and sauté until the mixture begins to soften, about 5 minutes. Add in frozen veggies and continue to sauté, string in salt, pepper and herbs. Gently fold in garbanzo beans, careful not to mash. Turn heat to low.
Prepare roux next. In a separate pan, heat 1 tbsp coconut oil over medium high heat. Add 2.5 tbsp of flour, using a whisk to combine – string constantly. Slowly add the almond milk and vegetable broth, continuing to whisk until combined and thick, bringing the combination to a boil. Pour the sauce over the vegetable combination, gently stirring to evenly coat the veggies.
Pour the vegetable mixture into the large, well-sprayed baking dish.
Prep the biscuit topping last. In a medium bowl, combine the almond milk and the lemon juice and set aside. In a separate bowl, combine the dry ingredients (flour, baking powder, baking soda, salt and pepper). Cut in the coconut oil using a fork until it is evenly distributed but still in chunks. Add in the nutritional yeast (or Parm) and basil. Pour in the soured milk and mix until just moist (remember you don't want the combination too liquidy!)
Using two spoons, scoop a spoonful of the batter up with one spoon and push it onto the dish using the second spoon until your biscuits make a lovely topping for the casserole.
Place the casserole in the oven and bake for ~45 minutes, after 30 minutes checking every 5-10 minutes to prevent biscuits from burning.
Enjoy alone or with a green salad to start!
I am certain that this dish will satisfy all members of your family!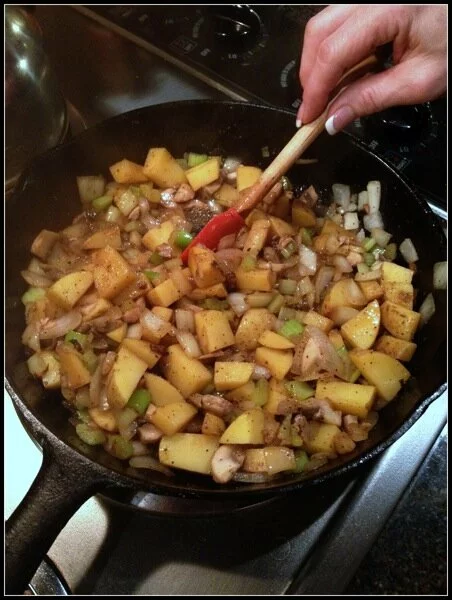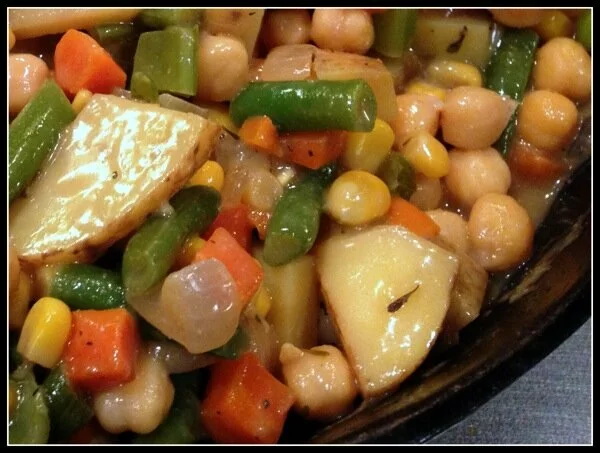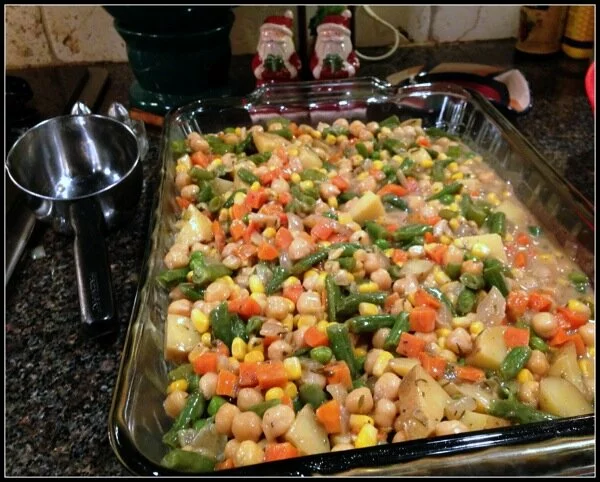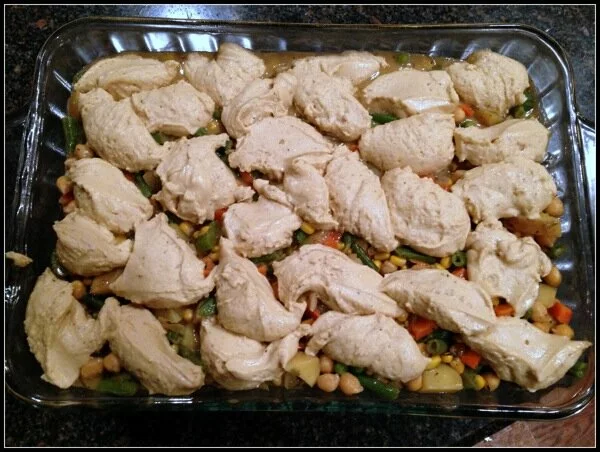 Version # 1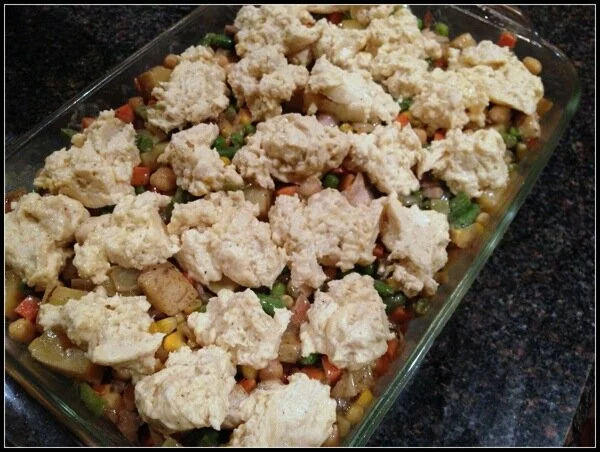 Version # 2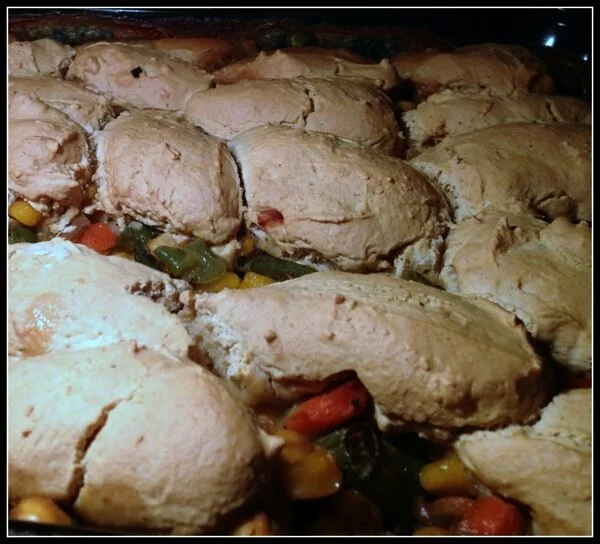 What did you do this weekend? Any cooking?!
Have an awesome Monday!
Good health!