Hi friends! Happy happy Friday! What a crazy week this has been! A friend of my sent this picture of a friend of her's commute home and it really is an accurate description of the what went on here on Tuesday afternoon.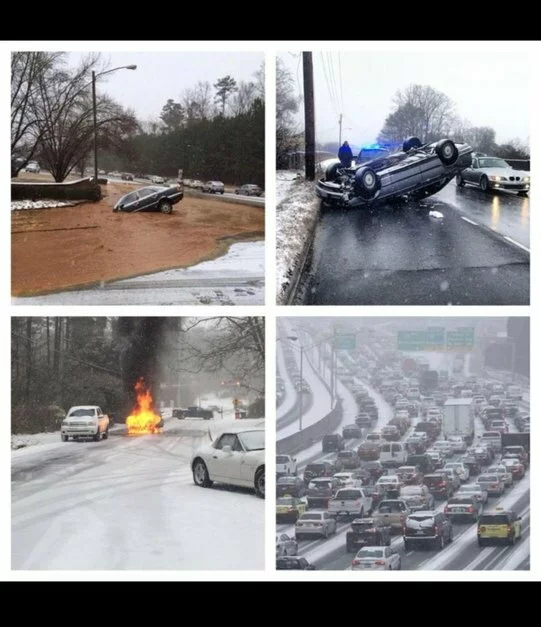 I am so thankful that mess is behind us. My prayers remain with those still effected.
We are now maybe 75% moved into our new place, but still have a long way to go when it comes to making it a home. After Tuesday's debacle, arranging and rearranging were the last things on my mind! The new little house did look cute in the snow although!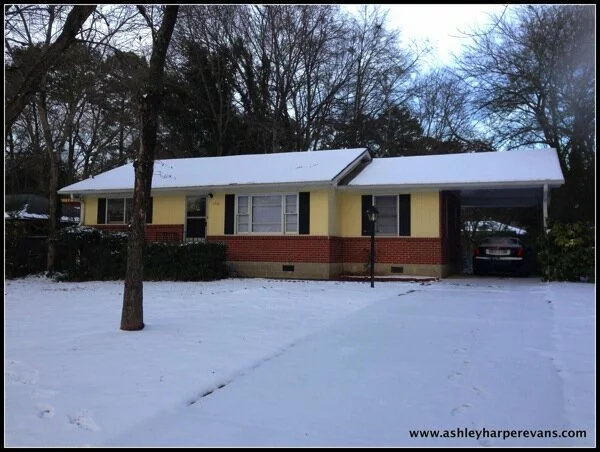 Old, quaint but perfect for us! Pictures of the inside to come soon!
I was so happy to be greeted on Wednesday night by three of my favorite guys. Looks like I didn't have to enjoy my chili and g-free cornbread alone after all!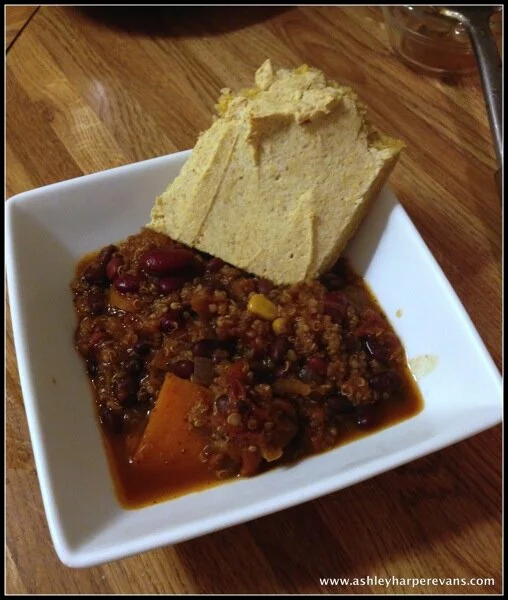 After their return home last night, it was straight to work prepping for another road trip for the hub…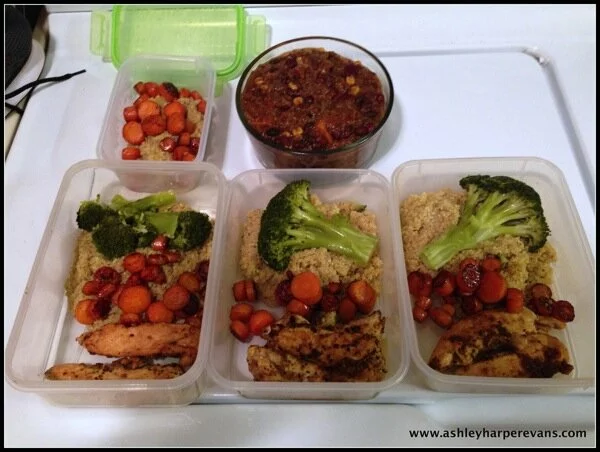 Cheezy quinoa, maple glazed carrots, steamed broccoli and lemon pepper chicken… along with leftover chili to send him away with.
Yesterday, I was one of about 10 that reported into our office, but even with that, today is going to be a crazy day trying to catch up on what was missed these past few days.
Solo dinner last night for the first time in a while was slightly strange, but delicious none the less…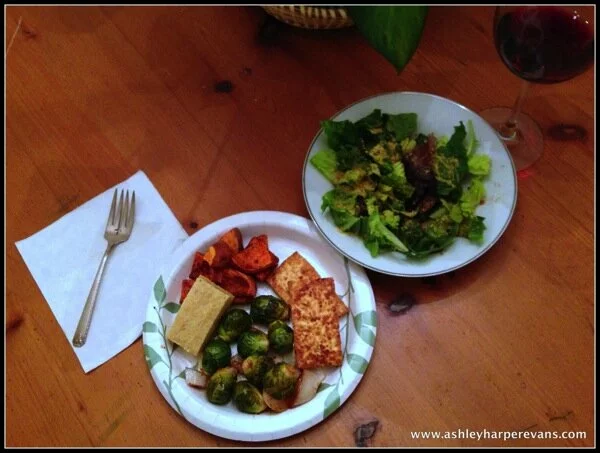 Salad to start, roasted sweet potatoes, balsamic glazed Brussels sprouts, pan-fried tofu and leftover cornbread.
Anyway, with the snow behind us, today I am linking up with Jill again from Fitness, Health and Happiness on this Fit Friday and I'm going to share a little bit about my fitness regimen history, as well as a sneak peek into a great workout that I've been trying thanks to Oxygen magazine.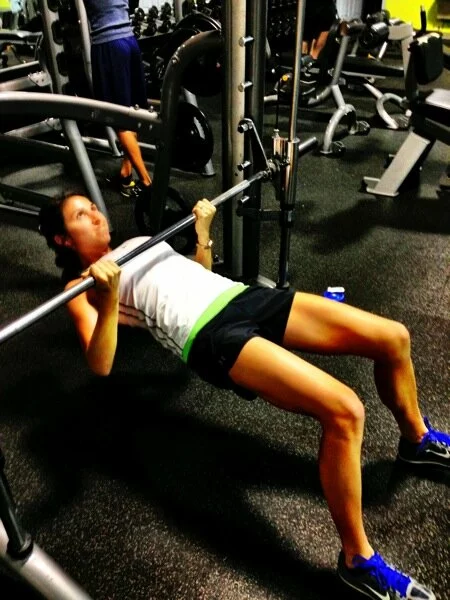 If you guys know one thing about me, it's that while I exercise often, I change my fitness schedule up frequently. I get into fitness routines and stick with them for a little bit of time. Sometimes I prefer the gym and weightlifting while other days I prefer long distance runs. You might find me training for a half marathon or marathon or other weeks taking a group fitness class such as Body Pump on the regular.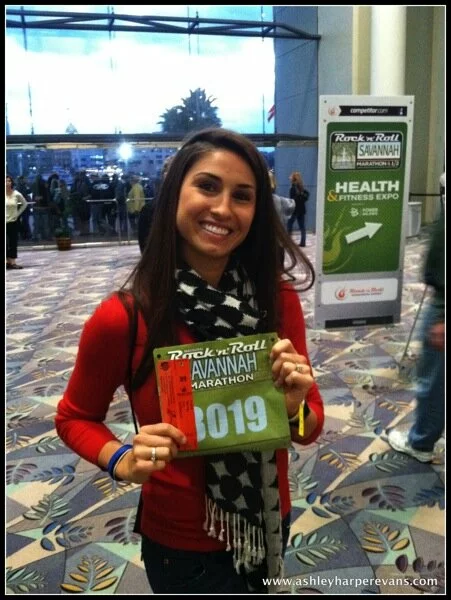 Some weeks my body craves yoga and rest and other days it's yearning for more flexibility and strengthening workouts provided through TRX.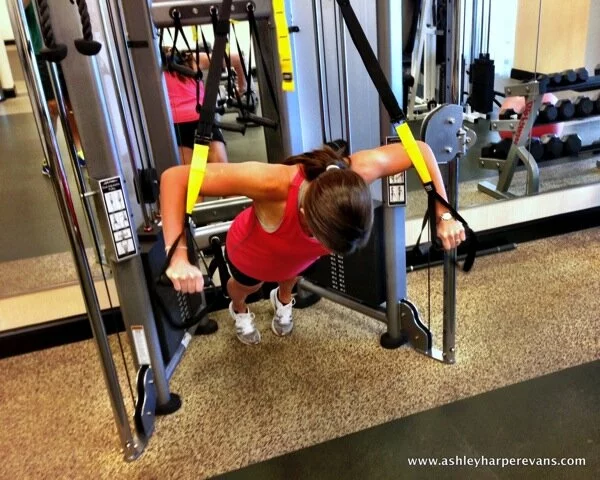 You all might remember another phase that I went through a few years back when I really got into at home workouts. I completed P90X three times and did two cycles of Insanity. Call me insane? I think so. At that time, however, it worked for me because Dustin and I were a single car family living in Orlando, Florida following his dreams to make it to the big leagues. I was at the house often, but still able to get in a great workout.  My body began to really love and crave that style workouts.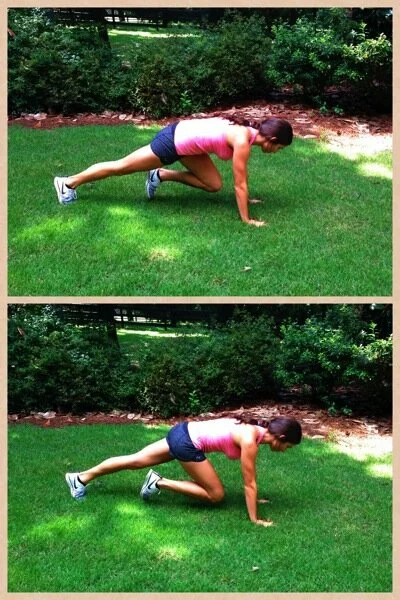 It wasn't until we went back to school that my love for the gym was born. Our University had a wonderful gym with more amenities than you could imagine, so I found myself enjoying weightlifting workouts while training for half marathons and one marathon in between. It was there that began teaching yoga also and  because of this my yoga practice really picked up during that time as well.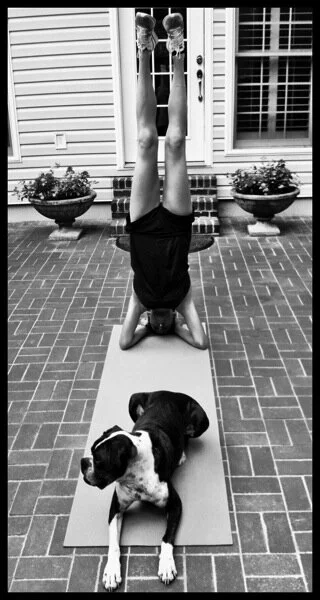 After moving to Jacksonville and being at the hospital all day long, I began to crave the gym and group fitness classes more often with a little bit of yoga on the side. During that time, my workouts were as balanced as they could be.
Lately, I have been spending a lot of time in the gym at work because it is convenient, however, lugging my stuff to and from everyday and also having to get ready away from my own home is getting a little old. Because of that, I've been researching other things that will work for me and was drawn back to my love P90X a couple of mornings but recently found that P90X3 has now hit the shelves. Right now my body is craving more at home workouts since I'm gone for the majority of the day. This will allow me to sleep a little bit later but also ensure that I have a great work out every single day.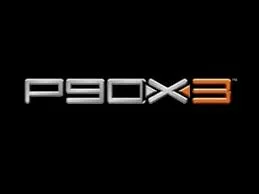 According to Tony himself in Oxygen Magazine, P90X3 is not just a shortened version of the original P90X. While it might only be 30 minutes, it is a high-intensity interval work out which is just right up my alley right now. Along with a shorter workout time, P90X3 includes many things such as Pilates, agility training, isometric training, plyometric workouts and eccentric training. There are 16 different DVDs and all include a short warmup, the workout and a cool down. 

As I mentioned, in this months copy of oxygen Magazine, Oxygen Magazine cover girl, athlete, actress, and P90X promoter Alice Rietveld shared a sneak peek of what P90X3 is all about and today I'm going to pass that along to you in case you're looking for a killer at-home workout and want to order a copy for yourself. Just so you know, I have no ties to P90X3 will not receive any compensation from this post, however, I just love to get good information out there and share when things work for me.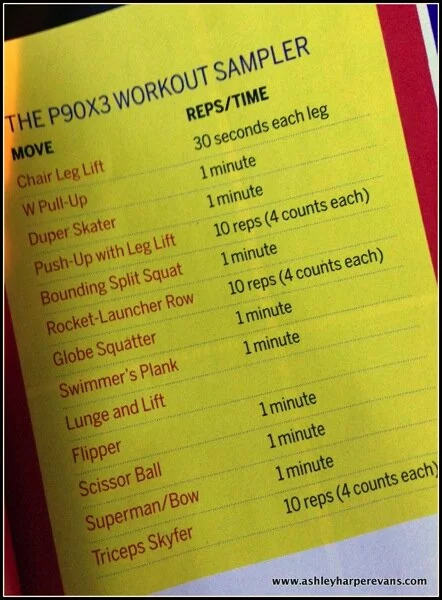 Google is a great resource if you don't know what any of these moves are, or also check out last months copy of Oxygen Magazine!
Do you like working out at home or what kind of fitness routines do you get into?
Have a wonderful weekend my friends! Anything fun planned? I hope to finish up this move, as well as watch the Super Bowl on Sunday. A few more loads to bring, lots of boxes to unpack and then hopefully all of our belongings will be under one roof!
Happy, happy Friday! Stay safe and warm!
Good health!