Hi friends! I hope you are having a wonderful weekend!
We could all use a little bit of good luck, right? Today, I'm going to serve a little bit of luck up for all of us! With a New Year quickly approaching us, it's already time to start thinking about that New Year's good luck spread!
Being the 21s, it's time for another Recipe Redux and a New Year's challenge was involved! In case you are new to my site, you can check out my past RR post here: Garden Harvest Pickled Okra, Mini Peanut Butter Pies, Crockpot Lasagna or my Holiday Protein Bites.
This month we were given the following challenge:
Good Luck Foods: What will you be serving to get the New Year started with a little luck? Be it black eyed peas and greens, Chinese noodles or even a special family recipe you serve on New Year's Eve or Day. Please share your good luck dish to start off 2014 in a healthy way.
One of my favorite sayings has always been, "It seems the harder I work, the luckier I get," from Abraham Lincoln. I love this quote so much because it shows that really there is no such thing as random luck, but rather the gift of luck is up to us. Through preparation, determination and consistency, luck can be enjoyed by all us. And that's no different when it comes to our health!
Generally speaking, our health is in our hands (there are certainly times when this is a false statement). Through a healthy diet, an active lifestyle and a proactive approach, we can all be lucky enough to receive good health!
Today, I want to share with you a recipe for good luck in 2014, in all aspects of life including good health! While New Year's Eve tends to be all about saying farewell to the previous year, New Year's Day is all about welcoming a new year, praying for the best one yet.
When creating my recipe, the ingredients were carefully selected to provide the most luck for each of us in 2014!
The base of my recipe is lentils because they are known bring good luck, good fortune and prosperity because of their coin-like resemblance. They have been touted as a lucky food since the early Roman times. While it is already traditional in Brazil to start the New Year with a pot of lentil soup, let's kick off 2014 this way too for a healthy and lucky 2014!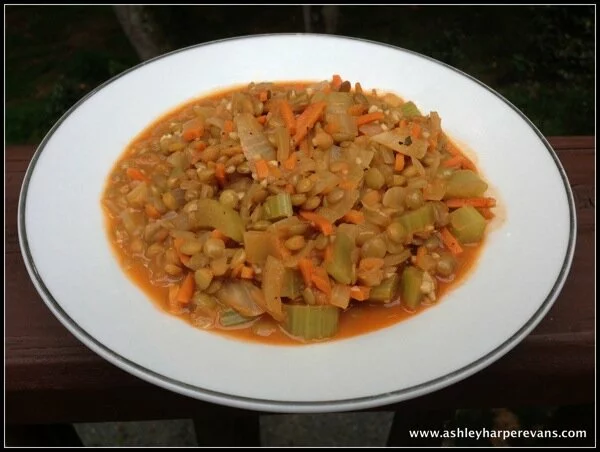 Lucky Lentil Soup
2 tbsp coconut oil

1 small onion, finely chopped

2 medium carrots, finely chopped

2 celery stalks, finely chopped

1 tbsp white wine, optional but provides a great flavor

1 tbsp minced garlic

2 red potatoes, finely chopped

1/2 cup mushrooms, chopped

1 pound bag of dry lentils, uncooked

1 14.5 oz can low-sodium petite diced tomatoes with juice

2 quarts low-sodium vegetable broth

1 cup cooked garbanzo beans

1/2 cup spinach, finely chopped

1 bay leaf

1 tsp salt, or to taste

1 tsp ground black pepper

1 tsp ground thyme

2 tbsp vinegar (any kind)
Directions
In a large pot, heat the oil over medium high heat. Add the onion, carrot, and celery and sauté about 5 minutes. Add the garlic, potatoes and mushrooms and continue to cook, stirring occasionally, until the vegetables are starting to brown on the bottom of the pan. Add the splash of white wine to deglaze. 

Add the lentils, tomatoes with the juice, and vegetable broth and bring to a simmer. Add the spinach and bay leaf and stir to evenly combine.

Turn the heat down to medium, stir in the salt, pepper, thyme and vinegar and cover with a lid. 

Continue to cook for about 25 minutes until the lentils are soft. If you prefer a creamier texture puree about half of the soup with a hand held emersion blender or in a standing blender. 

Serve with a delicious pan of cornbread and enjoy!
Here's to a wonderful rest of 2013 and an even better 2013!
Have a great day my friends!