Hi friends! How are ya today!? Wednesday already? This week is flying. 
It may not seem like it to you, but this week is entirely different for me. 4am wake up calls when I'm used to waking up around 7am, meals prepped the night before when I'm used to spending hours a day playing around in the kitchen, and a solo workout before my body even realizes it's awake. This might sound like pure misery to you, but it's exactly what I crave and exactly what I needed in my life right now. 
Anyway, to catch you up on a few things…
So far so good on the new job front! I will be working with three other dietitians who all have 15+ years of experience as a registered dietitian, so I am incredibly excited and humbled to be able to continue my learning from these well-knowledged ladies. I will be in training for the next six weeks and then move into my role as a nutrition consultant right around Christmas time. The people here are wonderful, the location is great and building are beautiful! I couldn't feel more blessed to have been offered this opportunity. 
Also, you might have already seen over on IG or FB that my first (of many!) article was published on over on All Women Stalk (www.allwomenstalk.com.) and you can check it out here! If you are new to AWS and are interested in easy reads covering everything from health and fitness to money and fashion you really should check out and DL the free app. It is seriously awesome!
But on to other (yummy!) things…
I talk about my love/hate relationship with Greek yogurt quite often over here. While I love that it is an easy, quick and lean source of protein and provides super nutritious probiotics, many of you know that I am not a fan of dairy in general and eat a majority vegan diet. Because of this, I am always searching for ways to amp up my breakfast (and protein intake) without Greek yogurt (which is pretty infrequent).
Enter this delicious dairy-free blueberry vanilla yogurt.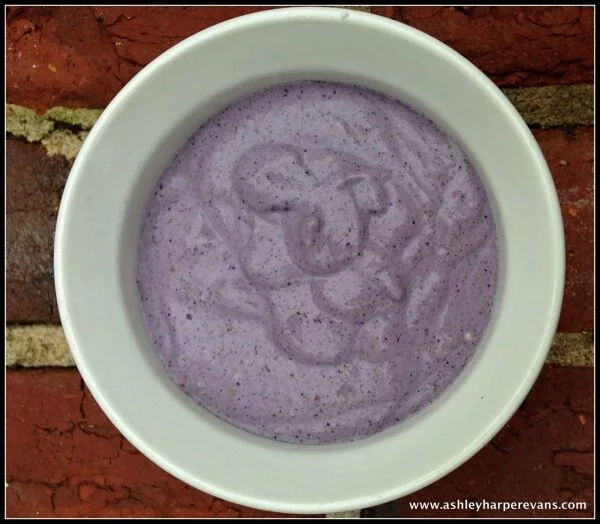 A little bit sweeter and a little less sour than Greek yogurt, this dairy-free yogurt is definitely comparable in texture and satisfaction. This version doesn't have the same probiotic content of that of Greek yogurt (or any probiotics at all for that matter), but I've been doing a little bit of research on how to add them in and will share that recipe once I get it just right! 
Enjoy this dairy-free yogurt along with a bowl of oats or even as a late night snack… in our house, it goes both ways!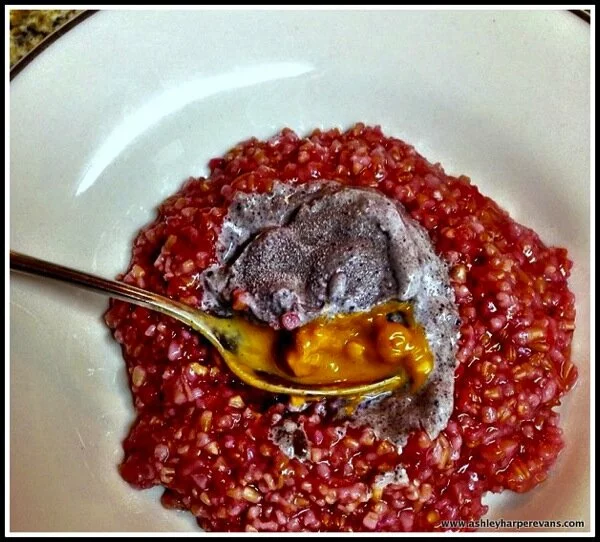 Or on top of pink oats! Whatever works, right?!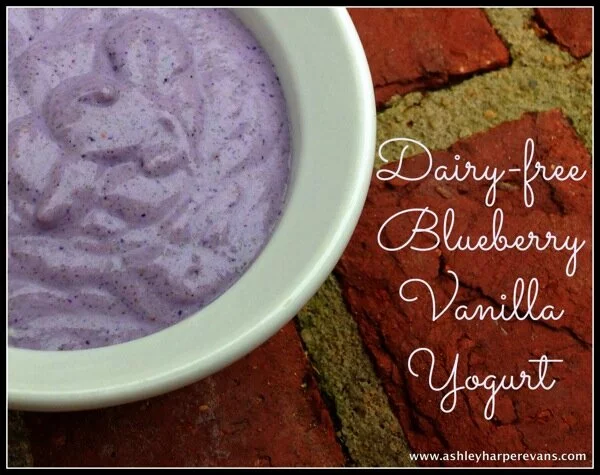 Dairy-Free Blueberry Vanilla Yogurt
This made two servings for us because we enjoyed it as an accompaniment to our oats. If eating alone, it might only be enough for one (depending on your appetite!)
Ingredients
1/3 cup  hemp seeds

1/2 frozen banana

1/4 cup frozen blueberries

1 tbsp coconut oil

2 dates

1/2 tsp vanilla extract

3 tbsp water
Directions
In a high speed blender combine all ingredients and blend until smooth.

Place in the freezer for about 30 minutes to allow texture to firm before serving and enjoying.
–