Sweet potatoes vs regular potatoes – the great debate.
People often ask me which is healthier – a sweet potato or a white potato? And there are also those that tell me that they wouldn't dare touch a white potato because "white potatoes are bad."
Today, I hope to put an end to the questions and give you the information that you need to make the best decision the next time your faced with, "sweet potato or baked potato?"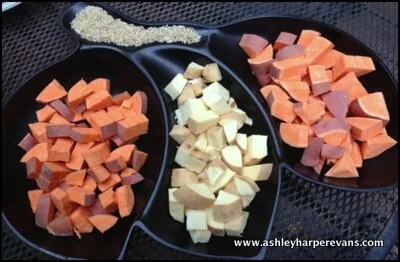 First things first: to many of your contrary believe, both the sweet potato and the white potato are healthy.
Here's the truth behind the potatoes:
Regarding Vitamins, Minerals, Antioxidants and Phytonutrients:
Both are full of fiber, vitamins, minerals, antioxidants and phytonutrients.
Both have a similar vitamin and mineral profile.
Sweet potatoes contain more vitamin A than regular potatoes.
White potatoes have slightly more folate than regular potatoes.
Sweet potatoes contain slightly more vitamin K than regular potatoes.
Sweet potatoes contain more calcium than regular potatoes.
When choosing regular potatoes, chose the red or purple-fleshed potatoes; they have higher amounts of antioxidants and phytochemicals than white potatoes.
Regarding Calories, Carbohydrates, Protein, Fat, Sugar and Starch:
Sweet potatoes are slightly lower in calories (emphasizing slightly) than regular potatoes.
Sweet potatoes are slightly lower in protein than regular potatoes.
Sweet potatoes are slightly lower in carbohydrates than regular potatoes.
Sweet potatoes have more natural sugar than regular potatoes (hence the name).
Regular potatoes have more undigestible resistant starch (a good thing!) than sweet potatoes.
Both are slow digesting.
For this weeks Tip of the Week Tuesday, I free you to choose whichever potato you enjoy most. As you can see, it's not the kind of potato that is the problem; it's the method of cooking (fried, pies, etc.) and the other ingredients used (oil, butter, sour cream, cheese, sugar, marshmallows, etc.). When choosing either a regular potato or a sweet potato, opt for the whole potato over fries, mashed potatoes, or sweet potato pie. 
If you just can't stand a regular potato without a dollop of sour cream, try fat-free plain Greek yogurt instead. It taste nearly the exact same without the saturated fat! And when it comes to sweet potatoes… if you think you just can't eat them without butter, cinnamon and sugar, try coconut oil and cinnamon instead. The coconut oil provides a healthier fat and tastes slightly sweet too!
Whatever one you choose, choose it in it's whole, minimally processed form.
Which do you like better, sweet potatoes or regular potatoes? I'm a sweet potato girl myself!
Have a great day!
Good health!