Hi friends! Happy Tuesday! The hub and I celebrated Cinco de Mayo in true form with Speedy Gonzalez margaritas (recipe adapted from the Ace Hotel in Palm Springs and one that I will definitely be sharing with you all!) and Fiesta Bowls! I love a holiday that calls for margaritas and mexican food!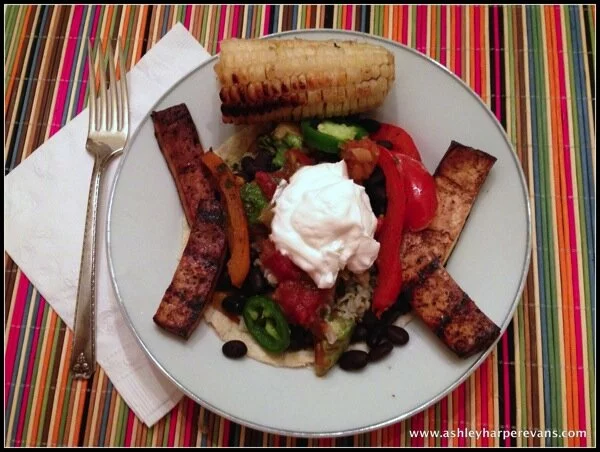 I've got lots of tasty summer recipes up my sleeve that I will be sharing in the next few weeks so stay tuned for that!
Now on to the good stuff! Recently the lovely folks over at KissMeOrganics.com reached out to me to tell me about their organic matcha powder.  All it took was one quick glance over the product to know that it was something that I needed in my life… and needed now!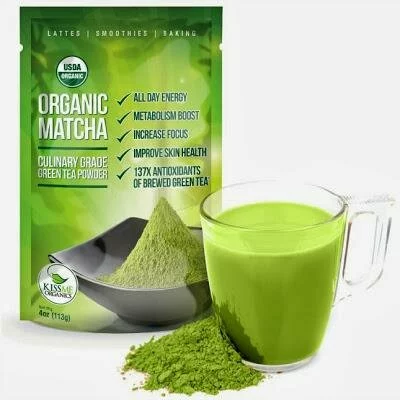 So what exactly is matcha?
Matcha is simply a very fine powder made from green tea leaves that are grown in the shade, creating a darker green color than the green tea you might find in your tea bag. Instead of consuming only the brewed tea, matcha allows you to consume the entire leaf, meaning even more nutritional benefits!
According to Kiss Me Organics, consuming one glass of matcha green tea is equivalent to consuming 10 glasses of regular green tea in regards to the nutrients and antioxidants provided. A 2003 study in the Journal of Chromatograpy A found that matcha has 137 times more EGCG (the powerful antioxidant in green tea) than other types of green tea. EGCH has been suggested to have several health benefits, including reducing risk for several illness and diseases (including many types of cancer). Need another reason to up your green tea intake?  A 2008 study published in the American Journal of Clinical Nutrition suggests that regular consumption of green tea "can increase fat oxidation during moderate-intensity exercise," meaning more bang for your buck (caloric burn!) during your daily exercise routine.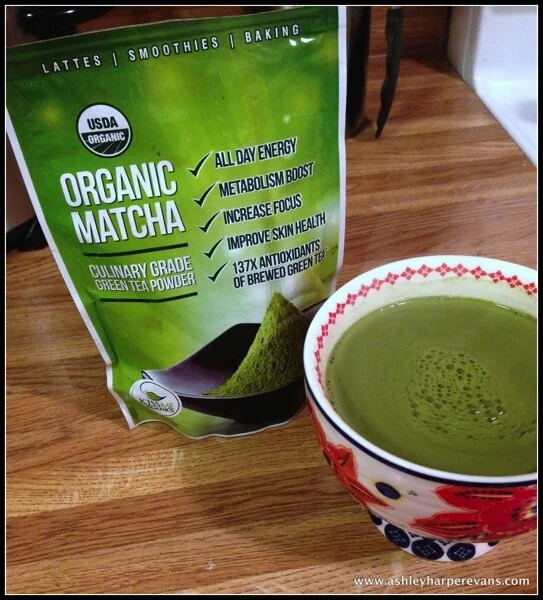 The beauty of matcha is that along with sipping it, you can also add it to your culinary dishes to up the nutritional profile even more! Matcha can be added to just about anything, from your smoothies, lattes and homemade desserts to your waffles, dips, pizza and other savory dishes like this Matcha Vegetable Curry, which I am going to share with you today! (For lots of other yummy matcha infused recipes, check out this Free Recipe Guide courtesy of Organic Matcha by KissMeOrganics.com).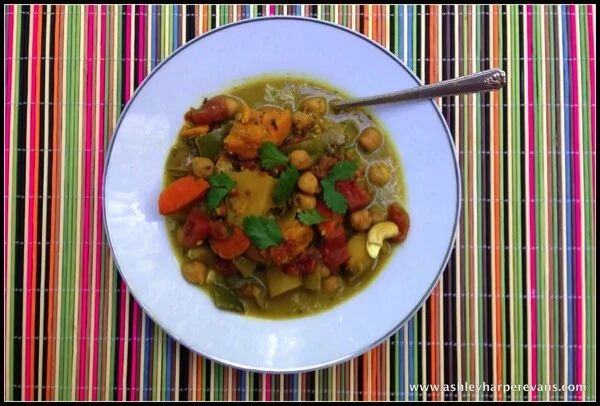 To create this recipe, I took the Matcha Madras Curry recipe found in the recipe guide and tweaked it to make it my own. The original recipe called for chicken but instead of including the chicken, or subbing in tofu, I decided to leave both out and add in chickpeas. This way it could be a meal the hub and I could enjoy together, without him picking around the tofu and me avoiding entirely because of the chicken. I subbed the olive oil for coconut oil, added ginger and cayenne pepper for a little zang, incrased the veggie load by adding a green bell pepper, white potato, sweet potato and diced tomatoes and then played around with the spices too! I hope your family will enjoy this recipe as much as we did!
Matcha Vegetable Curry
Makes ~4 servings
Ingredients
1 tbsp coconut oil
1 onion, diced
2 garlic cloves, minced
1 inch fresh ginger, peeled and minced
1 large carrot, chopped
1/2 green bell pepper, chopped
1 small yellow potato, peeled and cubed
1 small sweet potato, peeled and cubed
1 15 oz can no salt added diced tomatoes (or 1 large fresh), drained
1 cup cooked garbanzo beans
1/4 cup raw cashews
1 tbsp matcha
1 tsp salt and black pepper
2 tbsp yellow curry
1 tsp cumin
1 tsp coriander
1/8 tsp cayenne pepper (or to taste)
1 handful fresh cilantro, chopped (separating a small amount for topping at the end)
2 cups veggie broth
2 cups unsweetened coconut milk
Directions
1. Place all ingredients (except a small amount of the cilantro) in a crock pot and cook on low for ~6 hours.
2.  Serve over brown rice and top with a little bit of cilantro.
—
Want to try matcha for yourself? Take a look through the recipe guide (link above) and let me know which recipe you would try if you won a bag of match for yourself! Leave the recipe name in the comments below and one lucky winner will be selected! You can also purchase your own bag over on Amazon by visiting their matcha page as well!
For more information or to share this review, check out the product line over on Facebook too!
Have a wonderful day my friends!
Good health!