Hi friends! Happy Thursday! Hope your week has been wonderful! It's been rather busy for me. I've been hanging with my sister this week and we've tackled dinner together for the past two nights…
A veggie smorgasbord Wednesday night…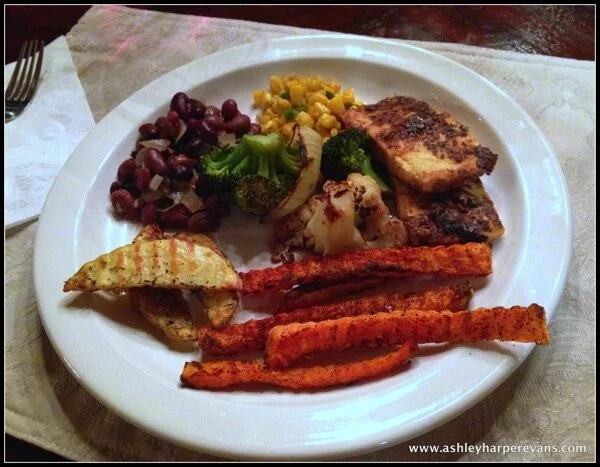 Tri-blend beans, roasted broccoli, cauliflower and onions, flipped corn, balsamic tofu, crinkle cut sweet and regular potato fries.
And crockpot veggie and quinoa soup tonight.
From crockpot…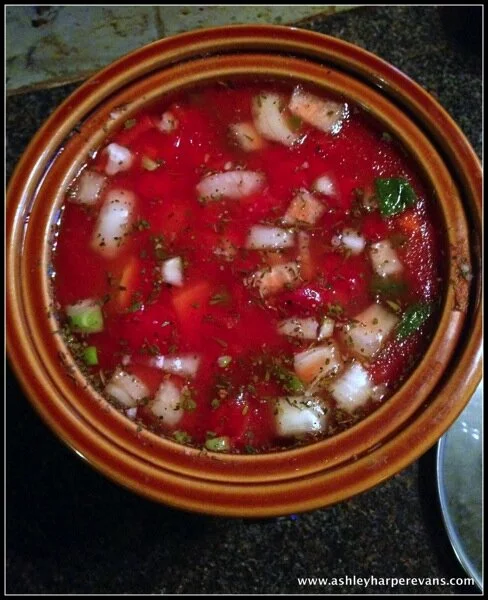 To table…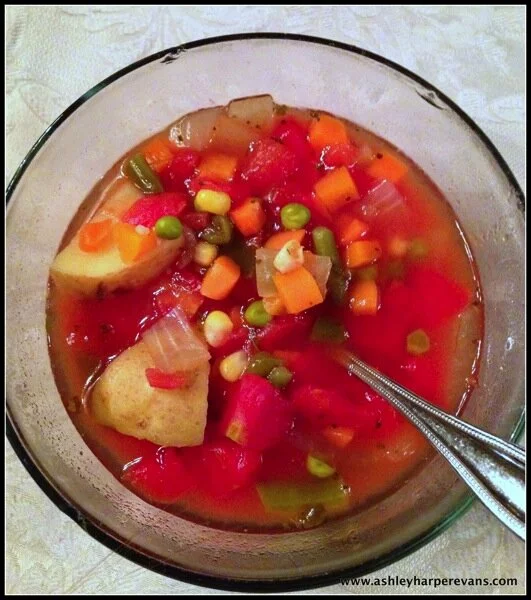 Seriously, the easiest recipe ever: throw the following in a crockpot and cook on low for 8 hours… 
1 tbsp coconut oil
1/2 chopped onion
1 tbsp minced garlic
1 chopped green bell pepper
1 bag frozen veg-all (corn, lima beans, carrots, green beans, peas)
1 large potato, cut into small cubes
1, 28 oz can no salt added diced tomatoes with juices
1 box unsalted vegetable broth
2 tbsp red wine vinegar
2 tsp Italian seasoning/Herbs de Province 
1 tsp salt
1 tsp black pepper
1 bay leaf
additional water as needed
2 cups cooked quinoa (added already cooked right before serving)
Anyway, as I mentioned last week, I am currently reading Unglued by Lysa TerKeurst. Each day as I read more and more, I am inspired by yet another line, either directly from the words of the author or from the pages of the Bible, as she references so often. As the title suggests, Unglued is a book about allowing your emotions to work for you, rather than them causing you to come unglued when things are out of your control. TerKeurst puts it best:
"Feelings are indicators, not dictators."
Or at least they should be…
Yesterday something resonated with me on multiple levels that I want to share with you today. I was reading in chapter 5 when TerKeurst was talking about the difference between self-control and holy constraint. Just so that you can understand a little bit more about what I am talking about tonight, here is what she means by that: "Self-control is a fruit of the Holy Spirit," she suggests. "It's the external expression of our relationship with God."
On the other hand, "Holy restraint is the seed of this fruit. It's the internal experience of living with Christ and really applying His truths to my life. It's deciding I'm not going to ingest His truths by taking them in and feeling good about them for a few minutes. I'm going to digest His truths by making them part of who I am and how I live. There's a big difference between ingesting truth and digesting it."
Have you ever thought about the difference between those words: ingest vs digest?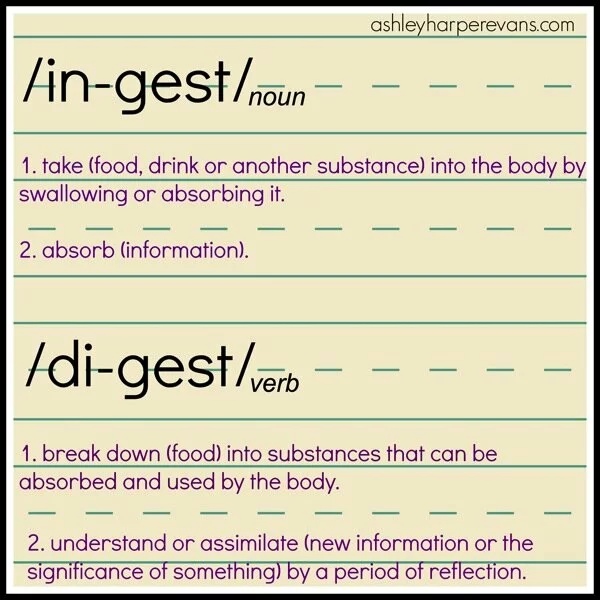 There's something about those words, ingest and digest, that really sat with me throughout the day. Maybe it's because they tie so easily back to what I do and talk about everyday, but regardless, I couldn't get those words off of my mind. Moving away from the book and over to nutrition, this concept is so applicable. In today's world we all ingest more nutrition information than we even know what to do with:
Eat your fruits and veggies!

Eat less meat!

Fat is good, fat is bad!

Coffee is good for you; coffee is bad for you.

Drink more tea!

Stop eating so many sweets!

But what about gluten?!?!?

Tofu? No fu!

How many drinks per day?

So wait? Dairy doesn't create strong bones?
You get it. We are bombarded and thus ingest more nutrition information than ever before yet over two-thirds of Americans are either overweight or obese and the majority of us don't feel well either. Something has got to change, and that something is the digestion.
This is where it all came together for me. 
We know what to do, but we aren't doing it. We know the simple truth that fruits and vegetables are good for us and that sugar and unhealthy fats are bad for us. We know that we need to move our bodies. We know that slurping down sodas, gorging on candy and losing our cool on ice cream (literally!) aren't going to help us feel better. We know all of these things but we are choosing not to digest the information that we ingest.
Our health is a privilege and not a right, and therefore, we have to take it into our own hands and make responsible decisions to not only ingest what is good for us but digest it too. Simply put we have to do something with all of the information that we ingest. We have to digest it.
How can you better digest the information that you learn to help you live a healthier life? For me, it's making sure that I live out the information that I preach everyday! 
Isn't this concept so applicable in so many different areas of our lives? 
Have a wonderful evening my friends! It's basically Friday!
Good health!