Hi there! What a week it has been in Atlanta! We are snowed in to the max! Around 1:30pm yesterday my manager came around our office and told everyone to leave and then our office was closed again today. We're still waiting on word for tomorrow but it's not looking good! It seems as though we are much more prepared this time around and that everyone is actually able to enjoy the snow instead of loath it because of the issues that it caused. I'm ready to make a snowman!
Luckily, the hub came home on Monday night so we have been snowed in together this time around… and no six mile runs in store either!
Tuesday night we opened a bottle of wine that we brought back from our favorite vineyard in Sonoma Valley, Benziger, this past August. We had plans to drink it on our five year wedding anniversary back in December but we accidentally left it at home on our anniversary weekend getaway! Though we were sad to have forgotten it then, we decided to wait until another special time to open it. All settled into our new place, we decided that Tuesday night was the perfect night to drink it in celebration of our return to Atlanta in our own place at last!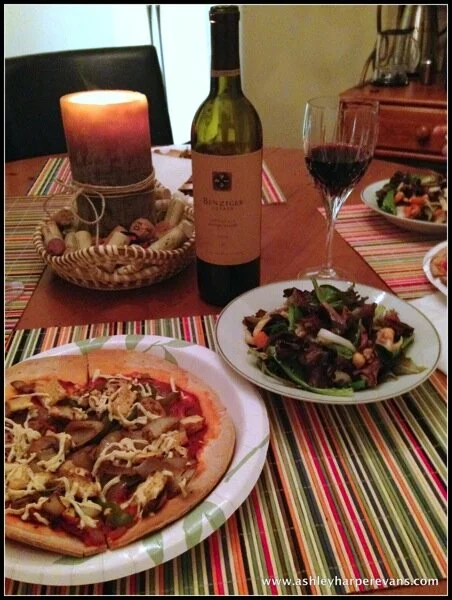 I threw together a few homemade mini pizzas and a large green salad to go along with our delicious wine! We spent most of the night outside playing with the pups as we watched the snow move in and I was also able to assemble a new shelving piece for our guest bedroom.
To start…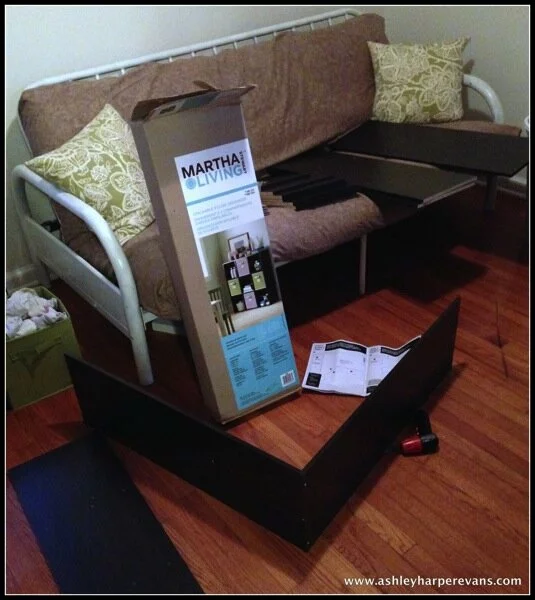 Finished…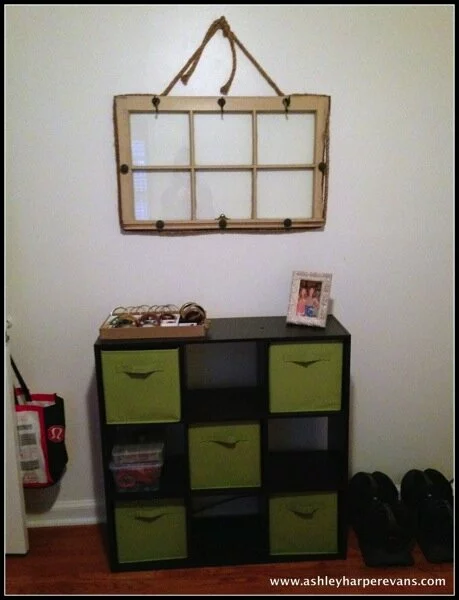 Well sort of… still in dire need of decorating! I was also able to hang my window frame necklace holder that my mom made for me months ago, now I just need to get my necklaces on there!
Today, we have had some snow day fun! We have done a lot of relaxing, a little bit of cooking and took a long walk over to my sisters place – the pups were super happy when we made it there! Their short haired bodies aren't cut out for this cold, but they have been troopers through this entire snow mess! If you'll remember, a few weeks ago they were trapped in Dustin's car for 10+ long hours and then made the long run/walk to my aunt and uncle's late that night.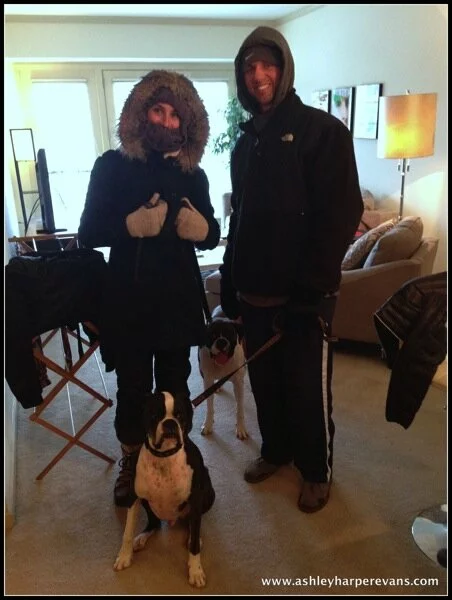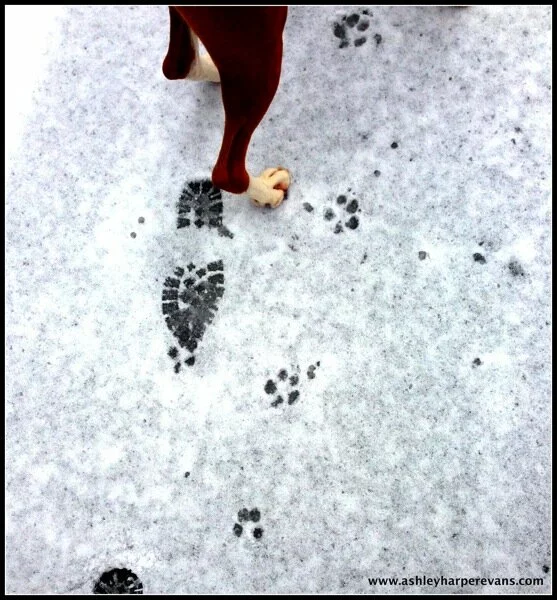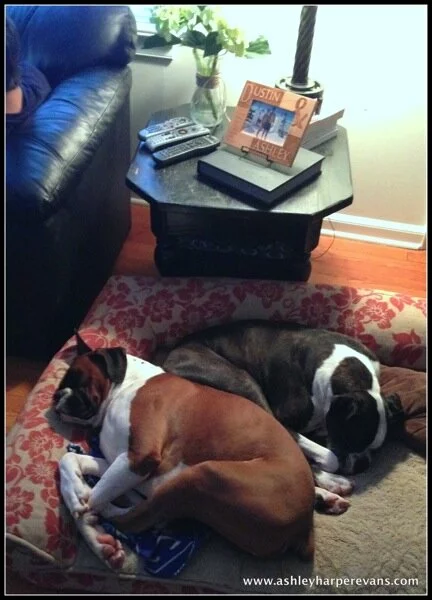 Sweet lil pups sharing one bed when they actually each have their own! It's cold!
This morning, we started the day with a few breakfast casseroles (check out this post for the recipes), an egg one and a vegan one made with tofu on the left. Both gluten-free too!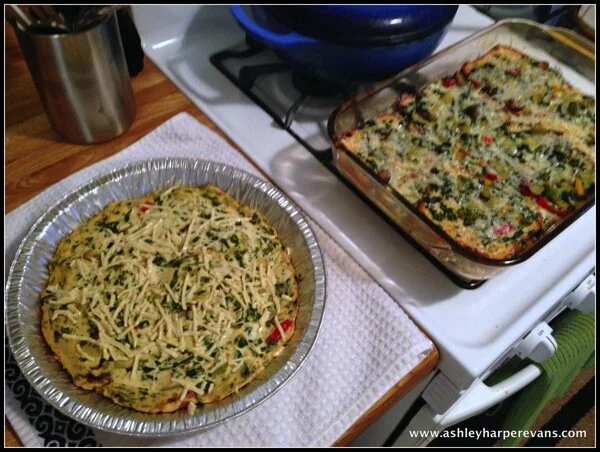 I also whipped up a batch of no sugar added peanut butter, chocolate cookies made with…
3 ripe mashed bananas
1/3 cup unsweetened apple sauce
2 cups oats
1/4 cup unsweetened almond milk
1/4 cup PB2
1/4 cup dry roasted peanuts
1/4 cup cocoa powder
1/4 cup cacoa nibs
1 tsp vanilla
1 tsp cinnamon
… baked in the oven on 350 for 20 minutes. You all know I am a sucker for "healthier" treats! A few raisins would have made them even better!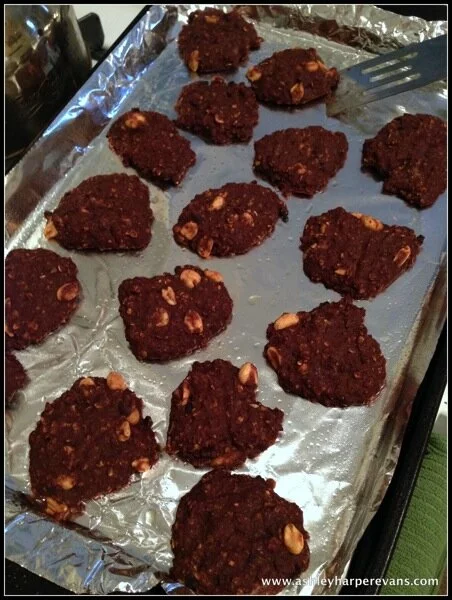 Tonight, I'm working on a big batch of veggie soup to hold us over in case the power goes out like we are expecting!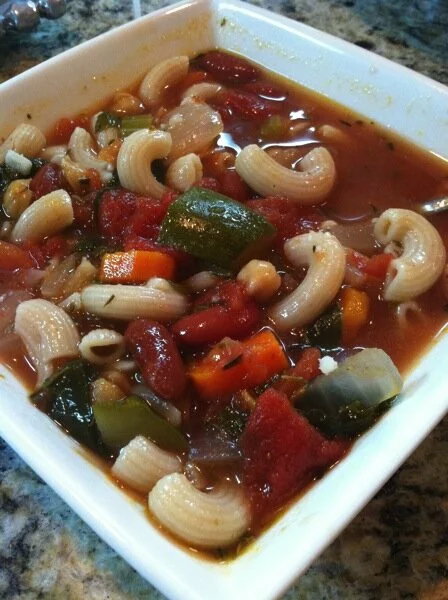 Phones are charging, flash lights are placed, water is stocked, candles are lit… what else do I need to do to prep for a power outage!? Dustin keeps joking me telling me that I am a dooms day prepper, but hey, if the power goes out and he can't see his finger right in front of his face, I'm not going to share my flash light! Only kidding!
Stay warm my friends!
Good health!