Good morning friends! Happy Monday! How was your weekend? Good, I hope! As I mentioned on Friday we had a holiday filled weekend. After sitting in traffic for 2 hours on Friday night, I was more than happy to have a low key Friday night including wine and gingerbread house making!
The hub and I started out in a friendly gingerbread competition, but shortly after we began, he requested that we join forces and create a plantation village together instead of individual houses. He clearly saw that his competition was pretty fierce! 😉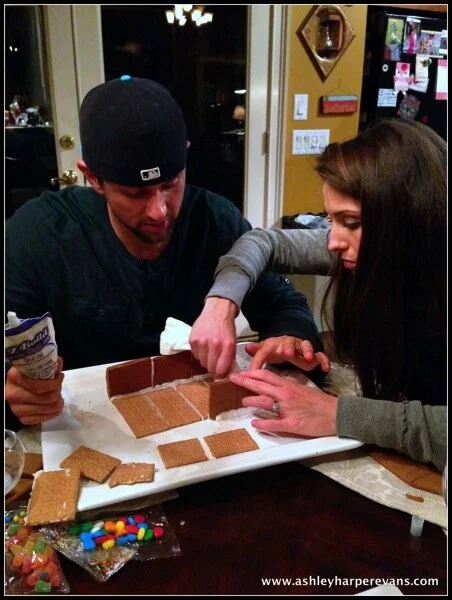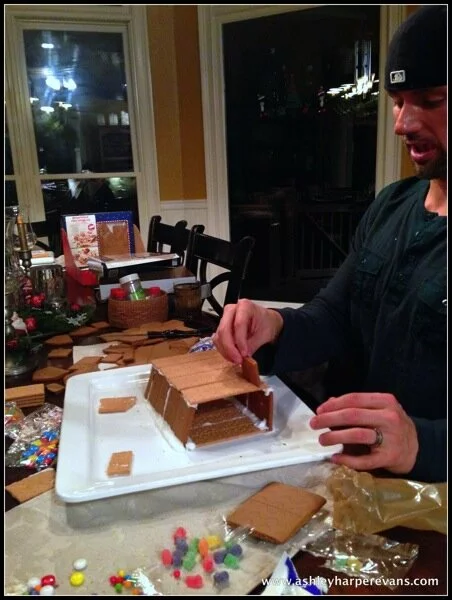 It was a mess indeed!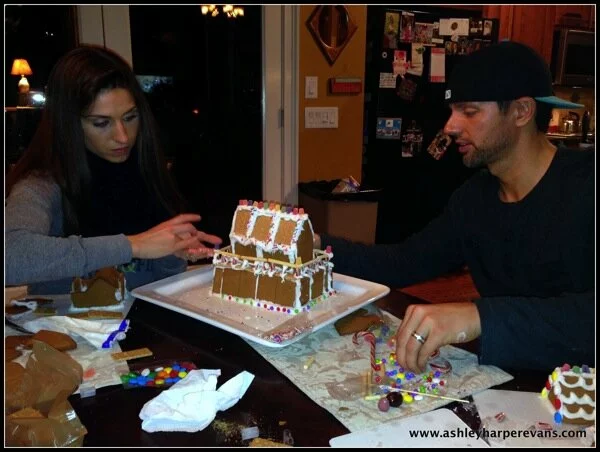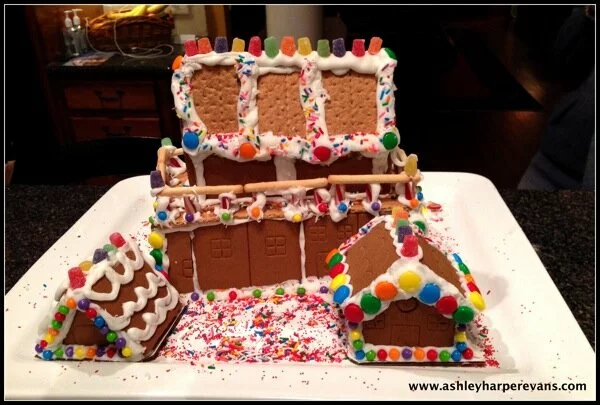 Our final product: the plantation house, dog house for Boss and Gunner and school/church for all of the town children! 
I started the day Saturday with this 15 Minute Fat Blaster that I shared a few weeks ago and an arm workout and then we had to run a few afternoon errands before making our way to a lovely Christmas party on Saturday night. Our friend hosts this party every year and after having to miss out for the past few years due to living out of town, we were super excited that we could finally make it this year!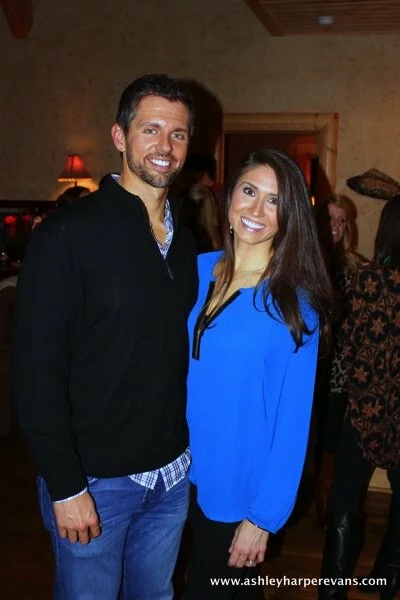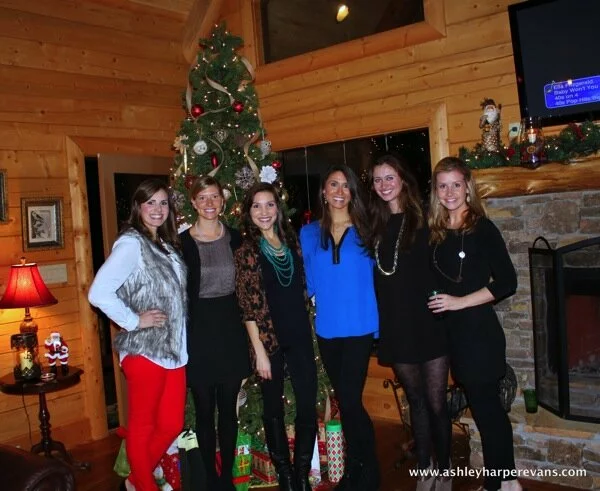 Yesterday, we listened to church online, dealt with some fun 401 (k) stuff (I'm not to sure about this whole growing up thing), walked the pups and then prepped for another wonderful week ahead… which leads me into todays post topic!
When it comes to the morning, I am the type person that has to have everything planned, packed and ready to go the night before. Seriously everything: my water bottle filled and sitting in my car, my workout clothes packed and in my car, my work bag sitting beside my door so that all I have to do is throw in my laptop and it's ready to go, my coffee cup sitting beside the coffee maker, my clothes laid out, my lunch packed, and my breakfast made. You name it, when it comes to an early morning, I do it the night before in order to ensure a smooth morning!
A few weeks ago, I shared with you how I prep my smoothies the night before and today I am going to share with you a delicious warm oatmeal breakfast that you can prep the night before too — just in case you are anything like me and like to have it all planned out!
During the summer months, I love to prep and eat cold overnight oats but when the cold weather rolls in, this warm breakfast hits the spot. Not to mention, waking up to the smell of these Crockpot Apple Pie Oats isn't too terrible either! This would be a great dish to prep for Christmas morning too!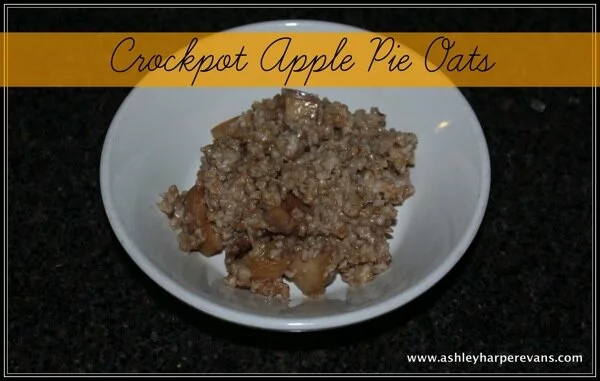 Crockpot Apple Pie Oats
Ingredients
1 cup steel-cut oats
1.3/4 cups unsweetened vanilla almond milk
2 cups water
1/2 organic Granny Smith apple, skin left on, diced (about 1 cup)
1 tsp cinnamon
1 tsp vanilla
1 tbsp unsweetened shredded coconut
1 tbsp flax meal or chia seeds
1/4 cup walnuts, chopped
1 tbsp craisins (optional)
1 tbsp pure maple syrup (optional, if you like your oats a little bit sweeter!)
dash salt
Directions
Combine all ingredients into a crockpot and place the lid on.
Place the heat on low (as low as possible) and cook for ~8 hours.
When you wake up, turn your crockpot off, give it a stir, serve and enjoy!
I like to top mine with a little bit of Greek yogurt and a small dab of peanut or almond butter just before walking out the door!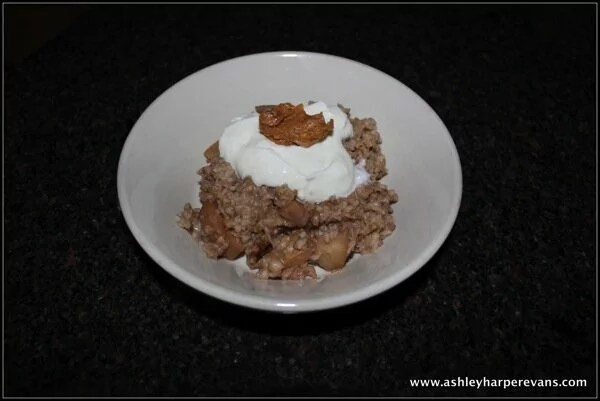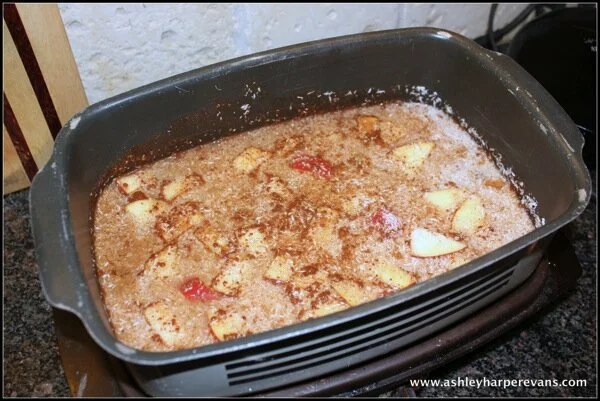 Step One: Combine all ingredients the night before.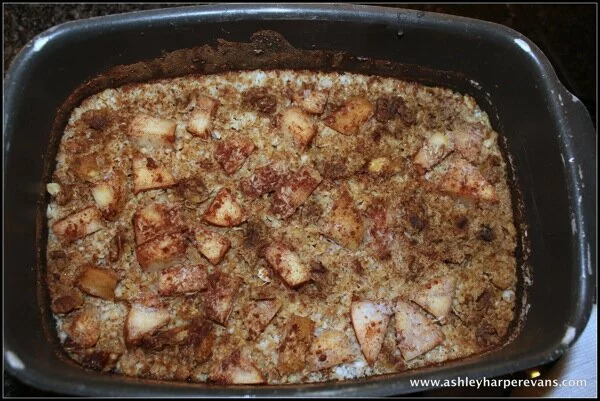 Step 2: Wake up to this!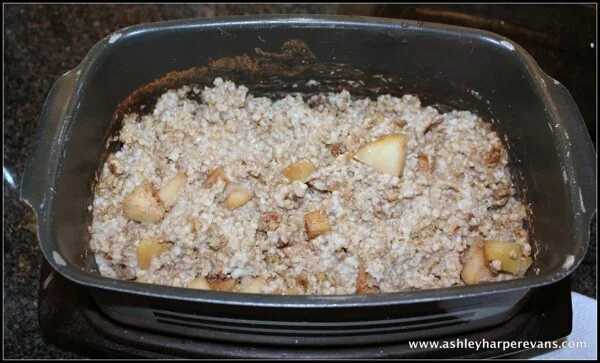 Step 3: Give it a stir, serve and enjoy!
Are you like me and have to prep everything the night before or do you do it all in the morning? Have you ever tried crockpot oats?
Have a great Monday!
Good health!