Hi friends! Happy Monday! I hope you had a lovely weekend! Lots of exciting things to share today!
First, in case you missed it on Friday, don't forget that you have until tonight at midnight (eastern time) to get your own copy of The Gypsy Dietitian's Five Day Real Foods Detox for half of its original price! You can find out all about that in Friday's post here. (For those of you that were having the "Pin It" button issues when trying to purchase, that should be fixed now!)
But on to even more exciting things – the Swanson 30-Day Healthier Holiday Giveaway!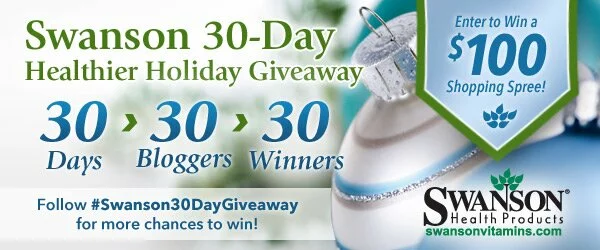 I met one of the many incredible faces behind Swanson Health Products a few months ago in Minnesota and have seriously been blown away by them ever since!  A few weeks ago when they asked me if I wanted to participate in a 30 day healthy holiday blogger giveaway, I was immediately excited to join in on the fun! The rules were simple: they were going to give not only me $100 worth of free products but one of my lucky readers $100 coupon code to use as well! A win win for the both of us!
I placed my order a couple of weeks ago and was so excited to come home to a box full of goodies right before Thanksgiving…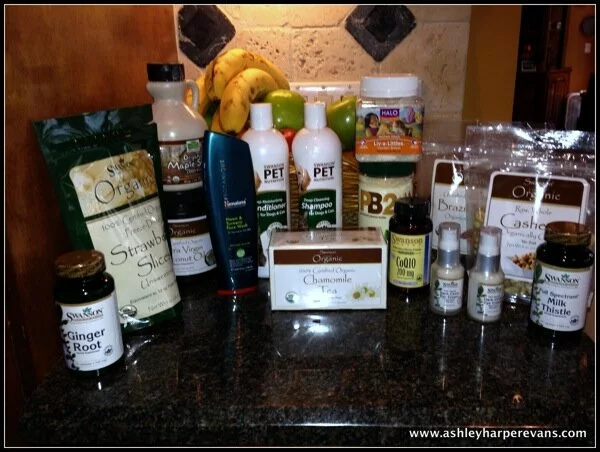 From left to right: ginger capsules, freeze dried strawberries, organic pure maple syrup, coconut oil, Botanique Neem and Turmeric face wash, shampoo and conditioner for the pups, chamomile tea, treats for the pups, PB2, CoQ10, raw Brazil nuts, eye cream, raw cashews and milk thistle. (*Note: I did pay an extra $8 bucks because I just couldn't make my mind up on one of the products so I went with both! Not a bad $8 purchase if I have to say so myself!)
You know I couldn't help but order my pups a few things…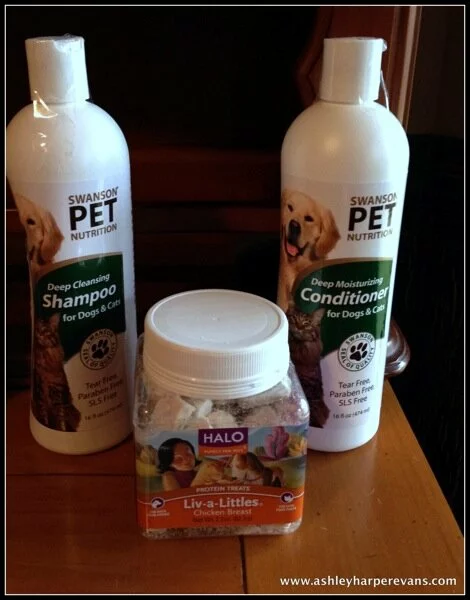 I washed Boss and Gunner using the new shampoo and conditioner last night and they both seriously feel like they are wearing a cashmere sweater! It left them not only feeling good but with their coats shining and smelling good too! And they simply can't get enough of these Halo Liv-A-Littles treats.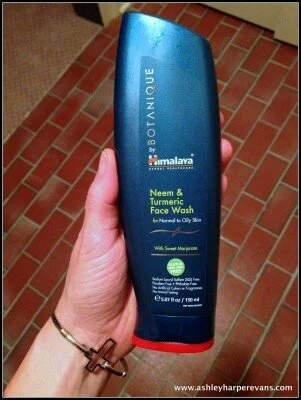 My favorite product out of all of the ones that I ordered is definitely the Botanique Neem and Turmeric face wash. You all know my skin/face issues, so I am constantly looking for a face wash that will do its trick without over drying my skin. This product seems to be the perfect solution! The turmeric is also great for inflammation which is known to really help calm and soothe acne.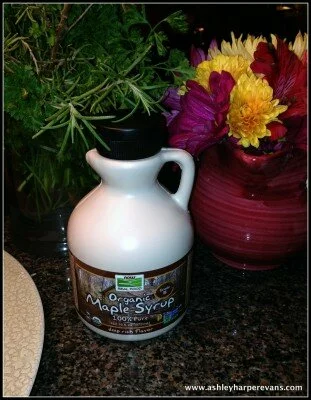 Another product that I was SO thankful to have right in time for Thanksgiving was the Pure Maple Syrup. Instead of sugar, this year we did all of our Thanksgiving cooking with pure maple syrup instead. Unlike most maple syrups (think Aunt Jemima), pure maple syrup has not only a sweet flavor but a few additional health benefits as well!
If you haven't ever ordered anything from Swanson before, you really should check them out! They offer great prices, have a huge variety of products, and also have an incredible team of employees that make working with them fun and easy! Offering everything from cosmetics, to kitchen staples, to vitamins, to supplements and even things for the pets, I know I won't be going anywhere else!
Want to win $100 to do a little holiday shopping (and pick up a few things for yourself!)? All you have to do join in is enter below! And just so you know, this giveaway will only run for 24 hours, therefore, it will be closed tonight at midnight (eastern time).
Good luck my friends and happy shopping!
Good health!