Good morning! Happy hump day! My week sure is flying. What about yours?
Like I mentioned in yesterdays post, I packed another suitcase and joined the hubby back on the road last night. I am an expert bag packer at this point, although I think the hub might disagree. He is highly annoyed with my multiple bag habit – and by multiple I mean about eleven or twelve bags. Instead of packing everything in one large suitcase, I like to keep things separate and pack in many small bags. You know, a bag of toiletries, a shoe bag, a snack bag, a camera bag, an educational bag (computer, books, magazines, pens, etc.), a clothes bag, a bathing suit bag and on and on. I'm sure that's how you pack too – I don't know why he doesn't like my incredibly organized packing skills. And although I did a little better this trip, last night as we were unloading the car, I was accused of packing bricks in my bags. I just can't win: pack it all in one = too heavy; pack it in multiples = I have too many bags. I know he loves me anyway 😉
Breakfast this morning featured (of course) a few add ins from my "snack bag."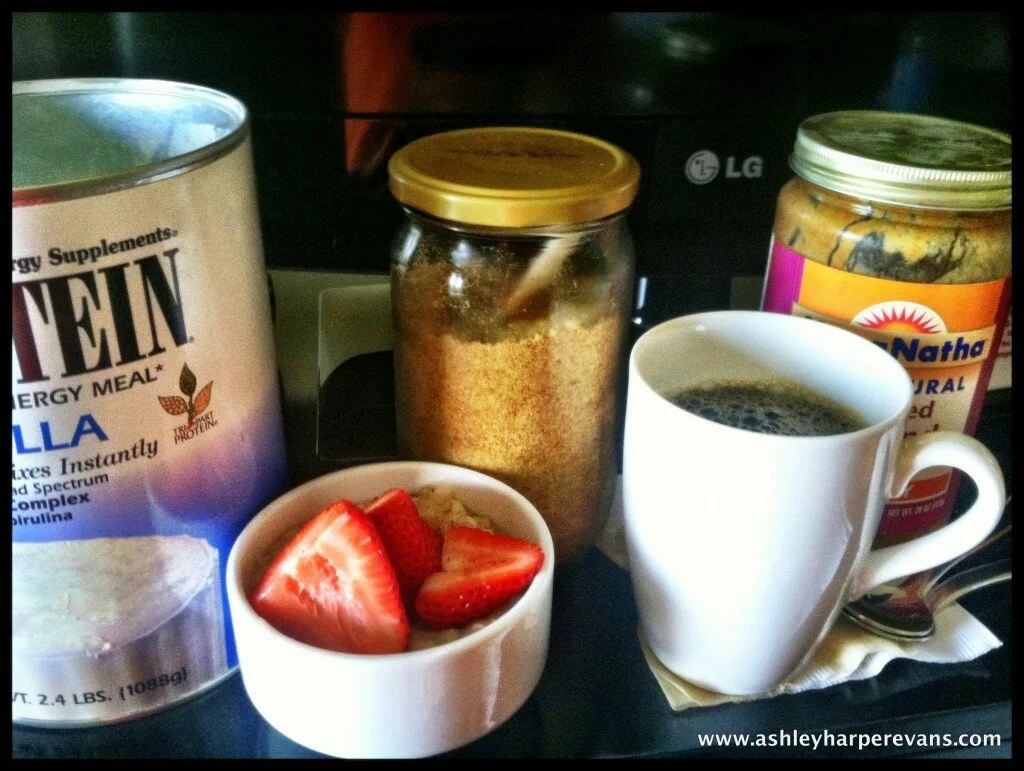 Oatmeal and strawberries grabbed from the hotel breakfast along with a flax meal, half a scoop of protein powder and a spoonful of almond butter. See what a tragedy it would have been if I would have left this bag behind?
Okay, okay so maybe I need to work on my packing skills, especially if I want to continue my life as a gypsy.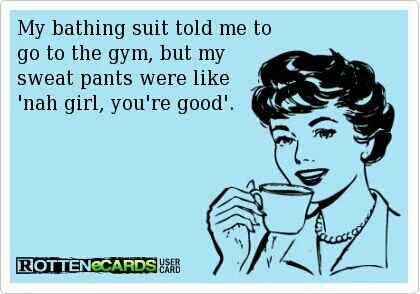 Anyways, this morning started bright and early as the hub had to catch a the first of many games in a week long tournament. We headed down to the "fitness room" to squeeze in a back workout before he headed off for the day. However, we ran into a slight problem – there were only treadmills and dumbbells in the room. As you might have guessed, a back workout with only treadmills and dumbbells would be a little challenging. Rows anyone? Because of this and since we were running short on time, we quickly put our minds together (or Dustin decided) that we would do legs today and back tomorrow at the local gym. My favorite! (Enter sarcasm here.)
As always, it turned out to be a great workout, doing the "use what you have" method. I have decided to share this workout with you because it requires so little equipment and can easily be done at home. All you need is a set of dumbbells, an exercise/stability ball and a chair/bench. Each exercise listed includes a link of a certified trainer demonstrating proper form. I like this workout because it caters to both mine and Dustin's goals – he uses heavy weights in order to put on size, while I use light or no weight for lean results. We also alternated in a few ab exercises to kill two birds with one stone and to keep the heart rate up throughout the workout. Take a few minutes to check out proper form for each of these exercises and try it out at a gym or at home tonight!
5 sets: 10-12 Stability Ball Wall Squats with 5 Quick Tuck Jumps in between sets

3 sets: 10-12 Almost Straight Leg Dead Lifts with Russian Twists in between Sets
3 sets: 4 (front, side, back, each side) Lunge Combo (front lunge, side lunge, back lunge) (*Note: this video only shows front and back, I like adding in a side lunge in between to work the inner thigh as well) with Jackknife Sit Ups/V-Ups in between sets
RFEs (Rear Foot Elevated) Split Squats
3 sets, 45 seconds each Wall Squat Holds
Squat Press Tabatas
This took as about 50 minutes total – and would probably go faster with only one person, but a workout buddy is fun too! Let me know if you try it out! Have a great Wednesday!
Good health!