Good morning friends! How are you today? Today is a good day over here, slightly tired, but good none the less! For some reason, this week I have been staying up way too late, making that alarm clock slightly more dreadful each morning. My body has just not been wanting to go to bed early… I think it might have to do with switching my workouts to the evening? Who knows.
But anyway, today I want to talk about something completely unrelated to nutrition but on my mind this week.
Right now at church we are at the end of a series titled "Right in the Eye," and last week we talked specifically about the concept of being extraordinary. Our pastor, Andy Stanley, posed these questions…
What kind of person do you want to be? When people have to stand and talk about you when you're gone, what do you want them to say? Do you realize that's up to you? What if you decided to be . . . extraordinary?
When most of us read this we think, "Me? Extraordinary? No, I'm just Ashley."
In God's eyes, I'm not "just me," and you are not "just you." We are extraordinary. 
In fact, we are all extraordinary and it's up to us to live up to our full potential. What if everyday, in every situation you asked yourself this question:
Wouldn't the world be a better place?
What if we behaved as we are: extraordinary? What if we responded to negativity as a extraordinary person does? What if we loved like an extraordinary person does? What if we gave like an extraordinary person does? What if we worked like an extraordinary person would? What if we lived each day of our life like an extraordinary person does?
There are so many what ifs, but when you think about it, the answer is always the same. Life would be better, right? So often, we strive to extraordinary at something, without realizing that if we focus on being extraordinary people, we will be extraordinary at everything and not just something.
Just this morning as I was driving into work thinking about what I wanted to say today, I faced a situation in which I had to stop and ask myself, "What would an extraordinary person do?" I was riding in the fast lane, going about 10 miles per hour over the speed limit, weaning in and out of traffic as a car flew up behind me and threw their bright lights on. Now, I don't know about you, but when someone shines their bright lights in my eyes as a sign to get over, that's actually the last thing that I do. Wrong of me? Possibly, but within seconds (seriously not even enough time to give me a chance to get over), she flew around me, laid on her horn and as a classy lady would and threw up her middle finger like she was pointing to reach heaven. What a wonderful way to start the day at 6:30 am, right?
Often, I have let this negativity get to me and I have responded back in childish ways, but today, I paused and asked myself, "Right now, in this situation, what would an extraordinary person do?"
An extraordinary person certainly wouldn't respond to negativity with negativity. They would go about their business with a smile on their face and give thanks in that moment for the gift of owning a car, being able to drive to work and even having a job to be on the road so early for. So I did just that and was amazed at how freeing it felt.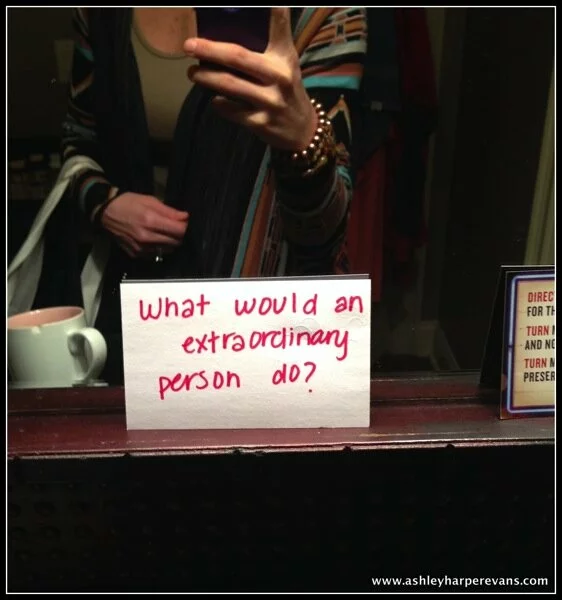 Today and everyday from this point forward, I challenge you to always stop and ask yourself that very question. Don't accept an ordinary life when an extraordinary life is up to you. Ask yourself every morning, "What would an extraordinary person do?" I bet that this simple question will change your life.
I will leave you with these final thoughts from the Right In the Eye discussion notes:
You can spend your life doing what you want, when you want, with whom you want like everybody else,

But if you do, you'll never become the best version of you. You will never be extraordinary.

A relationship with God isn't about staying out of trouble. It's about being extraordinary.

Don't settle for ordinary.

Don't settle for what everyone else is doing.
Have you faced a situation lately in which if you would have stopped and asked yourself, "What would an extraordinary person do?" things would have turned out differently? 
Have an extraordinary day!
Good health!