Hi there! How are you? Thursday already!? The week is flying.
Yesterday included a great body weight cardio/legs workout that I'm going to share with you tomorrow, as well as another long day on the beach. And you know that included a family photo since the four of us are here now.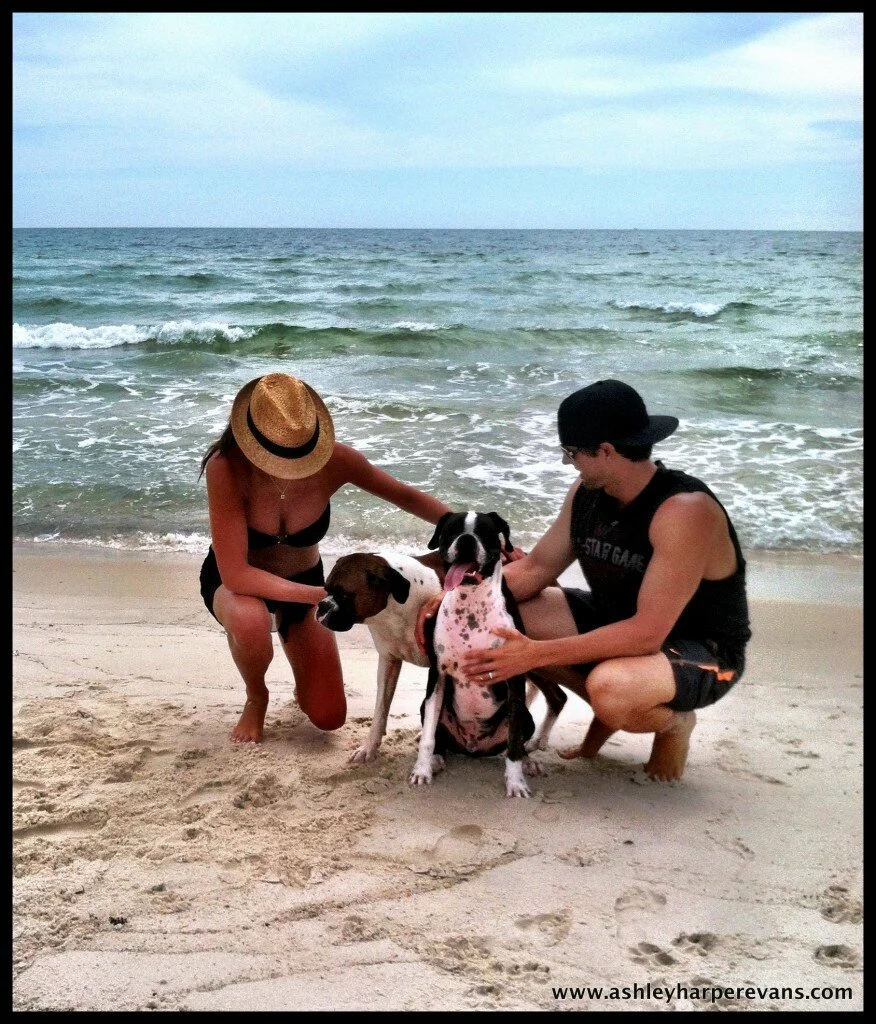 Trying to get these guys to cooperate was like pulling teeth, but we finally got them at least posed enough to take a quick pic – even if Gunner is falling down on me. 😉
After a long day on the beach, we had a delicious dinner including another black bean burger for me and some fish/shrimp for the others.
Black bean burger topped with vegan cheese, mango salsa, cilantro lime corn, garlic roasted asparagus, grilled bell peppers and brown rice.
—
But anyways, last week when I was pondering about what I wanted to write about this week a few things went through my mind. Another recipe? Got it. A workout or yoga pose? Got that too. While those are both two of my favorite topics, I also want to always share more than just surface topics with you. I want you to come here because you can read real stories about real life. I want you to feel like you can connect with me, on more than just a "You must try this delicious dessert!" level – if that makes any sense at all. So today's post is a little bit different than what I normally write about but I hope you enjoy it just as much.
Let me rewind to 2008- the year that I got married and finished up my first degree in Broadcasting/Journalism (or enough so to be able to finish a distance internship and move to Orlando with my new husband).
I was young (21), in love, and following the path Jesus laid out for me. Following our December wedding, I moved to Florida in order to support my husband who was rehabilitating his shoulder in hopes to return to work (the mound) the following season. Our life was up and down, back and fort, and the only constant in our life was God's love – we were living the minor league baseball life. (In fact, during that time, I even started writing a book called "A Minor League Life as a Minor League Wife with a Major League God." I think it could have been pretty good, but that's beside the point.) We moved often and had to be ready to go whenever Dustin and the coaches felt he was ready. I knew very little about life at the age of 21 (who am I kidding? I don't know much more now ;-)), but I knew what made me happy and that was being with my husband.
That season, I worked a restaurant job with a college degree simply because we had no idea how long we would spend in one city. Try telling the hiring manager of a full time position that you don't know how long you will live in that one particular city – see if he still wants you on his team. I had graduated yet had no idea what to do with that degree considering our lifestyle.
As a high school and college student, I was a career girl through and through. I was working in a top 10 market by the time I was 25 and would consider getting married around 30. Kids? I don't think so. Jokes on me, right? As the first married of all of my friends, you better believe the look on both my close friends and parents face when Dustin shared the news that we were thinking about getting married was a confused one.
"You mean a promise ring, Dustin?," my mom said.
"No, Mrs. Debby, an engagement ring."
A few of my guy friends in high school used to tell me that Kelly Clarkson's "Miss Independent" song was written after me. I don't think that's the best compliment but you catch my drift.
During our first few years of marriage, I certainly had my doubts. I would get angry and tell Dustin that I had given up my dreams in order to follow his. I would tell him that I was going to move home and march toward my goals.  He supported every decision and every word that ever came out of my mouth. He would tell me that he wanted me to do whatever it was that I wanted to do and if I wanted to move home then that's what I should do. But he also told me that my support for him meant more than any additional income, more than a "power couple" status, and more than any temporary job.
We certainly could have lived life apart. Me in Atlanta chasing my TV dreams and him hopping from city to city on a different mound every five days. I wouldn't have known his life and he wouldn't have known mine, but we would have both been pursuing what we each defined as success.
But we decided it wasn't worth it.
We wanted to be together and that's all that mattered to us. We've certainly made it harder on ourselves living on one income the past five years when we easily could have had two, but God had different plans for us and we chose to follow His plan rather than our own. And not only that, life on the go is pretty fun. Watching my husband pitch are some of the best memories I have, and now that it's over, I would have regretted not being there for the rest of my life. God's plan for me far exceeds any plan I could have ever written myself. God knew exactly what He was doing when He told me what to do and where to go and I am so thankful that I listened. It was during that time that I was  able to find myself and my true calling. If I had followed my own selfish desires and pushed against God's plan, I would have never had a quite moment to listen and see what else was out there for me.
Because of baseball, my selfless husband, and God's impeccable timing, once baseball was over and my husband retired from the game, I was able to return to school in order to pursue my nutrition degree and then my dietetic internship in order to now be a registered dietitian. I would have never done that if our story didn't unfold exactly as it was supposed to.
Since Dustin is now back in the baseball world (same game, different position), he is on the road a lot, yet again. Following my internship and obtaining my registration, I have again had another "be quite and listen" time in my life. Do I take a traditional job and see my husband very seldom – even though he and I are a perfect team and being together is what makes us the happiest? Or do I follow my heart, choose happiness over a salary and try to map out my own story according to God's plan?
With a Mayo Clinic seal of approval and a director that always taught me to shoot for the moon, I left there with the confidence to do anything that I wanted to do. Whether it be clinical, community, food service or anything else, I knew I just had to decide what direction I wanted to go in and start walking.
And that's where I have been these past few months. Trying to be quite and listen. Listening to God's path. Listening to God's plan. A few weeks ago I was sharing my story and journey with a fellow Jesus lover and she said it perfectly, "Ashley, you're waiting for God to show you the way." She couldn't have been more right.
Who says life has to be "traditional?" Who says you have to work here first or work there first in order to be successful? Success is defined by you. By me. We each define it differently. What you define as work or success and what I define as work or success can look completely different so long as we are following God's individual plan for each of us. That is all that matters. It's taken me nearly twenty-five years to finally understand that but I couldn't be happier with where I am, praying that I am doing things exactly as He wants me to.
What about you? Have you had a time in your life where you had to be quite and listen to God? As you see, I've had quite a few.
I hope you have an awesome Thursday!
Good health!