Hello! How are ya today!? It's hard to believe that today is the last Monday of 2013! I know I say this all the time, but I just cannot get over how quickly this year went. Anyway, I hope you all had a great weekend. We certainly did celebrating Christmas in Helen, Georgia with Dustin's family. Unfortunately, I left my camera card at home today so I won't be able to share too many photos but it was great none the less!
The pups were super pumped to open their new Mariners fetch toy for Christmas!
Anyway, as the year comes to an end, tomorrow I plan to share a recap of 2014 and the year in review, but today I want to share with you my take on the "Foods to Try" or the "Food Trends" for 2014. I think 2014 is going to be a year that many more folks jump on the healthy eating train.  Something I am very excited about! I think we are all starting to see a direct link between our health and the food that we consume. I think many more people are starting to question what goes into the food that they are consuming. I really think that quality is slowly but surely going to trump cheap quantity in 2014. I also think that as a majority, we are developing healthier relationships with food and realizing that food is not the enemy, instead it is our fuel and it just happens to be delicious as well! As a foodie turned dietitian, this excites me more than you know! Without further ado, here are 5 foods to try in 2014!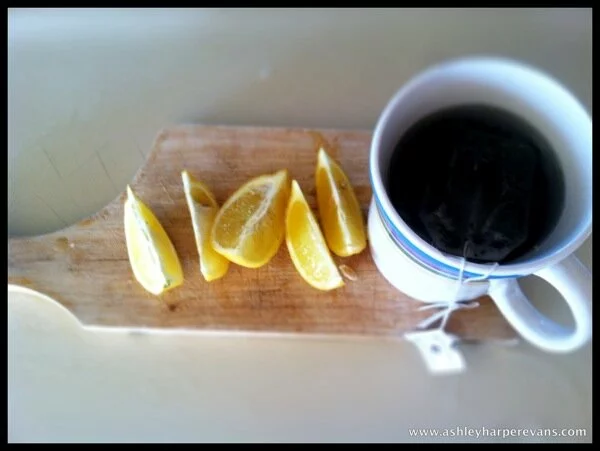 1.  Tea
I think 2014 is going to be a year of tea drinking – and here in the south people are going to start reaching for something other than sweet tea! Passion tea, chamomile tea, peach tea, chocolate tea, etc., I think 2014 is going to be the year for herbal teas.

2.  Colored Cauliflower
You are probably very familiar with white cauliflower, but did you know that cauliflower is grown in several other colors like orange, purple and green? These colored cauliflower varieties are made in science; however, they are not GMOs. They are made through a process called selective breeding which means different strains have been cross bred until the particular colors are created (using natural pigments found in other foods). This might be a fun way to introduce new vegetables to your kids– they always seem to love colored food!

3.  Superfood Bars
From granola bars to protein bars, we've "been there and done that." In 2014 give superfood bars a try instead. These bars, like Amazing Grass or Greens+, are made with higher quality ingredients like spirulina, chia seeds, hemp seeds and more. Most of these bars are still very high in sugar (natural sources like dates, honey, pure maple syrup, etc.) so be sure to check the food label before snacking bars all day long.

4.  Nut Milks
As we continue to learn more and more about the negative effects of drinking dairy milk, in 2014, give one of the many dairy-free nut milks on the market a try. Along with almond milk, give cashew, hazelnut, or hemp milk a try! Check out this post if you want to try making it yourself!

5.  Aged Balsamic Vinegar
Vinegar is predicted to be a star in 2014, but aged balsamic vinegar is the one that should shine the brightest. Before trying it myself, I assumed that aged balsamic vinegar tasted just like any balsamic vinegar that I eat on a daily basis. I couldn't have been more wrong. Aged balsamic vinegar has been aged in a wooden barrel for usually over 25 years and has a very unique taste and flavor. It is much thicker than non-aged balsamic vinegar making it perfect to drizzle on… everything!
As far as predictions go, here are my 2014 Food Trend Predictions:
And to go with that, here is a list of foodie buzzwords to look out for in 2014 according to Baum+Whiteman on the 4 Hoteliers website. 
Boneless lamb neck.
Filipino food.
High-proof spirits.
Sweetbreads make a comeback.
Buckwheat is grain of the year … even if it's not a grain.
Fluke is fish of the year … octopus second … trout third.
Kale still rules but cauliflower's working forward.
Consumers' newfound protein obsessions.
House-made fruit vinegars for vinaigrettes and cocktails.
Teres major (look it up).
High-priced vegetarian tasting menus.
More beer and wine in fast-casual chains.
House-fermented food. New uses for pretzels.
Banh mi makes it onto Western menus.
Chicken skin.
Crackdown on food waste.
Rose wines all year long.
Hipster Asian restaurants.
Drinkers rediscover gin … gin bars and gin-tonic bars.
Jewish fusion.
Coconut everything.
Mexican sandwiches … tortas and cemitas.
Sweetened and flavored whiskeys … smoked, mapled, honeyed … prove most Americans don't like the real taste of booze.
Made-to-order liquid nitro ice cream.
Jerusalem artichokes.
Paleo dieters add to gluten-free demand.
Delivery, high-priced and fast food.
Smart phones, tablet computers speed ordering and payment, cut service staff.
Shakshuka (look that up, too) will appear on breakfast and brunch menus.
Sorghum becomes a trendy sweetener.
What foods do you plan on trying in 2014?  What are your top food predictions?
The New Year is almost here!
Have a great day!
Good health!