Hi there! If you missed it yesterday, I'm hosing a giveaway so be sure to check out yesterday's post to join in on the fun. It's not too late!
A few weeks ago you may remember that I started a "Thirsty Thursday, Drink Up for …" post series. The post of the series was, "Thirsty Thursday, Drink Up for Heart Health," featuring this double layer smoothie.

Today we're talking healthy, glowing skin, something that I am certainly yearning for!
Throughout the course of this blog, I've shared with you my skin troubles. From eliminating peanut butter (don't worry, I've added it back!) to thinking it could be gluten to adding spirulina to my daily smoothies to incorporating coconut oil both topically as well as internally, and as of yet, nothing has done the trick.
Lately, I've tried the "don't acknowledge it and it will disappear" approach as recommended to me by the husband, but unfortunately, that's not working either. So in my own quest for healthy, glowing skin, here are a few nutrition related foods to include in our diets, as well as a tasty smoothie recipe for beautiful skin!

1.  Water + hydrating foods: hydrates the skin
water, coconut water, cucumbers, watermelon, berries, grapefruit, bell peppers, tomatoes
2.  Vitamin A: repairs and maintains skin health
papaya, sweet potatoes, carrots, cantaloupe, spinach, broccoli
3.  Antioxidants: protect the skin from damage, protects the cell membranes from damage
Vitamin C: grapefruit, oranges, tomatoes, bell peppers, Brussels sprouts, kiwi, mango, watermelon, berries, leafy green veggies,  broccoli
Vitamin E: vegetable oils, wheat germ, nuts, seeds, leafy green veggies, egg yolks
Selenium: brazil nuts, seafood, meat, whole grains, some veggies
Zinc: pumpkin seeds, seafood, meat, whole grains, some veggies, legumes
4.  Lean Protein: promotes skin repair
organic tofu, fat-free Greek yogurt, eggs, wild-Alaskain salmon and other lean fish, lean meats and poultry
5.  Whole Grains: regulate blood sugar levels
6. Healthy Fats: helps build and protect cell membranes
extra virgin coconut oil, avocado, nuts, seeds, olive oil, salmon
And now to that recipe I promised!

Drink Up for Glowing Skin: Glowing Skin Smoothie Recipe
Ingredients
1 cup water, coconut water, unsweetened almond milk/hemp milk
1.5 cups organic spinach
1 tsp coconut oil or unsweetened shredded coconut flakes
1 tsp ground flax meal
1 tsp chia seeds
1/4 cup fat-free Greek yogurt
3/4 cup  frozen berries
1/4 avocado
2-3 ice cubes
Directions:
Place everything in the blender in the listed order, blend until smooth and enjoy!
Also, many of these incredible foods are included in "The Gypsy Dietitian's Five Day Real Foods Detox" that I just published this week! You can find more information on that here…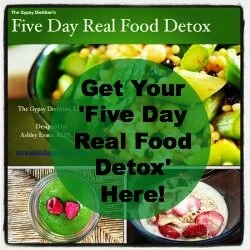 Have an awesome afternoon!
Good health!