Happy Friday! Another week has flown by!
We hit the road yesterday for a what was supposed to be a 5.5 hour car ride, but thanks to Atlanta traffic and lots of unexpected road work, the trip took us ~8 hours. Before we even got 20 minutes out of town we stopped for a yummy lunch.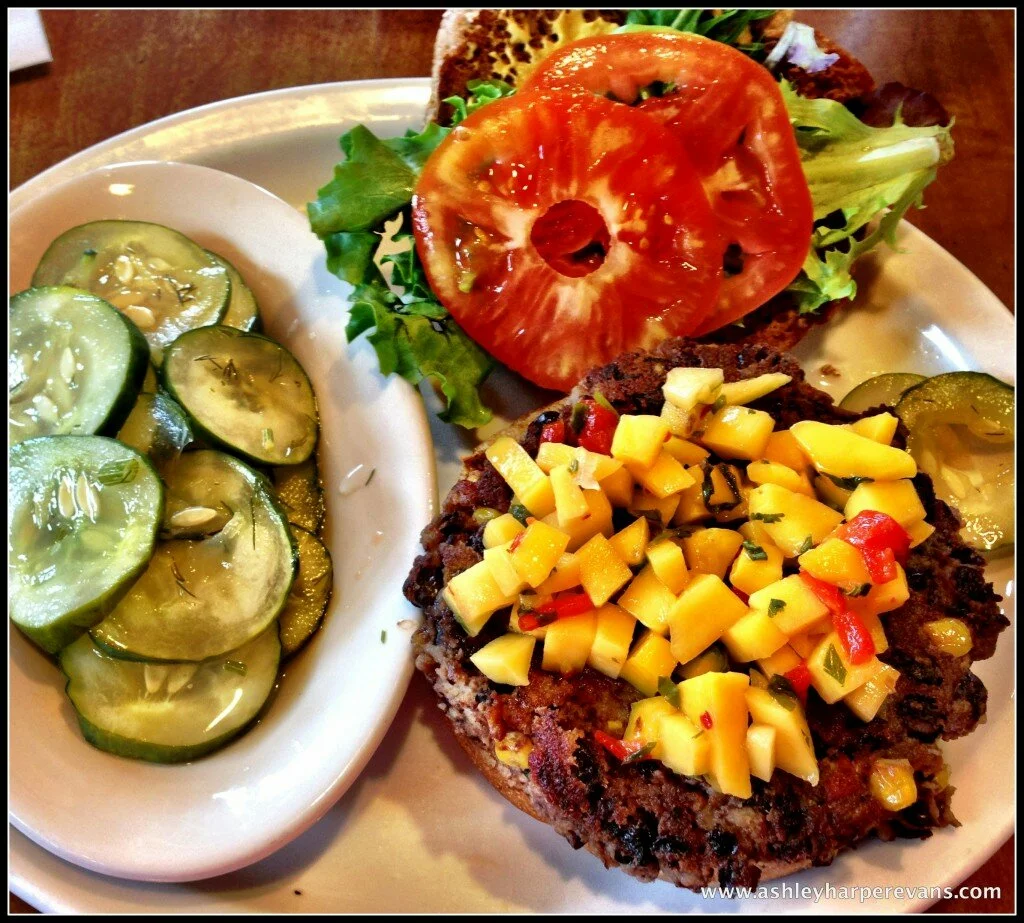 Another black bean burger topped with mango salsa for me… I'm on a BBB kick these days!
After finally making our way through the Atlanta traffic, we pushed on until we made it to Charlotte to stop in for dinner and via a quick iPhone search, Dustin found the perfect spot.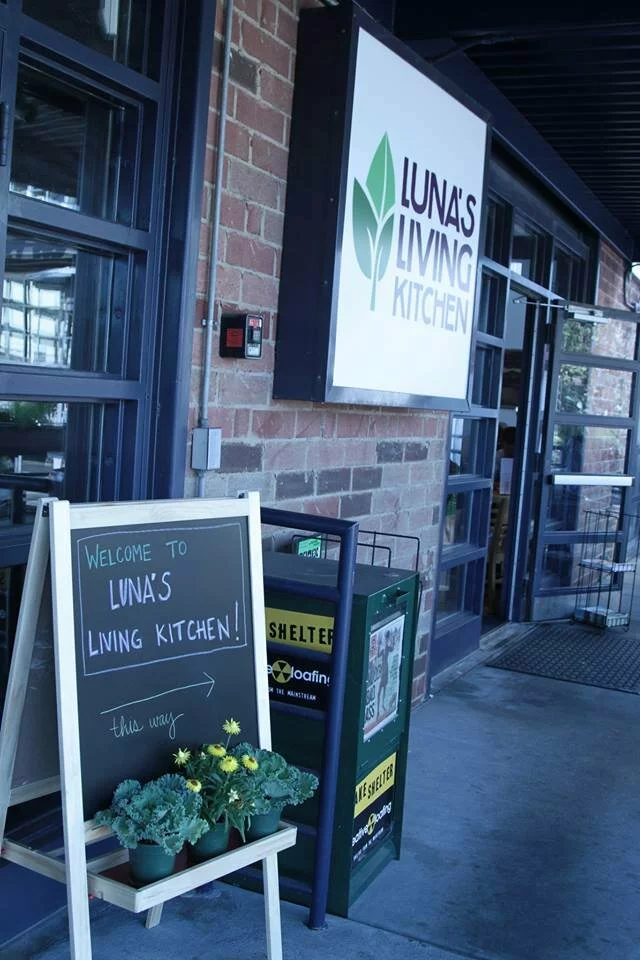 Luna's Living Kitchen was the perfect break for our long car ride. From their website, Luna's specializes…
"in the art of living foods, serving organic, plant-based cuisine, smoothies and cold-pressed juices. Luna's is a 'living' kitchen because our food is prepared fresh each day to preserve nutrients and enzymes vital to your well-being.Luna's supports local, organic farmers, buying seasonal produce multiple times a week from farmers markets and individual, family-owned farms. By putting living food on your plate, we hope to give life to your day and energy to your body."
Our kind of place!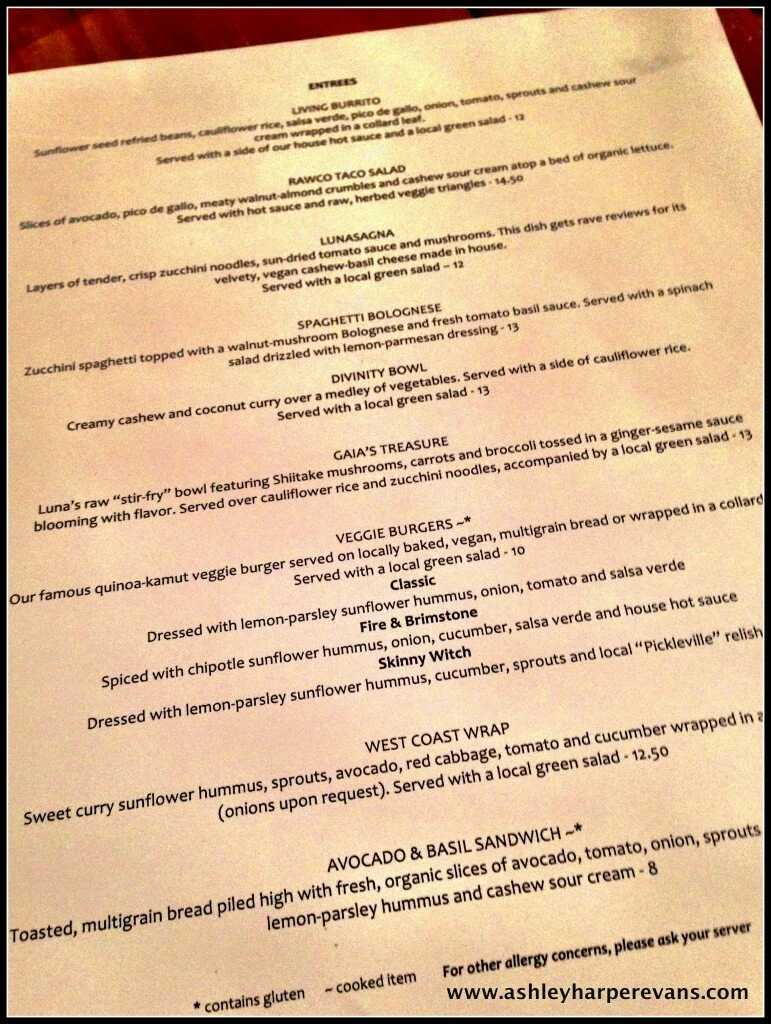 There were so many delicious options. It was hard for me to resist another veggie burger, but when I saw the Spaghetti Bolognese, I was sold.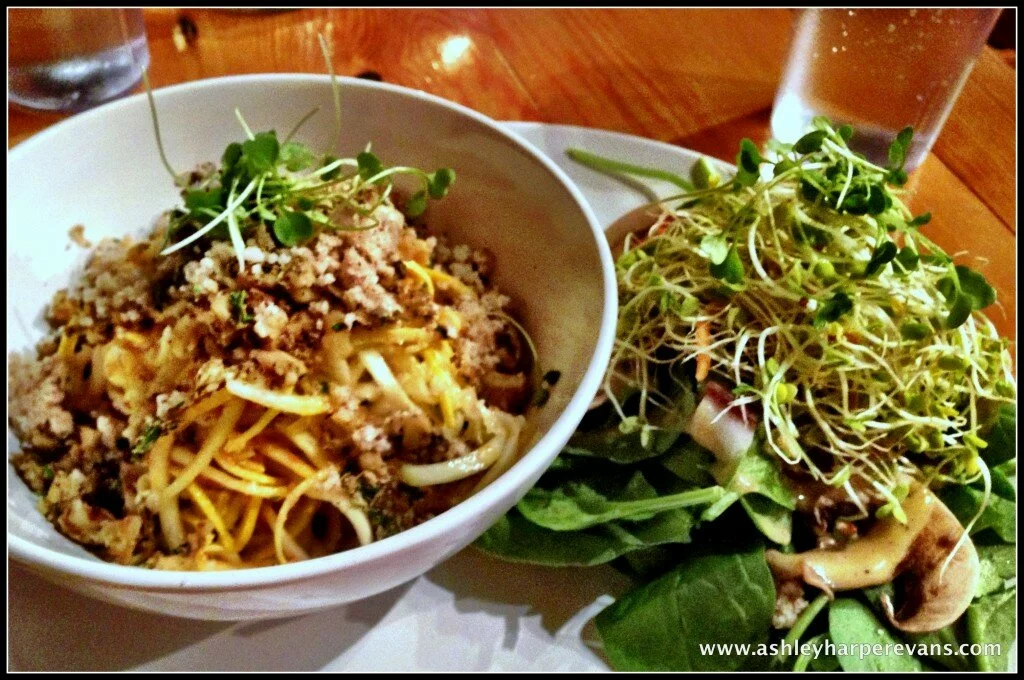 Zucchini spaghetti topped with a walnut-mushroom Bolognese and fresh tomato basil sauce, served alongside a spinach salad drizzled with lemon-"parmesan" dressing. I'm totally loving zucchini pasta right now!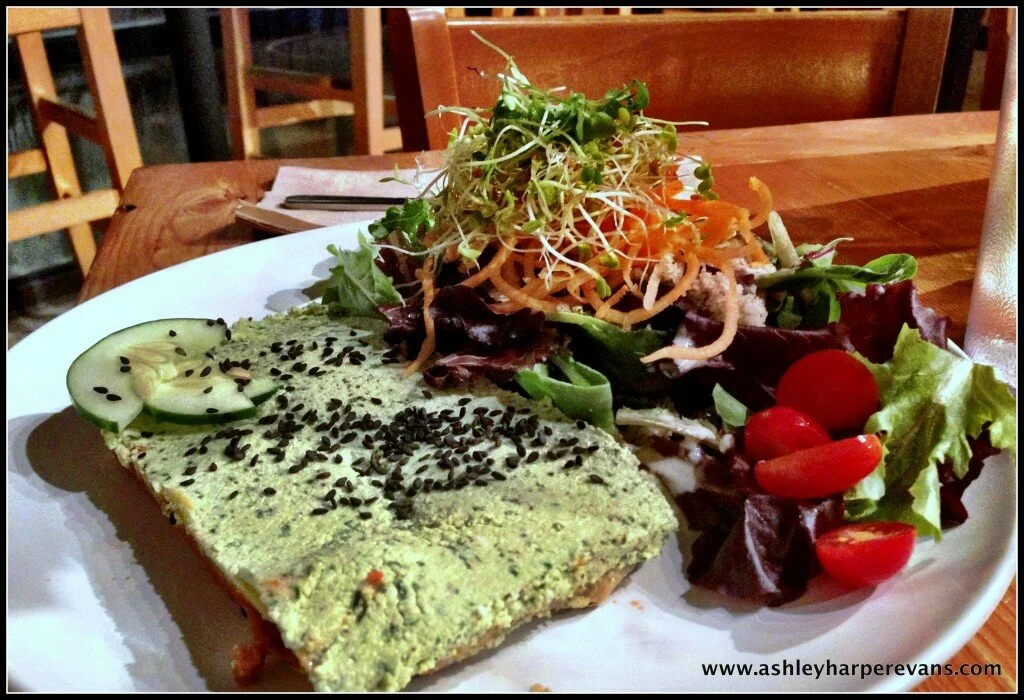 The hub went with the "Lunasagna." Layers of tender, crisp zucchini noodles, sun-dried tomato sauce and mushrooms, topped with with vegan cashew-basil "cheese," served along side a local green salad.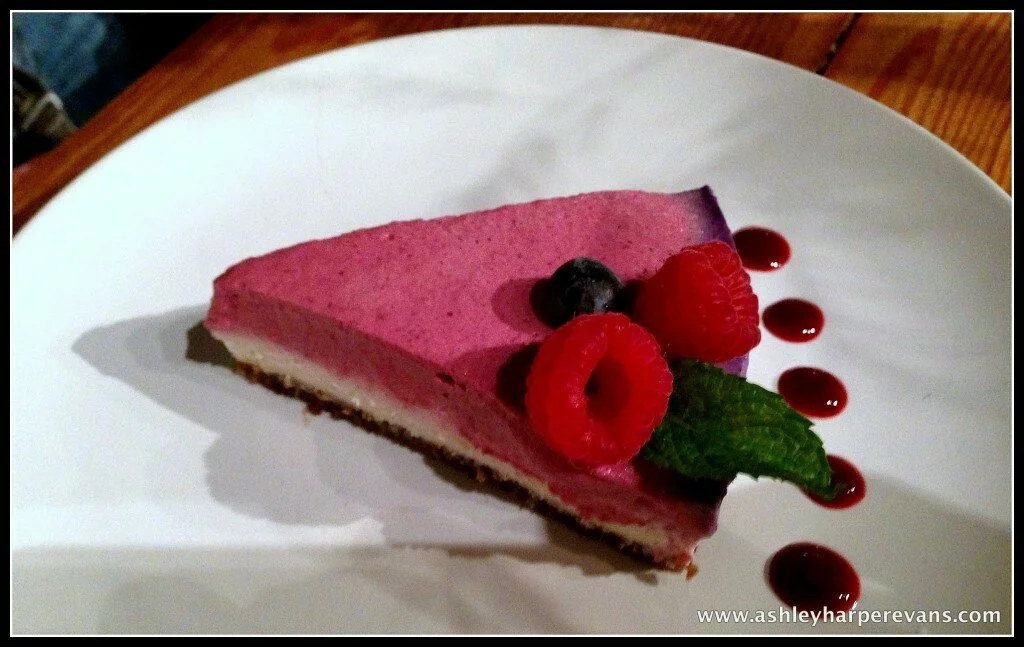 To finish off, we split the Lemon-Berry Cheesecake, a raw, vegan cheesecake with a pecan crust. It was to.die.for.my friends.
Completely satisfied, we continued our journey and made it to our final destination a little after midnight.
While we're on the topic of "living foods," today I want to talk about the aging process, as well as share a "living recipe" to help slow down this process. No you cannot change the number of your next birthday but you know me and prevention is my passion.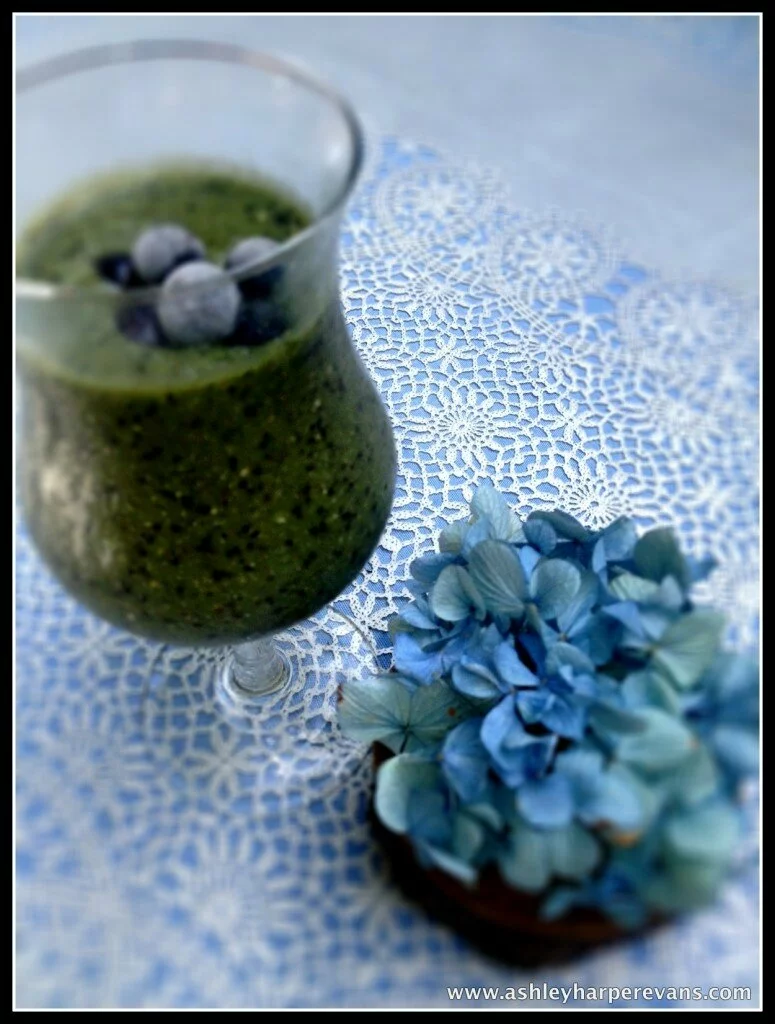 Here we go…
Aging is something I really do not like. Not in the sense that I don't like wrinkles, the thought of being honked at and called "an old, slow driver" (or worse), or an occasional accidental repeated story. I simply do not like what happens toward the end of life. I do not like Alzheimers. I do  not like osteoporosis. I do not like urinary incontinence. I do not like watching loved ones not be able to do the things they have done their whole lives. And I'm sure you do not either.
I'm not sure if it is just here in America or all over the world, but I don't like the way we have just accepted the sick and cripling end to life, like that's the way it has to be. In a nutshell, the aging process makes me sad. It makes me wonder why. Why does life have to end this way? But after long thought, I truly believe it doesn't have to. I believe the way we choose to live our life as a youth determines how our later years will be (except for the things beyond our control). Obviously, I absolutely believe that God has a plan for each of our lives, but I also believe that we have to do our part in taking care of ourselves, properly fueling our bodies and staying active so that the aging process doesn't have to be so saddening and life taking.
If I am blessed with a long life, I pray that my last few years are as thriving as my current years. I pray that I am able to live my life as an independent and that it is only my death that slows me down. (Not in a sad way people! 🙂 Not trying to be dark at all, just literal!) I always say that "age is only a number" and one day, I hope to prove that statement to be true. And I hope that you will join me too.
I'm not trying to fight aging, I'm just trying to live every single day of my life to the fullest. And I hope you are too!
Nutritionally, there are several things we can do to aid in this process, and eating a healthy diet while we are young (and throughout our life) is one of the most beneficial things we can do. There are several foods that can help fight the aging process and improve and maintain our memory throughout life as well.
Vitamins, Minerals and Foods to Help Fight Aging
Folate – greens (kale, spinach, broccoli), beans
B12 – lean proteins (chicken, fish turkey, dairy), nutritional yeast
Selenium – whole-grains (oatmeal, whole-grain bread, brown rice),nuts and seeds (Brazil nuts in particular), beans and legumes, seafood, lean meat, low-fat dairy
Spices – cumin, cinnamon, turmeric, garlic powder, chili powder
Antioxidants -a rainbow of color through fruits and vegetables (cherries, tomatoes, greens, berries (blackberries, blueberries, strawberries, strawberries), citrus (grapefruit, oranges, lemons)
Healthy fats – flax, chia, walnuts, avocados, wild-Alaskian salmon
Tea – green, black, oolong
Water!
To add to your anti-aging efforts, here is a delicious anti-aging smoothie containing several of the foods listed above!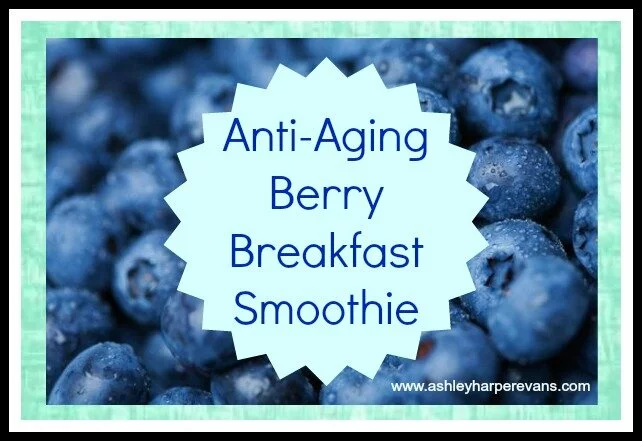 1 cup of water (or unsweetened almond milk or coconut water)
1 large handful of kale or spinach
2 tablespoons chia seeds
1 teaspoon of virgin coconut oil
1 scoop of plant based protein powder
2 tbsp raw oats
1/2 cup of frozen blueberries
1/2 of a frozen banana
2-4 ice cubes (if needed)
Add all ingredients to blender in listed order and blend until perfectly smooth and enjoy!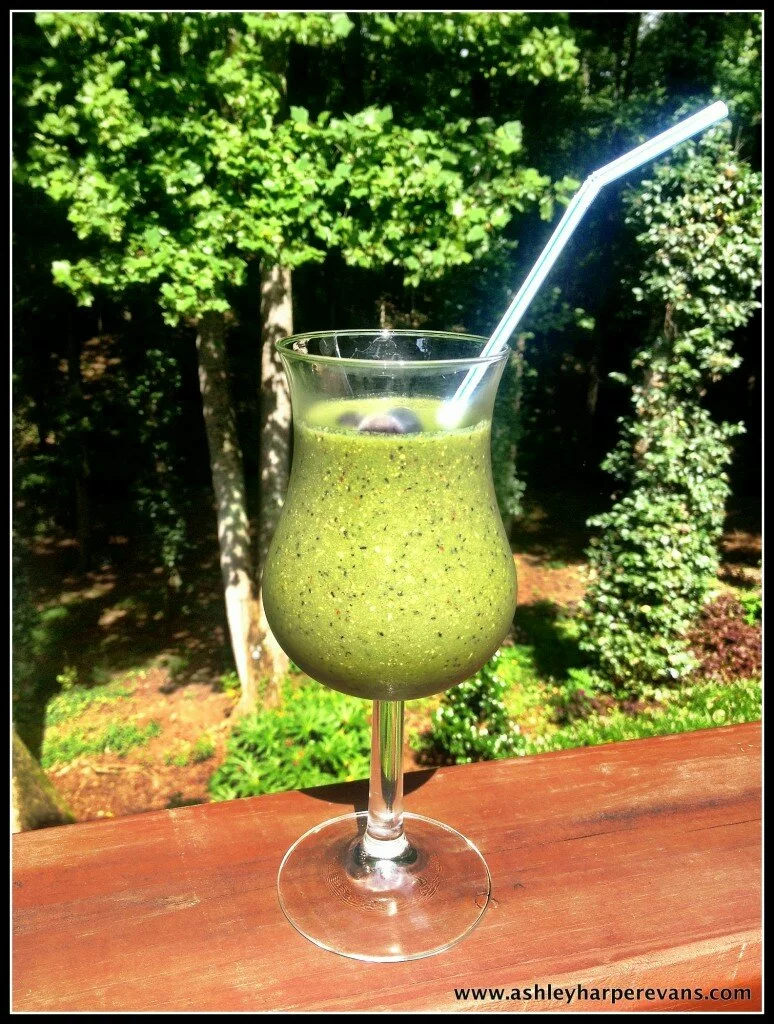 —
I hope you have a wonderful weekend!
Good health!