Why hello Monday! We meet again. How was your weekend?!
Ours was pretty good! Friday night, I enjoyed dinner al fresco with my brother and sis-in-law (SIL). I forgot to take a picture of everything together but we enjoyed crunchy veggie quinoa, roasted balsamic Brussels, watermelon, grilled Thai chicken for the others and these guys…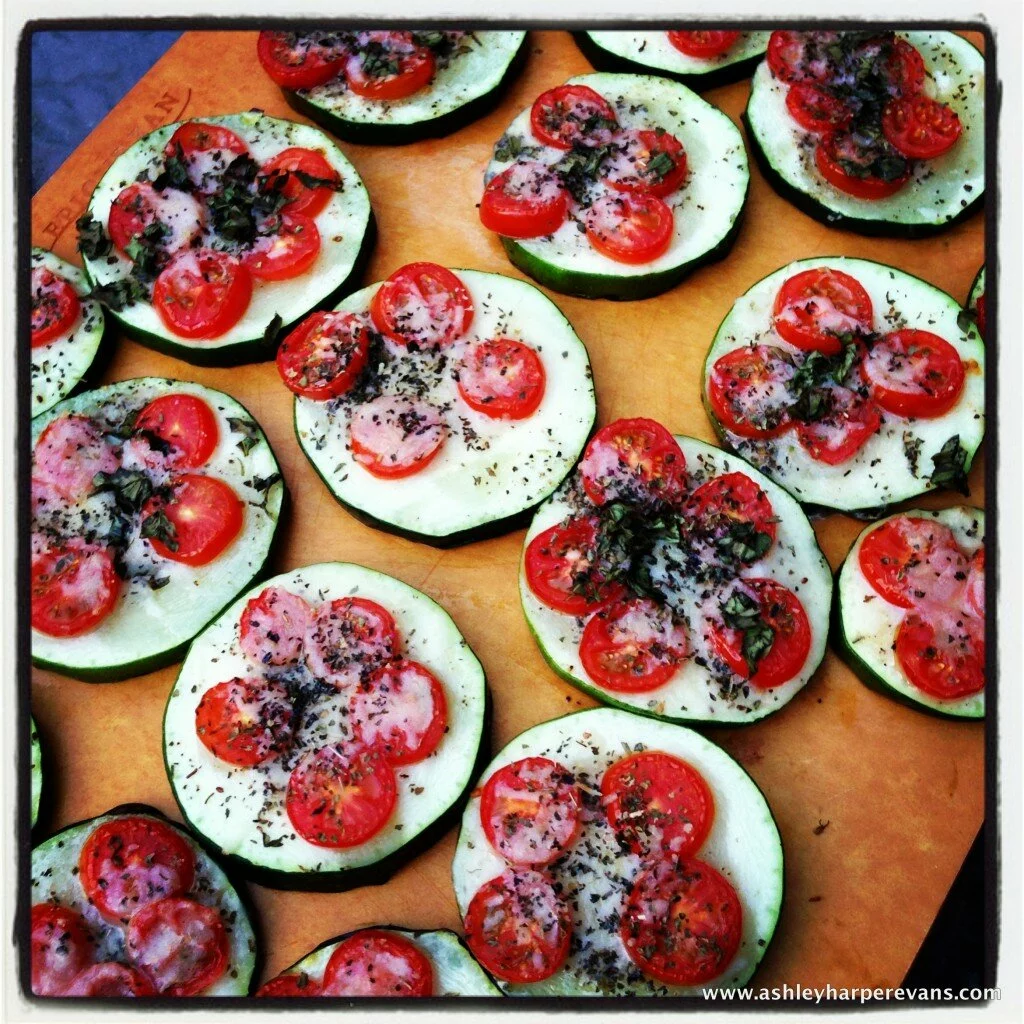 Remember, the picture of the HUGE zucchini from a friend's garden that I shared with you last week? It made it perfect rounds for our zucchini pizza rounds (I used this similar recipe with the addition of fresh basil compliments of my SIL's green thumb and we grilled them instead of baked.).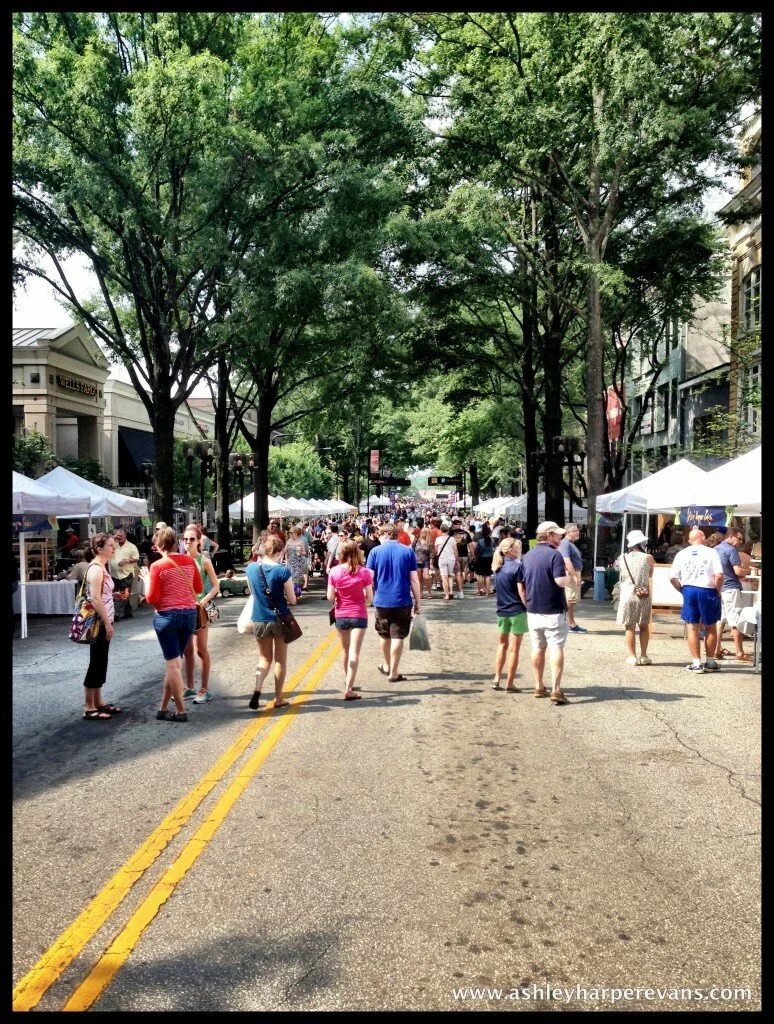 Saturday morning, the hub and I walked around downtown Greenville, explored the farmers market, made a stop into Lululemon for some new speed shorts (I could seriously wear these everyday) and enjoyed a tasty lunch at Green Lettuce. He made a beeline straight for the coffee.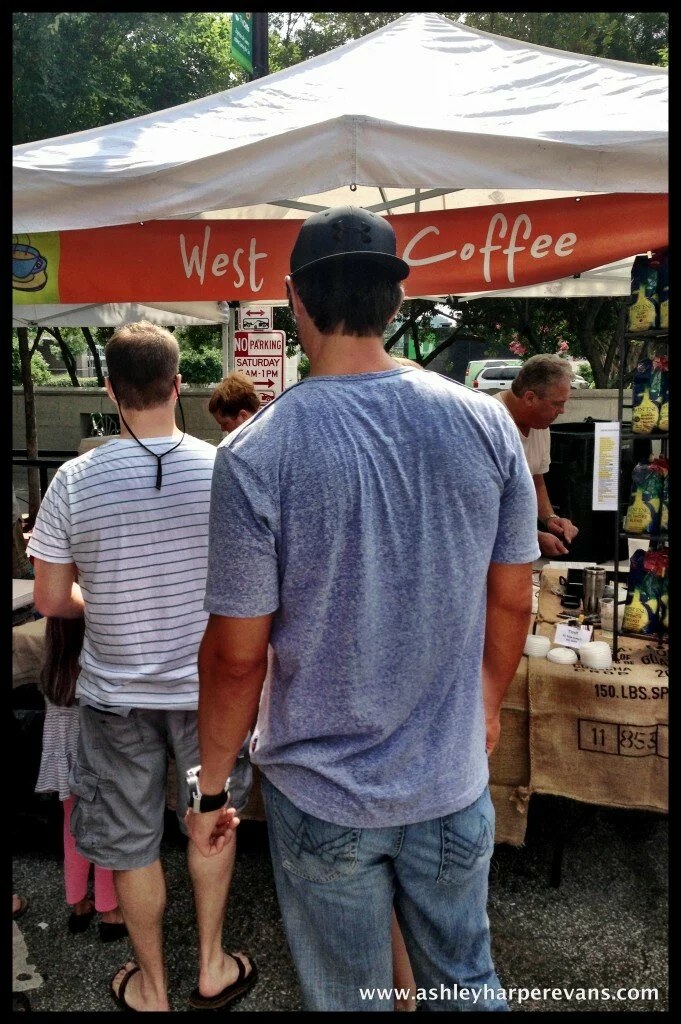 Yesterday morning, we met my brother for brunch at Tupelo Honey Cafe, to say our goodbyes as our time in Greenville has come to an end. This is an award winning Asheville restaurant that has just recently opened a location in Greenville. I had the Oatmeal topped with toasted coconut, dried peaches, cranberries, golden raisins, dried apples, dried blueberries, and bananas. It was pretty tasty to say the least!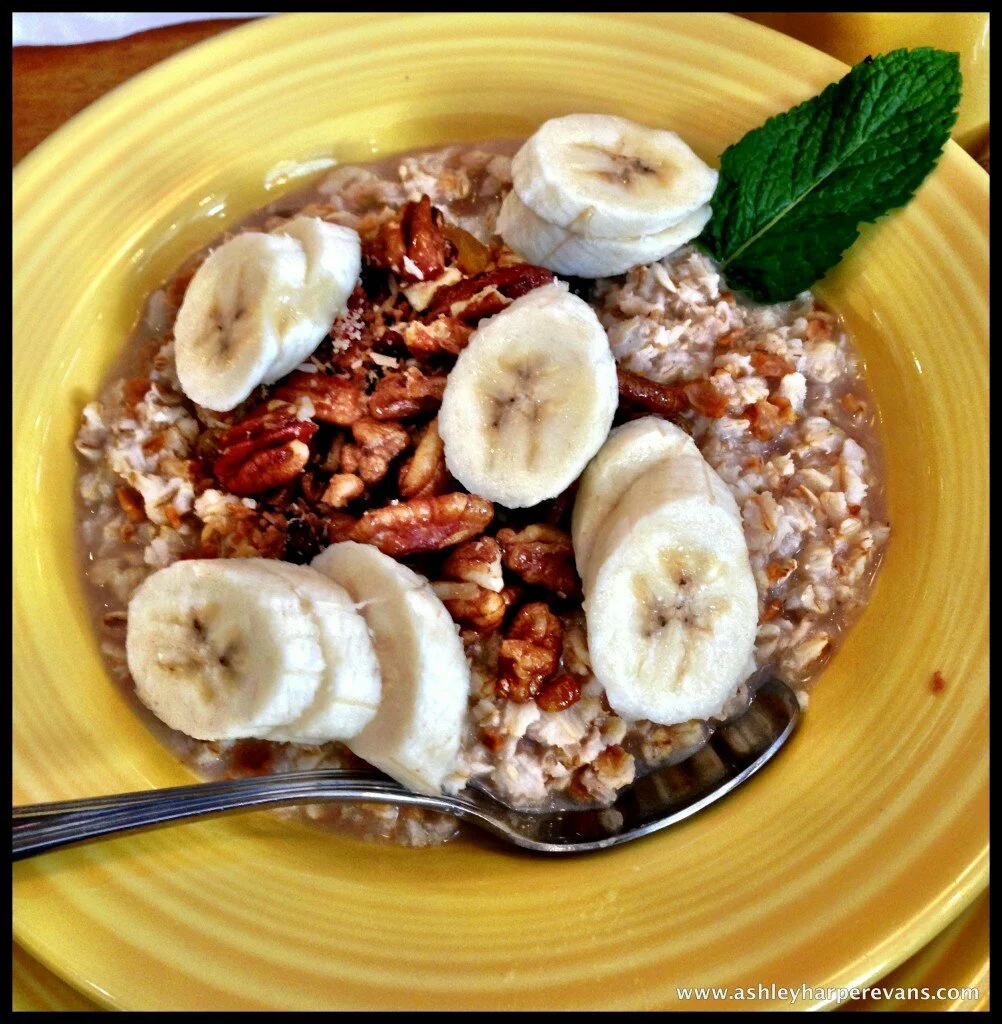 Anyway, today marks the fourth and final Monday in the July Yoga Challenge. After practicing firefly all last week, I've come to the conclusion that there are just some poses that are going to take a little more time to work on. While both mine and my SIL's firefly improved, I know I could still use a little more time to perfect it. I'll keep trying.
We fireflied…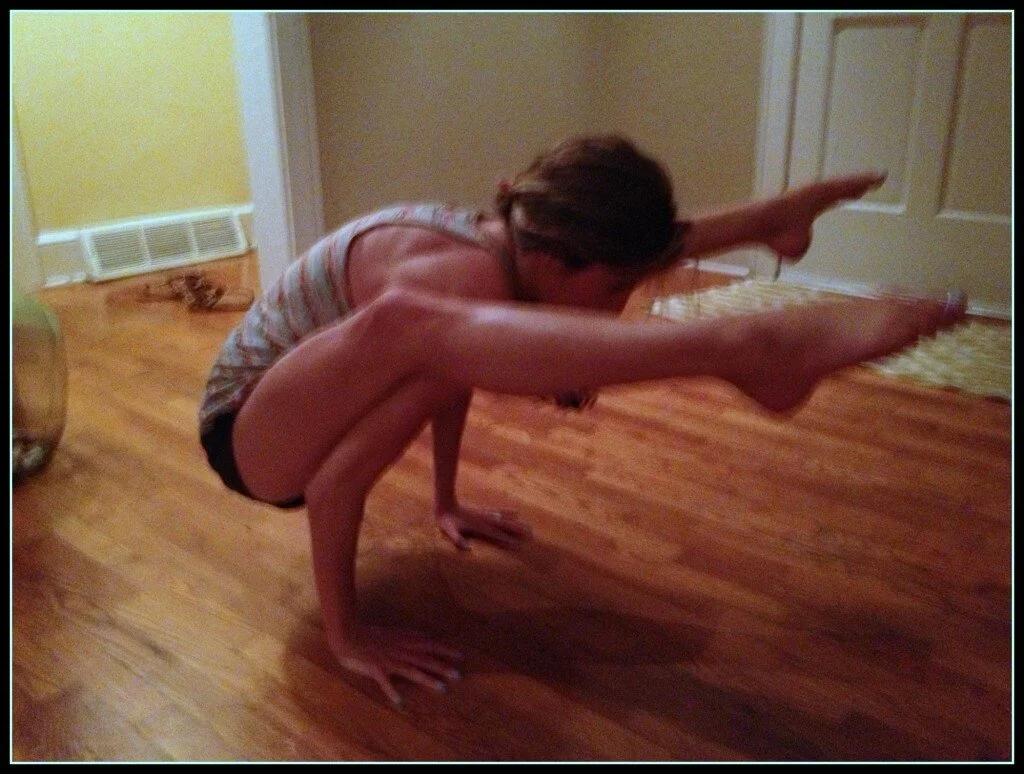 And fireflied…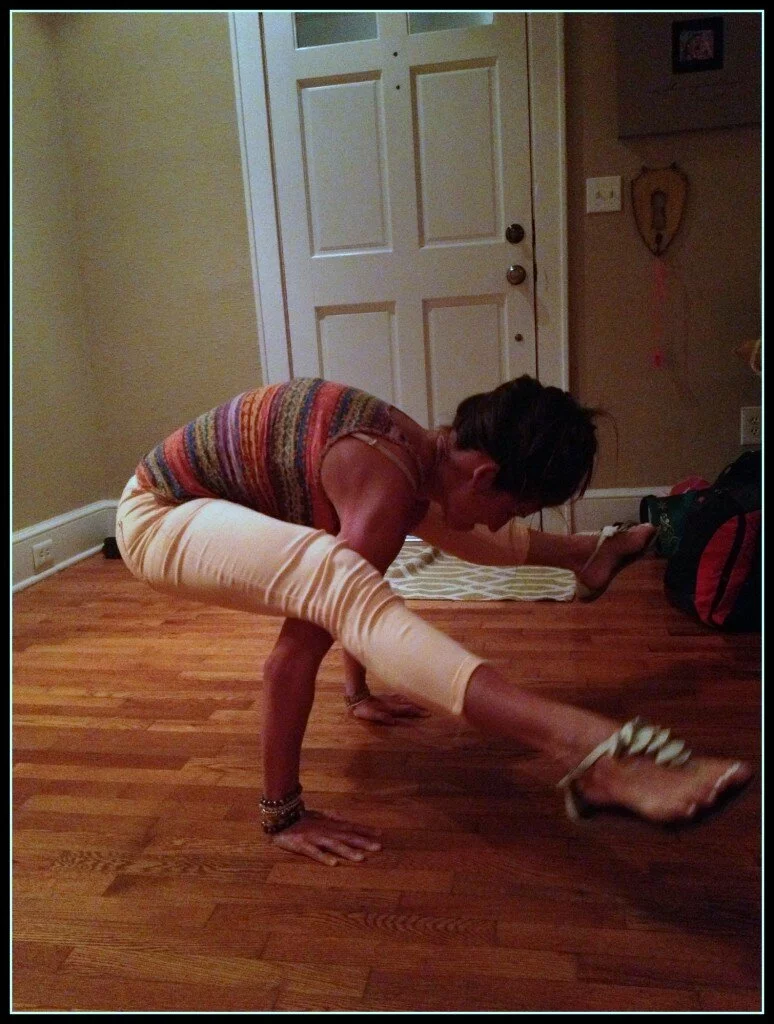 And fireflied… (How awesome is my SIL's picture with the Washington Monument in the background!?)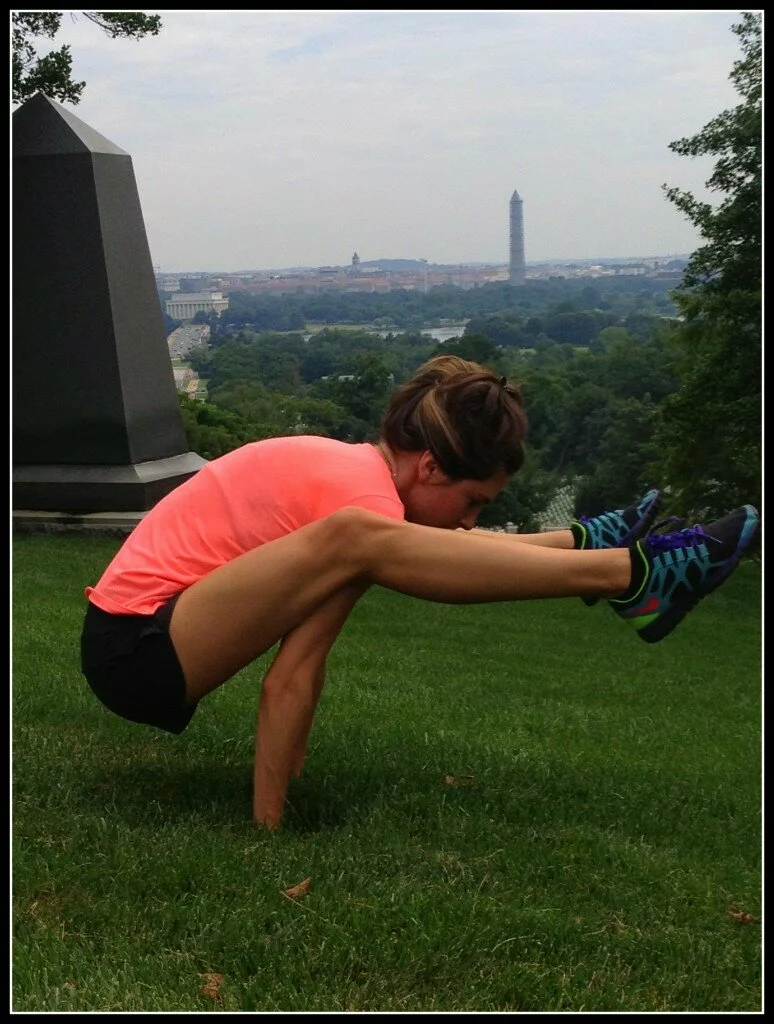 And fireflied…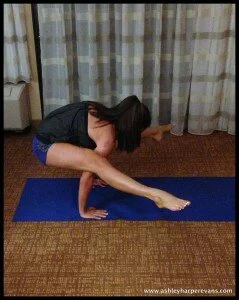 … until we couldn't firefly any more. Getting better but still a ways to go!
In order to pull us all back together for the final week, we chose a pose this week that is more user friendly and inviting than mean ol' firefly.
If you have missed the July Yoga Challenge, you can see the rules and the first three weeks here: forearm headstand, crane and firefly.
Week four and the final week's pose is: King Pigeon. Pretty easy, right?!
Just kiddingggggg!! I hope you stayed with me! But for real, the final week's pose is: Camel Pose (but if your feeling up to it, give King Pigeon at try!).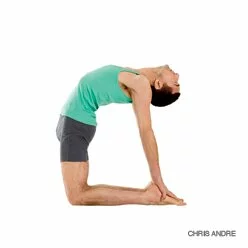 We chose this pose because this is a very opening, yet vulnerable pose, symbolic to both mine and my SIL's life right now. We are both opening our lives up to change – vulnerable yet welcoming the change. As I embark on the next chapter of my life (like I shared with you last week), my SIL is as well. In just a few short weeks, she is embarking on a new journey and returning to school to become a Nurse Practitioner. This pose allows us to fully welcome this change and embrace the rewards and challenges that lie ahead.
So how do you get into this pose?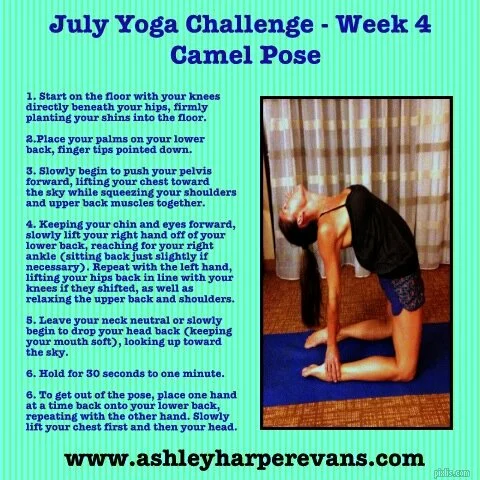 That should tell ya!
We really want everyone to join in this week, any and all yogis and non-yogis alike. It feels good to open your heart, stretch your chest, and strengthen your back through this symbolic  pose.
Text, email (ashleyharperevans at gmail dot com), tag (@aharpe on Instagram and Twitter), upload it to the GYH Facebook page, Vine it and tag (The Gypsy Dietitian), whatever ya gotta do, just send me your pictures. We want the July Yoga Challenge to go out with a bang!
I hope you're having a great Monday!
Good health!