Good morning! Happy Monday! I hope you had a great weekend! We made the long ride home from the beach on Saturday. The weather was gray and overcast so it wasn't too terribly hard to leave this year.

After returning home, Dustin and I had a dinner date with my youngest sister on Saturday night, practiced a little sisterly yoga following dinner and then crashed.

Yesterday, we spent most of the day hanging with my dad, which we both always enjoy.  Homemade waffles, an afternoon run, front porch sitting, a visit to the garden and a late dinner with my parents and sister ended our weekend perfectly.
If you've been following along for the past month you know what today is. It's Week 3 of the July Yoga Challenge! Together we've worked through both forearm headstand and crane in the past two weeks. Lots of you have been bending and bowing and I'm so excited that so many of you have joined in. I know my crane certainly improved over time!

If you haven't joined us yet, today is the day! If Granny can do it, so can you!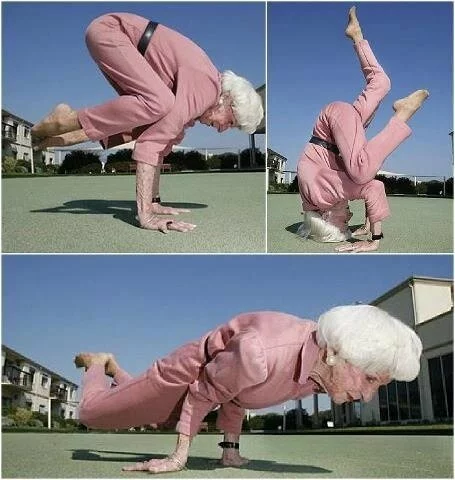 Haha! My sister sent me this picture this weekend and I absolutely love it. I have no idea where she got it from in order to give Grandma credit but none the less she's awesome!
Before I share week 3's pose, let me first remind you of how the challenge works.
July Yoga Challenge
Every Monday during the month of July, I will be giving you a new pose to work on for one week straight.
Work on the pose everyday for seven days, spending however much time you want – five minutes or 30 minutes it doesn't matter, just as long as your working on it.
Have someone take a picture of you on Monday attempting the pose.
Have someone take a picture of you at the end of the week on Sunday showing your progress.
Do a side-by-side comparison picture and upload it to the Guard Your Heart Facebook Page or tag me (@aharpe) on Instagram or tweet it (@aharpe) if you want to share your progress (and if you will hashtag all your photos to #julyyogachallenge)! Or simply let us know in the comments section below that you are  participating and working on it!
Alright, so on to today's pose. Let me first preface. This pose is very challenging but it's fun to attempt and work through. This pose combines some of the skills that we have worked on in the other poses, such as core strength and balance. I do not expect you (or me!) to be able to do it perfectly – it's all about challenging your body and moving/bending it in ways that it might not be used to. It's just a fun one to try! So what is it? Week 3's pose is Firefly.
If you're doing it correctly, and happen to be a Yoga Journal featured yogi (that is the photo source too) it looks like this.

If it's day one of the yoga challenge, it looks like this. Note: follow the first picture, not us! 🙂


You can see how challenging, but fun it is! Straightening your legs is the hardest part!
And also, if you have any wrist, elbow or shoulder issues this pose might bother those areas. Do not push your body further than feels comfortable. That's the great thing about yoga, you can modify everything to meet your specific needs.
Okay, so how do you do it?

That should tell ya!
Don't forget to keep me posted on your progress, on Facebook, Instagram or Twitter! (#julyyogachallenge) (@aharpe)
—
Wow! So much bending in that post! Time to quit typing and start practicing I guess! Well, maybe later. Today, were headed down to visit my grandfather in the hospital so please send your prayers his way. I really appreciate it. I hope you all have a great Monday.
Good health!